Our manufacturing and construction affiliates are strengthening their core businesses
as they unequivocally pursue opportunities in high-tech growth industries.
Our financial affiliates are meeting the challenges of today's fast changing capital markets
by delivering a continuously evolving portfolio of services tailored to meet the full spectrum
of financial needs.
Our services and leisure affiliates are constantly working to create innovative experiences
to delight consumers in fresh new ways.
There has never been a better time to invest in a prosperous and sustainable future.



In USD Millions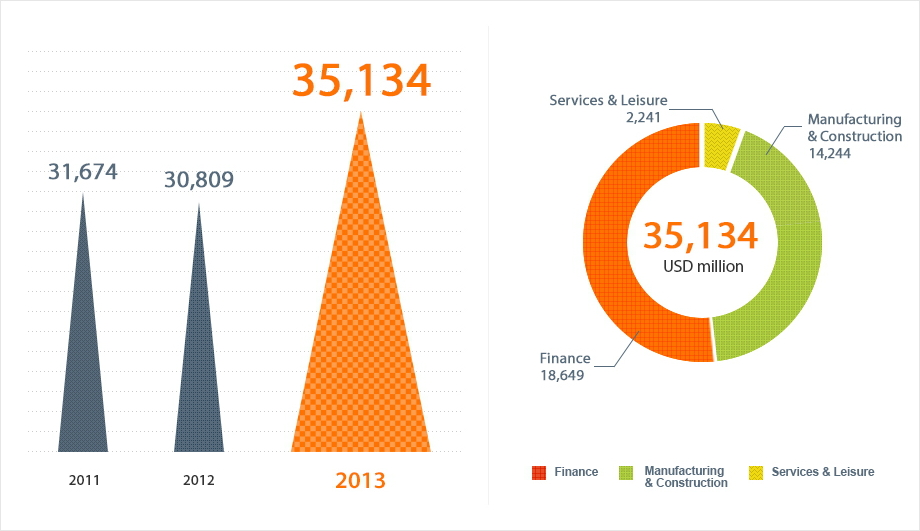 Total Sales In USD Millions yearly

| | |
| --- | --- |
| 2011 | 31,674 USD Millions |
| 2012 | 30,809 USD Millions |
| 2013 | 35,134 USD Millions |
Total Sales In USD Millions in 2013

| | |
| --- | --- |
| Service & Leisure | 2,241 USD Millions |
| Manufacturing & Construction | 14,244 USD Millions |
| Finance | 18,649 USD Millions |
In USD Millions
Total Asset In USD Millions yearly

| | |
| --- | --- |
| 2011 | 87,713 USD Millions |
| 2012 | 104,447 USD Millions |
| 2013 | 117,040 USD Millions |
Total Asset In USD Millions in 2013

| | |
| --- | --- |
| Service & Leisure | 5,459 USD Millions |
| Manufacturing & Construction | 21,624 USD Millions |
| Finance | 89,957 USD Millions |
Total Stockholders' Equity
In USD Millions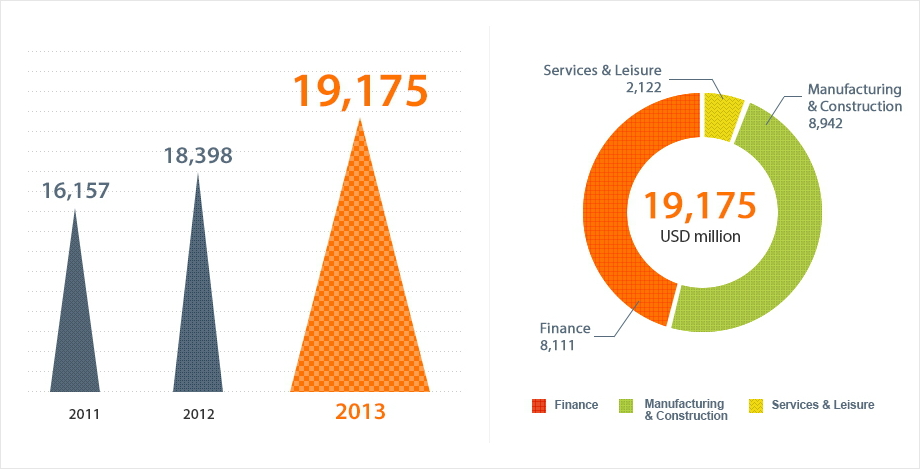 Total StockHolders' Equity In USD Millions yearly

| | |
| --- | --- |
| 2011 | 16,157 USD Millions |
| 2012 | 18,398 USD Millions |
| 2013 | 19,175 USD Millions |
Total StockHolders' Equity In USD Millions in 2013

| | |
| --- | --- |
| Service & Leisure | 2,122 USD Millions |
| Manufacturing & Construction | 8,942 USD Millions |
| Finance | 8,111 USD Millions |
In USD Millions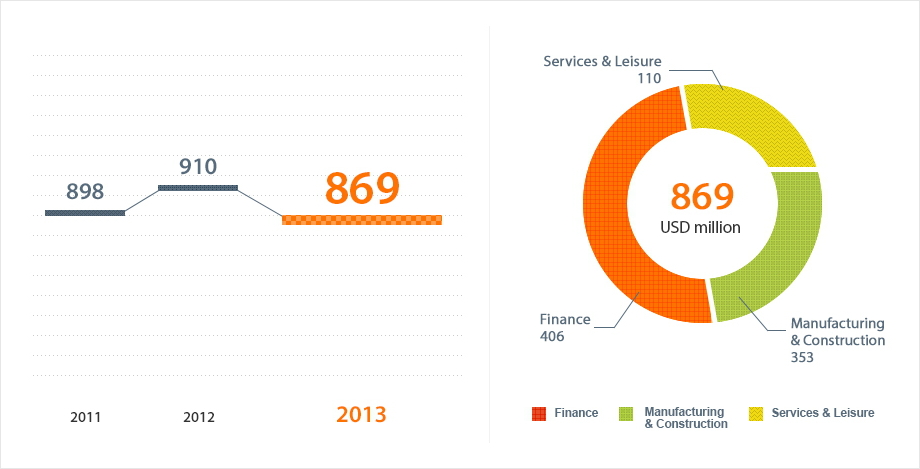 Net Income In USD Millions yearly

| | |
| --- | --- |
| 2011 | 898 USD Millions |
| 2012 | 910 USD Millions |
| 2013 | 869 USD Millions |
Net Income In USD Millions in 2013

| | |
| --- | --- |
| Service & Leisure | 110 USD Millions |
| Manufacturing & Construction | 353 USD Millions |
| Finance | 406 USD Millions |