Breakthrough for Hanwha with World's First Hybrid Front Bumper Beam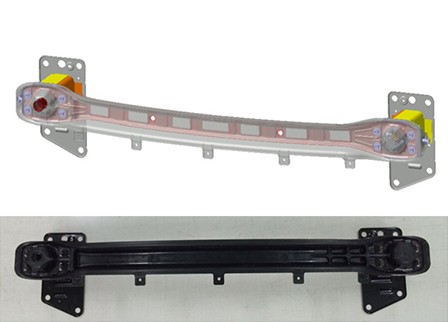 [Seoul, 29 April, 2014] Hanwha Advanced Materials, headed by CEO Kim Chang-bum, has created the world's first hybrid front bumper beam for automobiles, which it developed with the technical cooperation of Hyundai Motor Company. In recognition for this significant achievement, Hanwha Advanced Materials has attained New Excellent Technology (NET)* certification from the Ministry of Trade, Industry & Energy (MOTIE) of South Korea.
These first of its kind hybrid bumper beams are created by inserting a steel frame into glass-mat-reinforced thermoplastic(GMT) – a lightweight, flat, composite material made from polypropylene and glass-fiber, improving crashworthiness of vehicles and are also 12 percent lighter than
steel bumper beams.
An official from Hanwha Advanced Materials said, "Our three-year R&D efforts have resulted in this breakthrough technology that can effectively combine GMT and steel in an automotive bumper beam. This reinforced beam is recognized to significantly address bumper beam break problems in high-speed car crashes. The hybrid front bumper beam will be applied to Hyundai cars, which will be manufactured and sold in China in the second half of the year."
Hanwha Advanced Materials is using the latest technologies to specialize in the manufacture of high-strength, ultra-light vehicle parts. This involves making other lightweight composite materials besides GMT, including LWRT, EPP, SMC, and LFT-G. To reduce the weight of cars, the company is cooperating with automotive manufacturers in developing new materials and parts moldings from the design stage.
* The NET certification is awarded to new technologies developed in South Korea or for innovation involving existing technologies. The Korean Agency for Technology and Standards (KATS), which operates within MOTIE, issues the certification with the approval of the Government of South Korea.
Hanwha Advanced Materials
Founded in 1965, Hanwha Advanced Materials is operating businesses in areas of lightweight composite materials & molded parts for automobiles, high-functional films for mobile display, and high-efficiency film materials for solar power plants. Our company vision also defines: "A high-tech materials company that protects the values of humanity and the environment." With our innovative line of products and technologies, we have built local production and R&D networks in South Korea, the US, Europe, and China. Our sales in global markets continue to rise.

For more information, visit: www.hwam.co.kr/en/index.do
Hanwha Group
Hanwha Group, founded in 1952, is one of the Top-Ten business enterprises in South Korea
and a "FORTUNE Global 500" company. Hanwha Group has 56 domestic affiliates and 226 global networks in three major sectors: manufacturing and construction, finance, and services and leisure.
With more than 60 years track record of industrial leadership, Hanwha's manufacturing and construction businesses encompass a broad range of fields from chemicals & materials, aerospace & mechatronics, total solar energy solutions, and global construction. The finance network, covering insurance, asset management and securities, is the second largest non-bank financial group in South Korea. The services and leisure sector offers premium lifestyle services with retail and resort businesses.

For more information, visit: www.hanwha.com