Chairman Kim Visits Hanwha Q CELLS Jincheon
Solar Cell Plant
- The 180,000㎡ Jincheon plant has a production capacity of 1.4 GW
- Hanwha Q CELLS' total production capacity in Korea, Malaysia and China rises to 5.2 GW, further solidifying the company's position as the world's number one producer of solar cells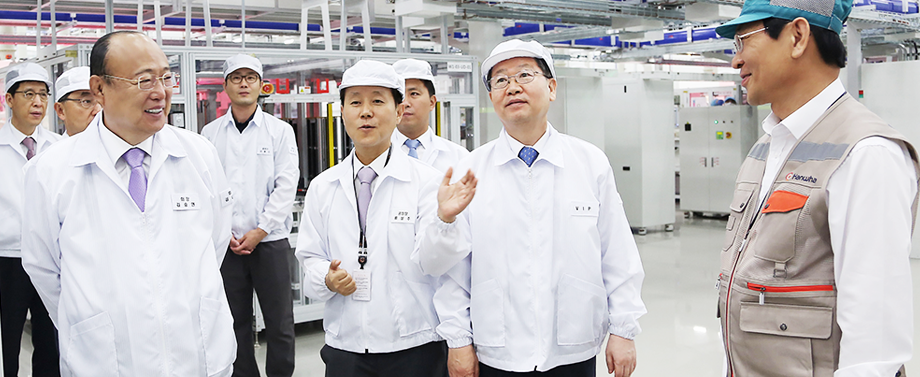 [05 July, 2016] The Hanwha Group Chairman Seung Youn Kim toured the Hanwha Q CELLS solar cell plant in Jincheon, completed last April, to encourage the employees.
The new 180,000-square meter Hanwha Q CELLS Jincheon plant has a production capacity of 1.4 GW. With the Jincheon plant, the company's total production capacity in Korea, Malaysia and China rises to 5.2 GW, further solidifying the company's position as the world's number one producer of solar cells.
To commemorate his visit, Chairman Kim was presented with a ceremonial plaque by the CEO of
Hanwha Q CELLS Seong Woo Nam. The plaque was fashioned from the first solar cell produced at the Jincheon plant. In turn, Chairman Kim presented a mini solar panel inscribed with a message of appreciation to the employees at the plant.
"Armed with a strong sense of mission, Hanwha Group has devoted considerable effort into the solar business over the past five years. We believed in the solar energy industry. We believe in making solar energy one of Korea's renowned industries and in the foreseeable future, fulfill our vision to develop it for the betterment of humanity," said Chairman Kim.
Hanwha Group
Hanwha Group, founded in 1952, is one of the Top-Ten business enterprises in South Korea
and a "FORTUNE Global 500" company. Hanwha Group has 56 domestic affiliates and 226 global networks in three major sectors: manufacturing and construction, finance, and services and leisure.
With more than 60 years track record of industrial leadership, Hanwha's manufacturing and construction businesses encompass a broad range of fields from chemicals & materials, aerospace & mechatronics, total solar energy solutions, and global construction. The finance network, covering insurance, asset management and securities, is the second largest non-bank financial group in South Korea. The services and leisure sector offers premium lifestyle services with retail and resort businesses.

For more information, visit: www.hanwha.com