"Der Hamburger Weg" and Hanwha Solar for Climate Protection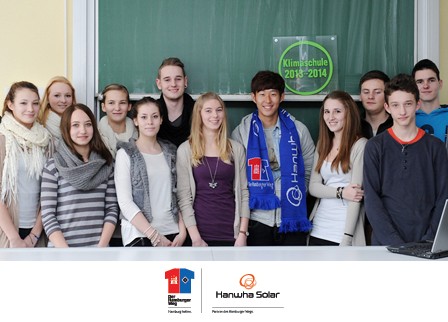 [HSV, 27 January, 2013] Hanwha Solar has been a partner of the renowned German football club, Hamburger Sport-Verein (HSV)'s sponsoring-initiative "Der Hamburger Weg" since the 2011/2012 season. In 2012, the top 10 global photovoltaic manufacturer helped to support the Osterbek High School with a photovoltaic system with estimated annual delivery of 2000 kWh. The high school, which already has been acknowledged as a Climate School, continues to be a role model regarding the battle against climate change through educating the students how to use energy in a long-term and responsible way. Marking the first year of the solar installation, Heung Min Son, a player for HSV and ambassador of the project, visited the school to get an impression of how the situation looks today. Heung Min Son also actually participated in the Earth System class with the school's students.
Osterbek's headmaster Ulrich Cain said "Our goal is not just providing our school with solar energy, but on further contributing to climate protection. That's why we now offer our students educational opportunities to become more aware of environmental sustainability."
"We are proud that we have been able to contribute to raising students' social consciousness with the topic of clean energy and we are also pleased about young people's interest in sustainable and socially responsible action. That is why we think it is important to regularly exchange our views and pass along our knowledge" said Thomas Franken, Senior Director of Marketing at Hanwha Solar.
In addition to the installation of the photovoltaic system on the school's roof, the students of the 'Earth System' class visited "Klimahaus Bremerhaven (Bremerhaven Climate House)" where they were able
to gain knowledge useful for everyday life.
Hanwha Solar has been the partner of the sponsoring initiative "Der Hamburger Weg" since the 2011/2012 season. In October 2011, foundations of the support program were laid to start and the project "Sponsoring einer PV-Anlage (Sponsorship of PV System)" was born.
In coordination with "fifty / fifty" (a cooperative program to save energy in school buildings managed by the school authority) and SBH | Schulbau Hamburg School Construction Hamburg (a public enterprise in charge of facility management services for schools in Hamburg), three schools were shortlisted at that time as potential beneficiaries of the project due to their distinguished climate protection activities. The eventual winner was the Osterbek High School, a decision guided in part down to the fact it had a suitable roof condition for solar panel installation, as well as its recognition for Climate School.
The photovoltaic system had been successfully installed at the beginning of 2012.
Corporate partners of "Hamburger Weg" include Hanwha Solar, ADVANTA Management, Audi, Care-Energy, Deutsche Telekom, Emirates, Hareico, Holsten, INFO AG, NDR 2 and Sparda-Bank.
For further information, visit:
Hanwha SolarOne
Hanwha SolarOne Co., Ltd. (NASDAQ: HSOL) is one of the top 10 photovoltaic module manufacturers in the world, providing cost-competitive, high quality PV modules. It is a flagship company of Hanwha Group, one of the largest business enterprises in South Korea. Hanwha SolarOne serves the utility, commercial, government and residential markets through a growing network of third-party distributors, OEM manufacturers and system integrators. The company maintains a strong presence worldwide, with a global business network spanning Europe, North America, Asia, South America, Africa and the Middle East. As a responsible company committed to sustainability, Hanwha SolarOne is an active member of the PV Cycle take-back and recycling program.

For more information, visit: investors.hanwha-solarone.com
Hanwha Group
Hanwha Group, founded in 1952, is one of the Top-Ten business enterprises in South Korea
and a "FORTUNE Global 500" company. Hanwha Group has 56 domestic affiliates and 226 global networks in three major sectors: manufacturing and construction, finance, and services and leisure.
With more than 60 years track record of industrial leadership, Hanwha's manufacturing and construction businesses encompass a broad range of fields from chemicals & materials, aerospace & mechatronics, total solar energy solutions, and global construction. The finance network, covering insurance, asset management and securities, is the second largest non-bank financial group in South Korea. The services and leisure sector offers premium lifestyle services with retail and resort businesses.

For more information, visit: www.hanwha.com