Hanwha Corporation Acquires Australian Mining Company LDE Corporation
- Hanwha Corporation taps into mining services market in Australia and US
- Hanwha Corporation secures bridgehead for becoming global leader
in mining services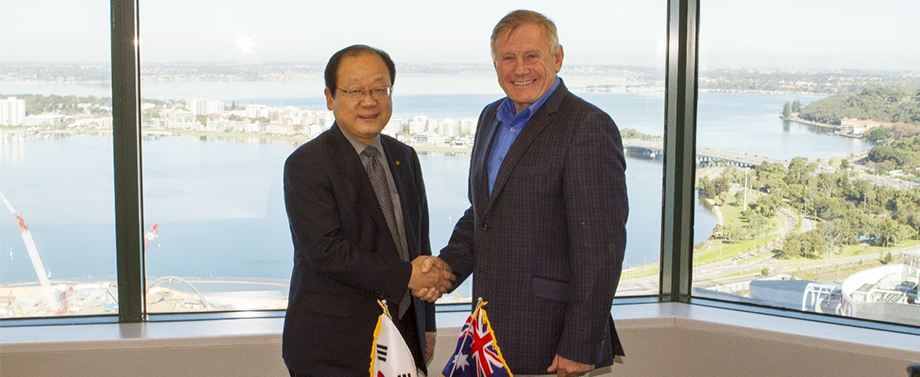 [12 August, 2015] Hanwha Corporation, Korea's leading commercial explosives company and global total explosives service² provider, is taking over all shares of Australian mining service provider Low Density Explosives (LDE) Corporation Australia and LDE Corporation USA at 39 billion won (USD33.15 million).
Hanwha Corporation signed a stock transaction deal with LDE Corporation Managing Director Kevin Waldock on August 11 to acquire 100 percent of LDE Corporation's shares at 25 billion won (USD21.25 million). The company will also take over all shares of LDE Corporation USA at 14 billion won (USD11.90 million) between September and October upon completing necessary approval process.
Established in Queensland, Australia, in 1996, LDE Corporation boasts an emulsion explosives³ production capacity of 200,000 tons annually. The company manufactures diverse types of explosives
in Australia and the US, and provides mining services to mining companies.
Hanwha Corporation expects to bolster its revenue in the global market through this deal. LDE Corporation recorded AUD44 million and AUD12 million in Australia and the US, respectively, in sales last year, totaling to AUD56 million (approx. 48 billion won or USD40.80 million). The new customer base it has secured in the second half of 2014 will contribute to significant growth in its business after 2015.
Hanwha Corporation expects this deal to create synergy with the overseas mining service projects its explosives division engages in. It is currently providing mining services in Indonesia, Australia, and Latin America. The acquisition brings together Hanwha Corporation's expertise in explosives and LDE Corporation's quality and cost competitiveness already verified in the industry to spur Hanwha's penetration in the Australian market.
LDE Corporation will continue to demonstrate its capabilities and experience for stable business operation in mining services in Australia and the US as a major Western player, while Hanwha Corporation plans to leverage its brand image as a Fortune 500 company to engage in active sales and further contracts from big-size mining companies that favor suppliers with economy of scale.
Hanwha Corporation holds a positive outlook on overseas mining services market. While the domestic commercial explosives market remains stagnant, the overseas market is witnessing continuous growth
in demand owing to regional development needs arising from population growth and urbanization, particularly in Southeast Asia and Latin America. Another factor working in favor of continuous growth
in mining services is recent shifts in mining environment that lead to increasing demand in explosives.
"Hanwha Corporation, the mother company of Hanwha Group, has accompanied the growth of Korea's economy. Since it achieved localization of dynamites for the first time in Korea in 1957, the company has been providing safe and high-quality explosives and chemicals to various industries," Hanwha Corporation Explosives Division CEO Choi Yang-soo said. "Hanwha Corporation's expertise in explosives, together with Hanwha Group's brand power, enables the company to make inroads into more markets around the world to realize globalization of the explosives market. It will continue to position itself as a leading company contributing to industry and society by building a new future through high-quality explosives and chemicals, and cutting-edge technologies."

¹ Exchange rate as of August 11: KRW1,176.50/USD1
² Mining service: Business involving explosives needed for mining, ranging from explosives
production to blasting services
³ Emulsion explosives: Gel-type explosives produced by blending emulsifier and additives
into ammonium nitride
Hanwha Corporation
Hanwha Corporation was founded in 1952 as Korea Explosives company, quickly becoming the leader in the South Korean explosives industry. It has since grown into a global manufacturing and trading company operating in four business areas—explosives, defense, trading, and machinery.

For more information, visit: www.hanwhacorp.co.kr/eng/index.jsp
Hanwha Group
Hanwha Group, founded in 1952, is one of the Top-Ten business enterprises in South Korea
and a "FORTUNE Global 500" company. Hanwha Group has 56 domestic affiliates and 226 global networks in three major sectors: manufacturing and construction, finance, and services and leisure.
With more than 60 years track record of industrial leadership, Hanwha's manufacturing and construction businesses encompass a broad range of fields from chemicals & materials, aerospace & mechatronics, total solar energy solutions, and global construction. The finance network, covering insurance, asset management and securities, is the second largest non-bank financial group in South Korea. The services and leisure sector offers premium lifestyle services with retail and resort businesses.

For more information, visit: www.hanwha.com