Hanwha Group Chairman Seung Youn Kim and GE Chairman Jeffrey Immelt Meet
- Hanwha seeks to collaborate with GE in pushing for the adoption
of the industrial internet as the next growth engine
- Hanwha Techwin and GE to bolster cooperation in the production
of aircraft engines, gas turbines, and smart factories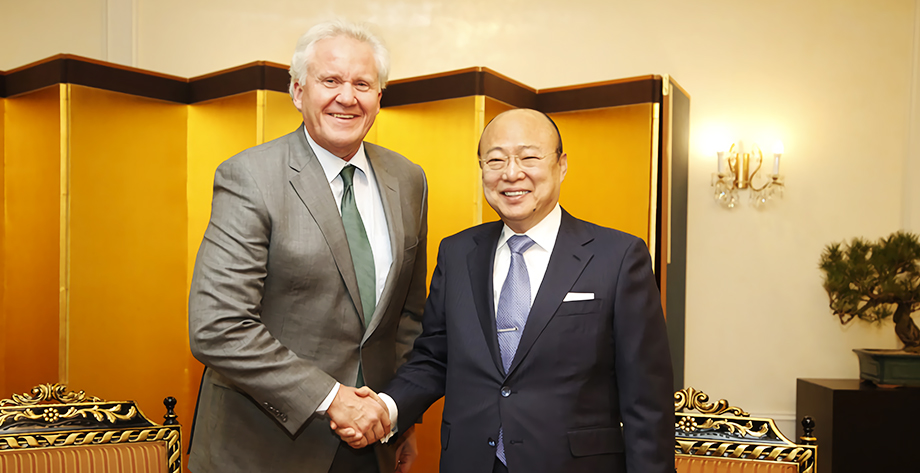 [March 14, 2017] The Hanwha Group Chairman Seung Youn Kim met with General Electric (GE) Chairman Jeffrey Immelt at Hanwha Group's headquarters in Seoul. The two leaders discussed their mutual interests to develop new engines for growth by applying the industrial internet to significantly create broad value across their manufacturing businesses.
They also looked at other opportunities as they continued partnering to build aircraft engines and gas turbines – areas in which Hanwha Techwin has been working with GE for more than 30 years. Hanwha and GE have also talked about how to best collaborate and leverage the industrial IoT (Internet of Things) to achieve greater productivity gains and optimizations with solar panels.
"I am impressed by what GE has been doing to innovate – transforming itself into a digital industrial company. We would like to enhance our own corporate competitiveness by working more closely with GE on the industrial internet and other emerging fields. We look forward to collaborating to develop new growth models," said Chairman Kim.
Hanwha Techwin and GE have been collaborating on aircraft engines since 1980, and have maintained a strong partnership in the local manufacture of aircraft engines and aviation components for South Korea's flagship jets and helicopters, including F-5, F-15K, T-50, and Surion. After GE was selected as an engine supplier last June for South Korea's next-generation KF-X project, Hanwha has partnered with GE to produce the engines for the Republic of Korea Airforce's 240 fighter jets.
Last year, Hanwha Techwin signed a memorandum of understanding to adopt GE's knowhow and expertise on the industrial internet and apply them to its products and production lines. The company plans to transform its platform to turn its plants into smart factories.
GE was originally established in 1878 by Thomas Edison, as an electric lighting company. The company now operates worldwide in diverse industries, including energy, oil and gas, aircraft engines, healthcare, transportation, etc. Since Jeffrey Immelt became the company's chairman in 2001, GE has been concentrating its efforts to develop the platform for the industrial internet. GE is driving its own digital transformation as well as its customers and is proud to call itself a "125-year-old startup."
Hanwha Group
Hanwha Group, founded in 1952, is one of the Top-Ten business enterprises in South Korea
and a "FORTUNE Global 500" company. Hanwha Group has 56 domestic affiliates and 226 global networks in three major sectors: manufacturing and construction, finance, and services and leisure.
With more than 60 years track record of industrial leadership, Hanwha's manufacturing and construction businesses encompass a broad range of fields from chemicals & materials, aerospace & mechatronics, total solar energy solutions, and global construction. The finance network, covering insurance, asset management and securities, is the second largest non-bank financial group in South Korea. The services and leisure sector offers premium lifestyle services with retail and resort businesses.

For more information, visit: www.hanwha.com