Hanwha Q CELLS, Hanwha China Bring Light to Schools in Poverty-Stricken Regions
- Solar power generator presented to Hope School in Xiegouxiang, Datong in Qinghai
Province on July 28th
- Hanwha makes second donation of solar power equipment following gift to elementary
school in Hubei Province in 2013
- Latest donation shows Hanwha's commitment to ensuring a bright future for humanity
through solar power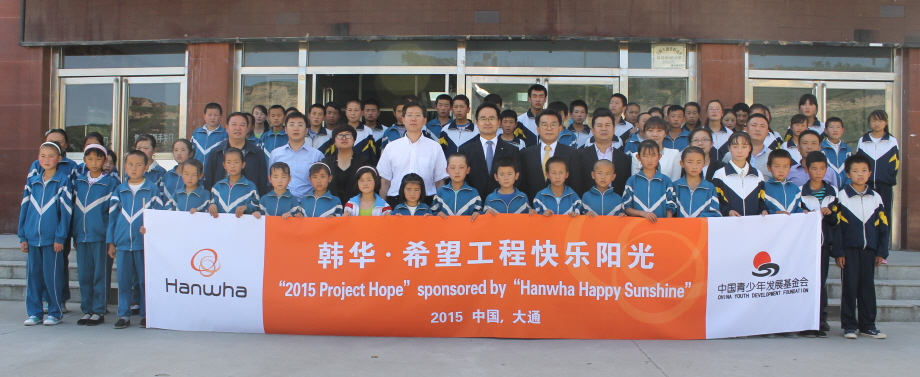 [29 July, 2015] Hanwha Q CELLS (CEO Seong Woo Nam) and Hanwha China has made a second donation of solar power generation equipment to a school in an impoverished region in China, as part
of a campaign with the China Youth Development Foundation (CYDF).
Hanwha Q CELLS and Hanwha China took part in a ceremony held on the 28th at the Xiegouxiang Hope School, located in Datong, Qinghai Province, to present school officials with a fully-installed 30kW
roof-top solar power generator.
Xiegouxiang Hope School is an elementary- and middle school established in September,
2010 by consolidating six local schools.
The ceremony was attended by representatives from Hanwha Group including Vice President of Hanwha China Young Rak Kim and Head of China Downstream Department at Hanwha Q CELLS, Jang Byuong-ho, and Chinese officials including Executive Vice Secretary General of CYDF Yang Xiaoyu.
Vice President Kim of Hanwha China stated that "the Hanwha Happy Sunshine Campaign aims to make
a positive impact on creating a prosperous future for our nations as well as for all of humanity through solar power, a clean renewable energy, and Hanwha Group will continue to work closely with local communities as a partner for the economic and social development of China."
Since 2013, Hanwha Q CELLS and Hanwha China has been running the Hanwha Happy Sunshine campaign to supply free solar power generation facilities to schools established in impoverished areas through the Project Hope campaign of CYDF. The project made its first donation in December of 2013, when a 30kW roof-top solar power generation facility was installed and donated to Yuyangguanzhen Elementary School in Wufeng, Hubei Province.
The China Youth Development Foundation is a 5A-ranked (highest level in China) non-profit foundation established in 1989 by the Communist Youth League of China and the main force behind "Project Hope", the most best-known social service project in China. The Hope Project was launched in October, 1989
to help improve the educational environment in rural regions, and is widely regarded to be the most socially influential campaign in the history of China.
Hanwha Q CELLS
Hanwha Q CELLS is a total solar power solution provider with the world's largest cell production capacity. Our business scope ranges from the midstream of ingots, to wafers, cells, and modules, to downstream solar solutions for residential, commercial buildings, and solar power plants. Our full spectrum of products creates synergy with Hanwha Chemical's polysilicon business. This completes the total vertical integration of Hanwha's solar businesses.

For more information, visit: www.hanwha-qcells.com
Hanwha Group
Hanwha Group, founded in 1952, is one of the Top-Ten business enterprises in South Korea
and a "FORTUNE Global 500" company. Hanwha Group has 56 domestic affiliates and 226 global networks in three major sectors: manufacturing and construction, finance, and services and leisure.
With more than 60 years track record of industrial leadership, Hanwha's manufacturing and construction businesses encompass a broad range of fields from chemicals & materials, aerospace & mechatronics, total solar energy solutions, and global construction. The finance network, covering insurance, asset management and securities, is the second largest non-bank financial group in South Korea. The services and leisure sector offers premium lifestyle services with retail and resort businesses.

For more information, visit: www.hanwha.com