Hanwha Techwin to Build Aircraft Engine Parts Factory in Vietnam
- Construction of 60,000㎡ plant near Hanoi to begin this year
- Sales of civil aircraft engine parts expected to reach 1 trillion won (USD 879 million) by 2025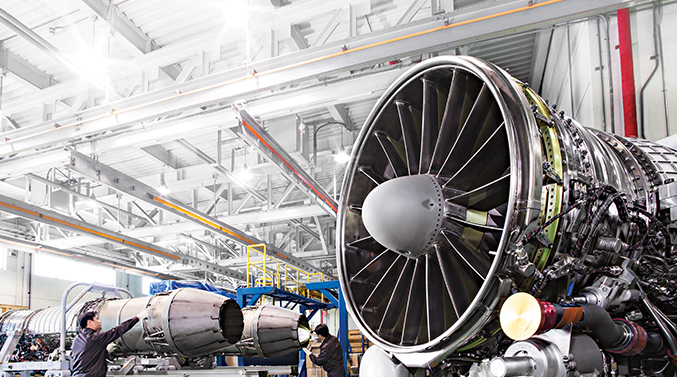 [June 30, 2017] Hanwha Techwin announced it will expand its aircraft engine parts production capacity by building a new plant in Vietnam.
At 60,000㎡, the new factory is roughly eight times the size of a regular soccer field. It will be built on approximately 100,000 square meters of land near Hanoi, Vietnam. Construction of the plant is expected to start in August this year so that operations can begin at the second half of 2018.
Hanwha Techwin is looking to increase its sales of civil aircraft engine parts to about 1 trillion won (USD 879 million) and lead the aircraft parts processing industry by 2025. To achieve this goal, the company is expanding its engine parts production capacity with factories overseas and stepping up activities to win contracts.
Hanwha Techwin is winning large-scale parts orders from world-leading aircraft engine manufacturers, including GE, Pratt & Whitney (P&W), and Rolls-Royce. Against this backdrop of growth, the company conducted a feasibility study and concluded that it needed to establish an overseas engine parts manufacturing facility. While there were a number of potential locations, Hanwha Techwin selected Vietnam as its production base strategic location and to maintain cost competitiveness.
"Aircraft engine parts makers such as Dynamic Precision, Barns, and Magellan are also expanding their production capacities by building manufacturing plants abroad to support their production bases at home," said a spokesperson of Hanwha Techwin. "Going forward, the Changwon factory in Korea will serve as a production base to manufacture high-value-added products with highly sophisticated technology and provide technical support to the factory in Vietnam. The Vietnamese factory will leverage Changwon Factory's technology and business experience to produce parts in volume to keep its prices competitive."
Hanwha Group
Hanwha Group, founded in 1952, is one of the Top-Ten business enterprises in South Korea
and a "FORTUNE Global 500" company. Hanwha Group has 56 domestic affiliates and 226 global networks in three major sectors: manufacturing and construction, finance, and services and leisure.
With more than 60 years track record of industrial leadership, Hanwha's manufacturing and construction businesses encompass a broad range of fields from chemicals & materials, aerospace & mechatronics, total solar energy solutions, and global construction. The finance network, covering insurance, asset management and securities, is the second largest non-bank financial group in South Korea. The services and leisure sector offers premium lifestyle services with retail and resort businesses.

For more information, visit: www.hanwha.com