Hanwha Total Petrochemical's HDPE Resins for Bottle Caps Win a World-class Product Award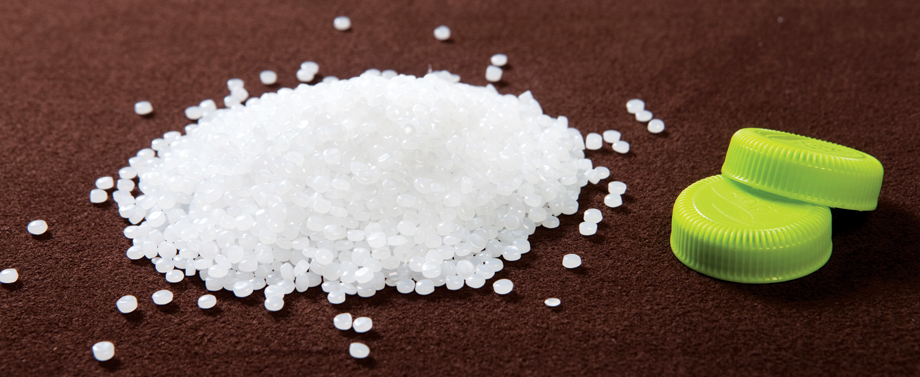 [February 9, 2017] Hanwha Total Petrochemical has won a World-class Product award for its resin they use in plastic bottle caps. The award represents yet another recognition for the company's high value-added synthetic resins. In 2015, the company had previously proved its global competitiveness in the synthetic resins market by winning the World-class Product award for its EVA product for solar cells.
This year on February 9th, the company officially announced that it was the recipient of a World-class Product award for its HDPE¹. The World-class Product award is an honor given to companies - conceived by the Ministry of Trade, Industry and Energy (MOTIE) and awarded by Korea Trade-Investment Promotion Agency (KOTRA).
The award is given to companies whose product(s) rank at least 5th or hold a minimum share of 5%
in the global market and meet at least one of the following requirements:
1) global market exceeds $50 million in size
2) annual revenue from exports exceeds $5 million
The 2016 World-Class Product award was based on Hanwha Total Petrochemical's accomplishments in 2015. The global market size that year was 810 thousand tons. And the company' HDPE resins for bottle caps held the largest market share both in South Korea and globally with 76% and 12%, respectively.

The award-winning HDPE resin for bottling is used to cap plastic bottles containing water, soda, or other drinks. Each bottle cap weighs only 1 to 4 grams but requires the combination of diverse technologies exclusively developed to address very challenging and even contradicting requirements to meet customer needs.

The bottle caps made with HDPE resins need to open easily under constant pressure and force; otherwise, they must remain properly sealed and leak-free. These same caps may also have to be durable enough to withstand internal pressure generated from hot liquids and carbonated drinks while satisfying exacting customer specifications to be tasteless, odorless, and safe to the human body.

"Plastic bottle caps vary widely in their quality with subtle differences in the material's property or specification although they are made from the same base material," a spokesperson for Hanwha Total Petrochemical said. "They are high value-added products that have to satisfy the diverse needs of our customers."

The prospect for synthetic resins for bottle caps remains very promising as the global beverage market continues to show an upward trend.

According to an industry analysis², annual beverage sales has been sustaining a growth rate of about 10 percent every year since 2005 and in 2015, the industry recorded approximately 600 billion liters globally. And while Hanwha Total Petrochemical has maintained its solid lead in global market share, even amidst the explosively growing Chinese market since 2008, it has no plans to rest on its laurels. Hanwha Total Petrochemical will continue to strengthen its global competitiveness through hard work, ingenuity and product improvements.

"The award the company won again is the result of its tireless efforts to become the industry leader of diverse high value-added products," said the spokesperson. "Going forward, Hanwha Total Petrochemical plans to broaden the gap between the company and its overseas competitors by adding even greater value to all of its products."
¹ HDPE (High-density polyethylene)
A synthetic resin used in the production of films and plastic containers
² 2015 report by Markets and Market, a global market research and consulting company
Hanwha Group
Hanwha Group, founded in 1952, is one of the Top-Ten business enterprises in South Korea
and a "FORTUNE Global 500" company. Hanwha Group has 56 domestic affiliates and 226 global networks in three major sectors: manufacturing and construction, finance, and services and leisure.
With more than 60 years track record of industrial leadership, Hanwha's manufacturing and construction businesses encompass a broad range of fields from chemicals & materials, aerospace & mechatronics, total solar energy solutions, and global construction. The finance network, covering insurance, asset management and securities, is the second largest non-bank financial group in South Korea. The services and leisure sector offers premium lifestyle services with retail and resort businesses.

For more information, visit: www.hanwha.com