Hanwha Chairman Strengthens the Relationship Between Korea and U.S.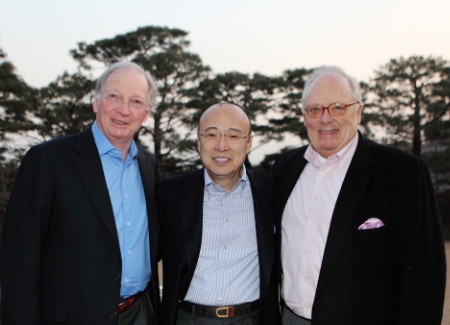 [08 January, 2012] Kim Seung-Yeon, the Chairman of Hanwha Group, met Thomas Saunders, Chairman of the Heritage Foundation and Governor Edwin Feulner to discuss Korea-U.S. relations issues. The Heritage Foundation is one of the most influential conservative research organizations in the United States. The discussion that took place was mainly about the rapidly changing situation on the Korean peninsula after Kim Jong-il's death and how the United States and South Korea can cooperate.
Chairman Kim emphasized the importance of non-governmental interchange and expressed his willingness to support these activities. While talking he emphasized the importance of the role of a favorable organization such as the Heritage Foundation. Mr. Saunders also agreed with Chairman Kim's opinion of the importance of U.S-Korea relationship and promised to keep up the good work.
While it was the first time that Chairman Kim met Mr. Saunders, Mr. Feulner and Chairman Kim already met before and continued to strengthen their relationship in the meanwhile. To thank Chairman Kim for his work, The Heritage Foundation named the 2nd floor conference center at the Heritage Building located in Washington the Kim Seung Yeon Conference Center.

Hanwha Group
Hanwha Group, founded in 1952, is one of the Top-Ten business enterprises in South Korea
and a "FORTUNE Global 500" company. Hanwha Group has 56 domestic affiliates and 226 global networks in three major sectors: manufacturing and construction, finance, and services and leisure.
With more than 60 years track record of industrial leadership, Hanwha's manufacturing and construction businesses encompass a broad range of fields from chemicals & materials, aerospace & mechatronics, total solar energy solutions, and global construction. The finance network, covering insurance, asset management and securities, is the second largest non-bank financial group in South Korea. The services and leisure sector offers premium lifestyle services with retail and resort businesses.

For more information, visit: www.hanwha.com