Hanwha Chemical Ranks 2nd in Global Ethylene Vinyl Acetate Production
- Hanwha Chemical and Saudi partnership IPC begins mass production
- First joint venture by Korean petrochemical company in the Middle East
- Ethane-gas process enables 1/3 material cost cut over previous naphtha ethylene process
[2 April, 2015] Hanwha Chemical (CEO Chang-bum Kim) announced that the International Polymers Co. (IPC) of Saudi Arabia has successfully completed pilot production and has launched mass commercial production. IPC is an $800 million joint venture with a 25:75 share between Hanwha Chemical and Saudi International Petrochemical Co. (Sipchem), a Saudi private-sector petrochemical firm.
Hanwha Chemical aims to enhance its revenue structure and strengthen its competitive capabilities by strategically establishing a production base in an oil-producing country and securing stable material supply and price competitiveness.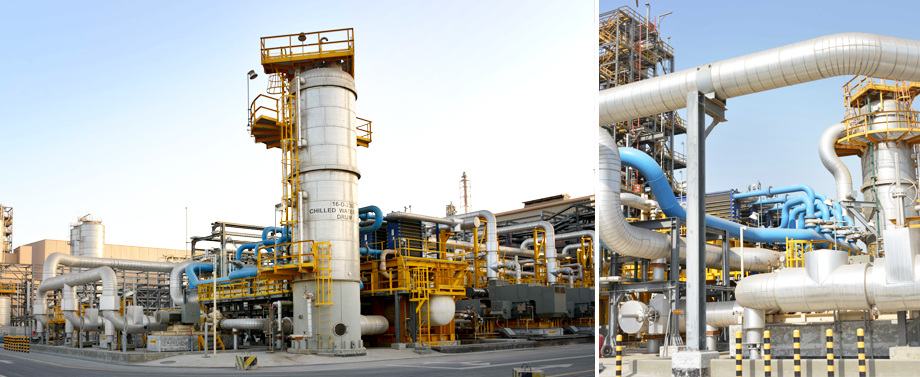 IPC's greatest significance lies in the improvement of raw material cost structure. IPC's production facility uses ethylene derived from ethane gas instead of naphtha from crude oil. Price of Ethylene from ethane gas is less than $300 in the Middle East region while Naphtha-derived ethylene currently trades for $950 in the global market (as of Feb. 2015). Cost savings of at least 1/3 are expected, even taking into account the falling global price of ethylene due to recent drops in the price of oil. These favorable conditions enable IPC to produce 200,000 tons of EVA (Ethylene Vinyl Acetate) / LDPE (Low Density Polyethylene)
per year.
The second advantage is economies of scale. Hanwha Chemical's EVA production capacity totals 310,000 tons, including 160,000 tons from Ulsan and Yeosu in Korea and 150,000 tons from IPC. This puts Hanwha ahead of Exxon Mobile's 260,000 tons and 2nd in the entire world behind only Dupont's 400,000 tons. Hanwha Chemical's newly-expanded production will allow the company to target the global market with a two-track strategy by expanding its high value-added EVA product range in Korea including photovoltaic cell film and hot-melt adhesive while at the same time taking advantage of its high cost competitiveness to focus on general-purpose products such as EVA for footwear in Saudi Arabia.
Hanwha Group has a high level of interest in investing in the Middle Eastern region, including the Bismayah New City project in Iraq overseen by Chairman Seung Youn Kim. CEO Chang-bum Kim also visited Saudi Arabia in March to meet with Chairman Abdulaziz Al-Zamil, head of Zamil Group, the largest shareholder of Sipchem, and Chairman of the Saudi Export Development Center Abdulrahman Al-Zamil to discuss wide-ranging partnerships that will go above and beyond the current projects between the two companies. Hanwha Chemical and Zamil Group plan to continue its partnership into the future.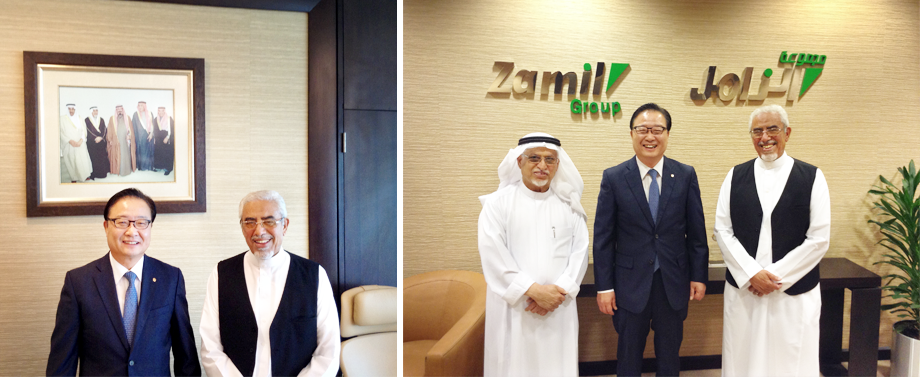 CEO Kim stated that "numerous global petrochemical companies have established footholds
in oil-producing companies as part of their operations," adding that "the start of IPC's commercial production will mark the beginning of Hanwha Group's petrochemical business to compete in earnest with global leading firms."
Hanwha Group
Hanwha Group, founded in 1952, is one of the Top-Ten business enterprises in South Korea
and a "FORTUNE Global 500" company. Hanwha Group has 56 domestic affiliates and 226 global networks in three major sectors: manufacturing and construction, finance, and services and leisure.
With more than 60 years track record of industrial leadership, Hanwha's manufacturing and construction businesses encompass a broad range of fields from chemicals & materials, aerospace & mechatronics, total solar energy solutions, and global construction. The finance network, covering insurance, asset management and securities, is the second largest non-bank financial group in South Korea. The services and leisure sector offers premium lifestyle services with retail and resort businesses.

For more information, visit: www.hanwha.com
Hanwha Chemical
Established in 1965, Hanwha Chemical is a comprehensive chemical company with streamlined production systems for polyethylene (PE), polyvinyl chloride (PVC), and chlor-alkali (CA). As South Korea's leading petrochemical company, we are highly influential in the nation's chemical industry, producing high-quality PVC, CA, and low-density polyethylene (LDPE) at competitive prices. In 2012, we successfully commercialized high-density ethylene vinyl acetate (EVA) for the first time in South Korea. Just four years later, we also localized the production of chlorinated polyvinyl chloride (CPVC), enhancing the quality of our PVC. More recently, we've been building a production line that can produce up to 30,000 tons of CPVC annually. We have partnered with the Korea Advanced Institute of Science and Technology (KAIST) to establish the KAIST-Hanwha Chemical Future Technology Research Center, a significant step forward to further enhance quality and continue our incredible pace to innovate.

For more information, visit: hcc.hanwha.co.kr/eng/index_eng.jsp