Hanwha China Joins Hot Spring Resort Development Business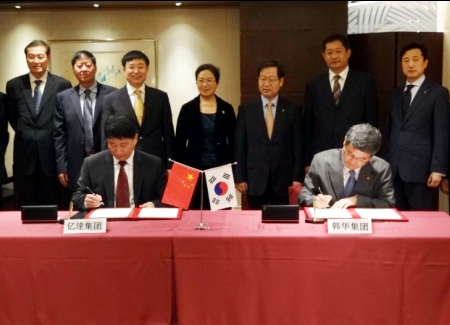 [October 30, 2011] Hanwha China signed a memorandum of understanding with China's Yida Group to establish a joint venture for building and operating a leisure resort compound within the Longmen complex in Dalian, Liaoning Province. Hot spring bathing, water park facilities and a golf course are expected to be included in this resort.
Under the agreement, Hanwha China will be responsible for planning and operating the resort, leveraging Hanwha Group's experience in Korea, while Yida Group will oversee the construction.
The Longmen complex is a 265-square-kilometer leisure complex that includes marine leisure facilities and forested parks, 40 square kilometers of which is being developed by Yida Group. Hanwha Group added that the government of Liaoning Province has pledged its support for the resort project as well as additional projects Hanwha China will conduct in the province.
The chairman of Hanwha China commented that this co-project will be a good opportunity for Hanwha to share its resort related expertise and also strengthen its brand awareness.

Hanwha Hotels & Resorts
Hanwha Hotels & Resorts began operations in 1979 as the developer of South Korea's first resort condominium project. The company has made great strides since joining Hanwha in 1986. By operating resort, hotel, and food service businesses, we are working to become South Korea's premier leisure and food service provider.

For more information, visit: www.hanwharesort.co.kr/irsweb/resort3/eng
www.hoteltheplaza.com/eng
Hanwha Group
Hanwha Group, founded in 1952, is one of the Top-Ten business enterprises in South Korea
and a "FORTUNE Global 500" company. Hanwha Group has 56 domestic affiliates and 226 global networks in three major sectors: manufacturing and construction, finance, and services and leisure.
With more than 60 years track record of industrial leadership, Hanwha's manufacturing and construction businesses encompass a broad range of fields from chemicals & materials, aerospace & mechatronics, total solar energy solutions, and global construction. The finance network, covering insurance, asset management and securities, is the second largest non-bank financial group in South Korea. The services and leisure sector offers premium lifestyle services with retail and resort businesses.

For more information, visit: www.hanwha.com