Hanwha Engineering & Construction Completes
World's Largest Domed Performance Hall
- The building is located near Manila, Philippines, and has the world's largest total floor area
at 74,000㎡/and 51,000 seats
- Winning of the construction contract in recognition of its technical skills in building roof structures shown in its domestic and global construction projects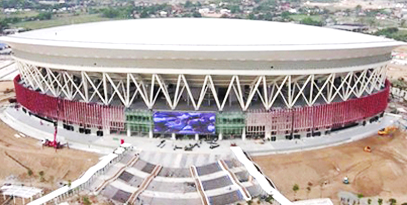 [09 June, 2014] Hanwha Engineering and Construction("E&C"), headed by President and CEO Lee Keun-Po, announced that the company had completed the construction of the world's largest indoor arena near Manila, Philippines, on May 30. The domed arena has 51,000 seats and stretches a staggering
74,000㎡, with a roof area of 35,948㎡.
Hanwha E&C won the contract in 2011 on the strengths of its high technical skills, competing with the largest local construction firm EEI Corporation, China's Giangsu International and others. In particular, special considerations were given to the designing and building capacities of the contenders for the roof of what would be the world's largest domed arena and Hanwha E&C has also won the contract in recognition of its accumulated technical know-how and construction abilities, as shown in its construction projects. The project was carried out as a design–build construction, with Hanwha E&C taking full responsibility for design and construction which was completed on May 30 after a 30-month construction period.
"By completing the largest performance hall in the world, our building ability and technical skills will be highly recognized in the global construction market. It can be a stepping stone for our advancement into the Southeast Asian construction market, where we expect more business opportunities in the areas of civil engineering and construction projects." said Lee Keun-Po, President & CEO of Hanwha E&C.
Hanwha E&C has announced its new vision to "Design the World," meaning it will create value not only for South Korea but also for the world through construction, including new town development
and infrastructure projects.
Project Overview of the Philippine Arena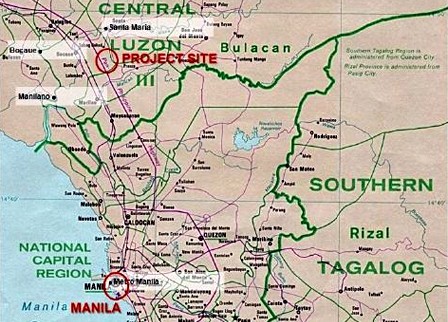 Project: Philippine Arena PJ Location: Bulacan, 27km north of Manila, capital city of the Philippines Client: INC (lglesia Ni Cristo, a Filipino Christian foundation) Overview and Scale: - A domed performance hall with 51,000 seats and a total floor area of 74,000㎡ - A roof area of 35,948㎡ ※ The largest domed performance hall in the world Project Delivery System: Design–build, including both design and construction Amount: US$175 million Work Period: Approximately 30 months from breaking ground to completion
Hanwha Engineering & Construction
Capitalizing on extensive experience and technologies gained over the course of numerous construction projects, Hanwha E&C has been rapidly growing into a global player at an annual average growth rate of 20% since 2002. Our competitiveness is internationally recognized, ranking 72nd on the list of Global Contractors announced by the international construction magazine Engineering News Record (ENR) in 2014. Our goal is to become a world-renowned construction company by 2020 with our "Design the World" vision.

For more information, visit: www.hwenc.com
Hanwha Group
Hanwha Group, founded in 1952, is one of the Top-Ten business enterprises in South Korea
and a "FORTUNE Global 500" company. Hanwha Group has 56 domestic affiliates and 226 global networks in three major sectors: manufacturing and construction, finance, and services and leisure.
With more than 60 years track record of industrial leadership, Hanwha's manufacturing and construction businesses encompass a broad range of fields from chemicals & materials, aerospace & mechatronics, total solar energy solutions, and global construction. The finance network, covering insurance, asset management and securities, is the second largest non-bank financial group in South Korea. The services and leisure sector offers premium lifestyle services with retail and resort businesses.

For more information, visit: www.hanwha.com