Hanwha Engineering & Construction Holds a Building Completion Ceremony for the World's Largest Precast Concrete Plant
- Producing enough materials to build an apartment complex of 4,000 housing units covering 66 ha every two months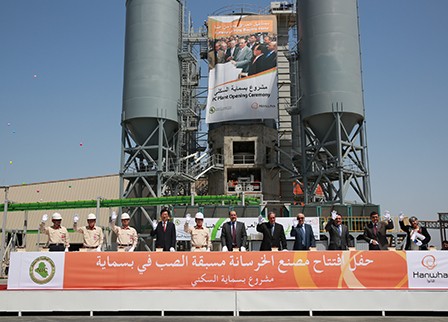 [Seoul, 23 April, 2014] Hanwha Engineering & Construction held a completion ceremony for the world's largest precast concrete (PC) plant, which marks the beginning of construction of 100,000 housing units
for Bismayah New City in Iraq on April 16 (local time).
About 200 people visited the construction site for Bismayah New City, including Iraqi National Investment Commission Chairperson Dr. Sami R. Al-Araji, Korean Ambassador to Iraq Cho Jung-won, Hanwha Group Vice Chairman Kim Hyun-Chung, and Iraqi Prime Minister Nouri Kamil al-Maliki, who expressed great interest in the scale of the plant and automation facilities.
As the largest PC plant in the world (built over approximately 66 ha), it consists of three buildings where concrete materials such as slabs and walls are produced. The plant produces 6,400 tons of concrete per day, which equals the capacity of 430 ready-mixed concrete trucks. Further, if all the walls and slabs that will be produced over the next seven years were laid end to end, they would stretch for 13,000 km, the equivalent of a round trip between Seoul and Baghdad.
With the plant now complete, Hanwha Engineering & Construction is expected to play a pivotal role not only in leading the construction of housing in Bismayah New City, but also in carrying out a government-led project for building one million housing units. When construction is well under way, an apartment complex with 4,000 housing units will be provided every two months.
"The completion of the construction signals the beginning of the construction of Bismayah New City in Iraq," said Hanwha Chief Operation Officer Moon Seok. "As you can see, the completion ceremony was brought forward by two months and the construction for the New City is proceeding very smoothly."
The Prime Minister said: "I have considered how the government supports the success of Bismayah New City Project. But, as the PC plant has been successfully built, I am hugely impressed by the performance of Hanwha. The Iraqi government will proactively support the success of the project."
The PC production method used at the plant is geared toward large-scale housing projects, where columns, walls, and slabs are mass-produced using standardized high-quality materials in short timeframes for assembly at construction sites. This same method was previously used by a Korean construction firm for a housing construction project in Libya with great results.
"In addition to Bismayah New City Project, our company expects to have a tangible outcome as we are negotiating about additional construction worth 1.5 billion dollars on infrastructures. This can be achieved because the Iraqi government has trust in Hanwha Group and highly appreciates the performance of Hanwha Engineering & Construction," said a member
of Hanwha Engineering & Construction.
Information on the Bismayah New City Project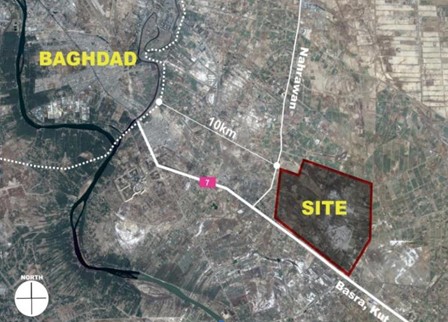 Project:
Bismayah New City Project
Location:
Bismayah, approximately 10 km southeast of Baghdad, near the Interstate #7 and Baghdad-Kut Highway
Developer:
National Investment Commission (NIC)
Work Period:
Seven years
Construction Size:
100,000 housing units built over 1,830 ha
Project Delivery System:
Design-build with design, procurement and construction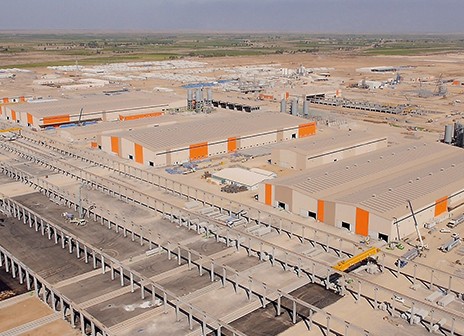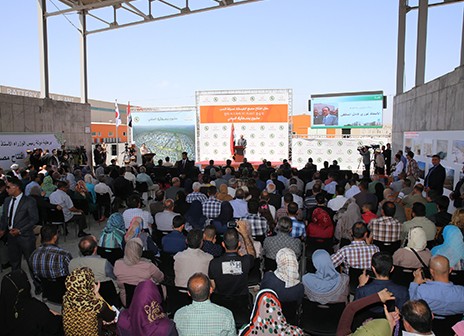 Hanwha Engineering & Construction
Hanwha E&C has been rapidly growing into a global player at an annual average growth rate of 20 percent since 2002 by leveraging its extensive experiences from many of its past construction projects and by applying its new and most effective technologies. Our competitiveness is internationally recognized; we ranked 72nd on the list of the top global contractors (with construction revenues of more than USD 521 billion) in Engineering News Record in 2014, the international publication called the "bible of the construction industry."
For more information, visit: www.hwenc.com
Hanwha Group
Hanwha Group, founded in 1952, is one of the Top-Ten business enterprises in South Korea
and a "FORTUNE Global 500" company. Hanwha Group has 56 domestic affiliates and 226 global networks in three major sectors: manufacturing and construction, finance, and services and leisure.
With more than 60 years track record of industrial leadership, Hanwha's manufacturing and construction businesses encompass a broad range of fields from chemicals & materials, aerospace & mechatronics, total solar energy solutions, and global construction. The finance network, covering insurance, asset management and securities, is the second largest non-bank financial group in South Korea. The services and leisure sector offers premium lifestyle services with retail and resort businesses.

For more information, visit: www.hanwha.com