Hanwha Q CELLS and AGR Power Up 24 MW PV Power Plant in UK for Ingenious Clean Energy
- ROC deadline met despite challenging weather conditions in early 2014
- 94,500 Q.PRO-G3 solar panels installed in three-week record time and put into operations
before March 31
- Partnership between Hanwha Q CELLS and AGR covers development, planning, construction,
and high performance modules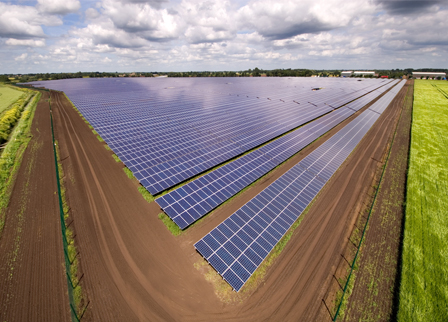 [Cambridge, United Kingdom / Thalheim, Germany, 16 September, 2014] Hanwha Q CELLS has teamed up with AGRenewables (AGR), to power up a 24.3 MW photovoltaic power plant for Ingenious Clean Energy in record-time. Despite severe weather conditions, the park in Stowbridge, Cambridgeshire, England, was constructed and grid-connected ahead of the changes in ROC at the end of March. More than 94,500 Q.PRO-G3 solar panels were installed in only three weeks. The ground-mounted plant will generate around 22,445 MWh of clean energy per year; enough to power 24,800 local households and save approximately 9,650 tons of carbon emissions each year.
AGR, a leading UK renewable energy developer specializing in utility scale PV and medium scale wind, led the project development of the Stowbridge project. Hanwha Q CELLS, the largest European PV provider and expert for Power Plant Solutions, was in the lead for supplying its premium "Engineered in Germany" PV modules as well as construction and delivery of the PV park under an EPC (Engineering, Procurement, Construction) contract. Ingenious Clean Energy is part of the market‐leading financial services group Ingenious, and will sell the clean electricity from the PV Park under the 1.6 ROCs scheme which was
in place in the UK until 31 March 2014.
Sebastian Speight, MD of Ingenious Clean Energy, said: "Putting the Stowbridge PV Park in operations ahead of the changes in ROC´s scheme was one of our top priorities – and quite a challenge given the heavy rainfalls in the initial constructions stages. Thanks to the full commitment and outstanding work of Hanwha Q CELLS and AGR the Power Plant was grid connected on time and has since been delivering very attractive and reliable yields."
"We are very happy to have teamed up with Hanwha Q CELLS on this project in such a high-flying way," said Oliver Breidt, one of the founders and co-owners of AGRenewables. "Together we can deliver fast and reliable development and EPC capabilities as well as attractive LCOE." The competitive LCOE (Levelized Cost of Electricity) of the power plant are a consequence of its low BOS (Balance of System) cost, low running cost and best in class yields. The latter two are ensured by the high quality and high performance Q CELLS solar modules. Additionally the minimal construction times and the successive connection to the grid with cascade structures reduce cost further and ensure the earliest possible yields of the power plant.
"The Stowbridge project underlines that investors can rely on Hanwha Q CELLS to deliver complete power plant solution services and reliable ROI – even in challenging conditions" said Frank Danielzik, Hanwha Q CELLS' Vice President Development/Sales & EPC. Hanwha Q CELLS has a proven track record of more than 700 MW of large scale power plant solutions around the globe and is one of only a few players, offering development, planning and construction work as well as top-quality PV panels from one source. Moreover, Hanwha Q CELLS provides financial stability as part of the Korean Top-Ten
and "FORTUNE Global 500" company Hanwha Group.
For more information:
Hanwha Q CELLS GmbH

Sonnenallee 17-21
06766 Bitterfeld-Wolfen (OT Thalheim), Germany
Corporate Communications

Jochen Endle, Robert Reinsch
Tel: +49 (0)3494 6699 10121
Email: presse@q-cells.com
Executive Board

Hee Cheul Kim (CEO), Kye Chun Son (CFO),
Dr. Andreas v. Zitzewitz (COO), Koo Yung Lee (CCO)
Hanwha Q CELLS
In February 2015 Hanwha Q CELLS Co., Ltd. (NASDAQ:HQCL) emerged as a new global solar power leader from combining two of the world´s most recognized photovoltaic manufacturers, Hanwha SolarOne and Hanwha Q CELLS. The combined company is listed on NASDAQ under the trading symbol of HQCL.
It is headquartered in Seoul, South Korea, (Global Executive Headquarters) and Thalheim, Germany (Technology & Innovation Headquarters) and is the world's largest solar cell manufacturer as well as one of the largest photovoltaic module manufacturers. Due to its diverse international footprint including facilities in China, Malaysia, and South Korea, Hanwha Q CELLS is in a unique position to flexibly address all global markets, even ones with import tariffs, such as the United States and the European Union. Based on its well respected "Engineered in Germany" technology, innovation and quality,
Hanwha Q CELLS offers the full spectrum of photovoltaic products, applications and solutions, from modules to kits to systems to large scale solar power plants. Through its growing global business network spanning Europe, North America, Asia, South America, Africa and the Middle East, the company provides excellent services and long-term partnership to its customers in the utility, commercial, government and residential markets. Hanwha Q CELLS is a flagship company of Hanwha Group,
a FORTUNE Global 500 firm and a Top-Ten business enterprise in South Korea.

For more information, visit: investors.hanwha-qcells.com
Hanwha Group
Hanwha Group, founded in 1952, is one of the Top-Ten business enterprises in South Korea
and a "FORTUNE Global 500" company. Hanwha Group has 56 domestic affiliates and 226 global networks in three major sectors: manufacturing and construction, finance, and services and leisure.
With more than 60 years track record of industrial leadership, Hanwha's manufacturing and construction businesses encompass a broad range of fields from chemicals & materials, aerospace & mechatronics, total solar energy solutions, and global construction. The finance network, covering insurance, asset management and securities, is the second largest non-bank financial group in South Korea. The services and leisure sector offers premium lifestyle services with retail and resort businesses.

For more information, visit: www.hanwha.com
AGRenewables
Established in 2011, AGR has grown quickly into a leading UK renewable energy developer, specializing in utility scale solar and medium scale wind developments. AGR has a portfolio of operational and pipeline projects throughout England, Scotland and Wales – with a robust construction pipeline
for the coming year.

Ingenious
Ingenious is a market-leading financial services group. Our clients include over 5,000 individuals, institutions, corporates and family offices. Our services include Asset Management, Corporate Finance, Investments and Ventures. Since our debut in 1998, we have raised and deployed over £9bn in the media and entertainment, clean energy and real estate sectors. The Ingenious Clean Energy team is a sector specialist team operating within the Ingenious Investments division. The vision of the team is to provide blue chip financial services to the clean energy sector with a particular focus on the raising of capital for investment. Through our strong industry network, the Ingenious Clean Energy team aims to make available to its investors' portfolios the long term, predictable and often inflation-linked cashflows that the clean energy sector can deliver.

For more information, visit: www.theingeniousgroup.co.uk