Hanwha Q CELLS PV Flat Roof System on Danish Retirement House Is One of the Country's Largest
- 56% of annual consumption covered with clean energy
- The plant received net metering approval from Danish authorities
- New business models become more attractive as FiT will continuously expire in the country
and beyond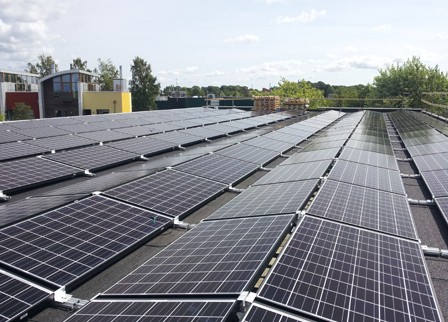 [Birkerød, Denmark / Thalheim, Germany, 16 April, 2014] German-headquartered PV specialist Hanwha Q CELLS has announced the completion of one of the largest flat roof systems in Denmark. The 345 kW flat-roof solution on a Danish retirement home of Lions Park Birkerød near Copenhagen has received net metering approval from Danish authorities and has been connected to the grid. Hanwha Q CELLS has been responsible for base frame delivery and agreed to supply Denmark-based installer Isol Aps with around 1300 monocrystalline Q.PEAK BLK-G3 265W modules and corresponding state-of-the-art Q.FLAT solution. The 345 kW solution generates 292.000 kWh of electricity which approximates 60 household's annual power demand, offsetting 146 tonnes of carbon dioxide; equal to 243 flights from Copenhagen to New York per year over its minimum 25-year lifetime. In Denmark the PV company again provides state-of-the-art Q CELLS rooftop solutions to cut commercial and industrial customer's electricity bills. In times of climbing energy prices industry and commerce are particularly interested in potentials for energy cost reduction through PV self-consumption solutions.
Mr. Bjarne Johnsen, Administrator at the Lions Park Birkerød retirement house said the PV system will help provide power for the house's 100 apartments and the care center. "We are very pleased to profit from the installation. 56% of our annual consumption will be covered by the plant's yearly yield. Thus we have chosen Q CELLS to get reliable high energy harvest," said Mr. Bjarne Johnsen, adding that electricity price hikes will allow the retirement house to cut operating costs by producing their energy through
the Q.FLAT PV solution.
"Subsidies for large plants will be reduced bit by bit and annually in Denmark. Therefore, net metering and self-consumption will become again more attractive for customers", said Jonathan Goose, Sales Director UK, Ireland and Scandinavia at Hanwha Q CELLS. The country had introduced new laws in the past in order to stabilize its yearly PV rise. The Danish installed PV capacity had increased by around 200 MW in 2012 from about 17 MW in 2011. The Scandinavian country is aiming to achieve 800 MW by 2020.
"We chose Q CELLS because it is German quality. In a market with many east Asian manufacturers, it is crucial for us and our clients that the Q CELLS modules are made in EU," said Finn Rasmussen, Managing Director at Isol Aps. "Our clients value highest quality. Therefore we combine Q CELLS products "Engineered in Germany" and Danish optical design during installation". Compared with a space consuming 30° mounting system with a southern orientation the 10° flat-roof system Q.FLAT-G3 with an east-west orientation doubles the performance density of 67 Wp/m² to up to 134 Wp/m² and as such maximizes the yields based on the available roof surface. This makes Q.FLAT-G3 the best solution for flat roofs. Not having to drill into the roof protects the building surface (non-penetrative installation).
For more information:
Hanwha Q CELLS GmbH

Sonnenallee 17-21
06766 Bitterfeld-Wolfen (OT Thalheim), Germany
Corporate Communications

Jochen Endle, Robert Reinsch
Tel: +49 (0)3494 6699 10121
Email: presse@q-cells.com
Executive Board

Hee Cheul Kim (CEO), Kye Chun Son (CFO),
Dr. Andreas v. Zitzewitz (COO), Koo Yung Lee (CCO)
Hanwha Q CELLS
Hanwha Q CELLS is a total solar power solution provider with the world's largest cell production capacity. Our business scope ranges from the midstream of ingots, to wafers, cells, and modules, to downstream solar solutions for residential, commercial buildings, and solar power plants. Our full spectrum of products creates synergy with Hanwha Chemical's polysilicon business. This completes the total vertical integration of Hanwha's solar businesses.

For more information, visit: www.hanwha-qcells.com
Hanwha Group
Hanwha Group, founded in 1952, is one of the Top-Ten business enterprises in South Korea
and a "FORTUNE Global 500" company. Hanwha Group has 56 domestic affiliates and 226 global networks in three major sectors: manufacturing and construction, finance, and services and leisure.
With more than 60 years track record of industrial leadership, Hanwha's manufacturing and construction businesses encompass a broad range of fields from chemicals & materials, aerospace & mechatronics, total solar energy solutions, and global construction. The finance network, covering insurance, asset management and securities, is the second largest non-bank financial group in South Korea. The services and leisure sector offers premium lifestyle services with retail and resort businesses.

For more information, visit: www.hanwha.com