Hanwha Signs Korea's Largest Ever Overseas Construction Project
Hanwha to build 100,000 homes in Iraq in Korea's Largest Ever Overseas
Construction Contract
- USD $8 billion construction of 1,830ha sized new town
- Growth expected to be shared with small and medium businesses and the creation of jobs
through subcontractors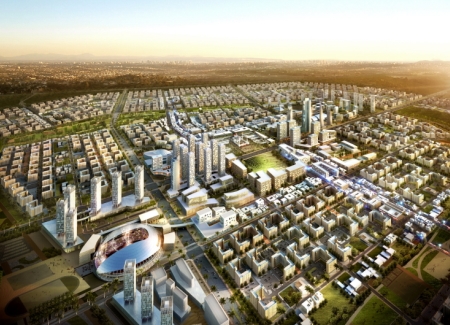 [24 May, 2012] Hanwha group announced that the Iraqi Cabinet meeting has approved a contract with the company for the construction of 100,000 national housing homes in Iraq. This is the single largest overseas construction project ever for Korea.
This project involves the development of 1,830 hectare new town in the Vismaya region, which is 10km south east of the capital city Baghdad. (It is similar in scale to the Seoul suburb of Bundang.) The project includes building 100,000 homes, as well as the roads, water and sewage to support them. The company plans to build Islamic traditional houses and modern houses of 100, 120 and 140 square meters.
The whole project will take seven years to complete and will employ the Design-Build method, through which one company carries out the planning, procurement and construction. The total investment in the project is 7.75 billion dollars, with a 25% advance payment. The contract also includes a fee escalation clause to reflect inflation, making the expected fee closer to 8 billion dollars.
Considering the size and symbolic importance of this project, Hanwha Chariman, Kim Seung-youn, has taken a proactive role in leading his team and overseeing all operations down to the smallest detail. Also, Hanwha executives including Kim Hyun-joong, vice president of Hanwha Construction, made numerous trips to Iraq to attend approximately 20 meetings to agree on final contract terms. Over this nearly one-year project, the Iraqi government and the company set terms that were highly agreeable for both parties. The two sides signed a memorandum of agreement last May.
It is said that Hanwha's successful completion of Incheon Eco Metro, Korea's first and largest city development project, played a major role in the group winning this massive contract.
For this project Iraqi goverment assumes responsiblity for securing funds for the construction of new town/selling homes while Hanwha construction assumes responsibility for building 100,000 homes & estate development. Since the end of last year, the Iraqi government started soliciting subscription among 100,000 government employees. Currently the subscription has ended and purchase agreements are scheduled to be signed soon.
Hanwha Engineering & Construction
Hanwha E&C has been rapidly growing into a global player at an annual average growth rate of 20 percent since 2002 by leveraging its extensive experiences from many of its past construction projects and by applying its new and most effective technologies. Our competitiveness is internationally recognized; we ranked 72nd on the list of the top global contractors (with construction revenues of more than USD 521 billion) in Engineering News Record in 2014, the international publication called the "bible of the construction industry."
For more information, visit: www.hwenc.com
Hanwha Group
Hanwha Group, founded in 1952, is one of the Top-Ten business enterprises in South Korea
and a "FORTUNE Global 500" company. Hanwha Group has 56 domestic affiliates and 226 global networks in three major sectors: manufacturing and construction, finance, and services and leisure.
With more than 60 years track record of industrial leadership, Hanwha's manufacturing and construction businesses encompass a broad range of fields from chemicals & materials, aerospace & mechatronics, total solar energy solutions, and global construction. The finance network, covering insurance, asset management and securities, is the second largest non-bank financial group in South Korea. The services and leisure sector offers premium lifestyle services with retail and resort businesses.

For more information, visit: www.hanwha.com