Hanwha SolarOne Celebrates the Crowning of Hunter Pence as "Mr. Energy of the Year powered by Hanwha" with Donation to Junior Giants
Scholarship Fund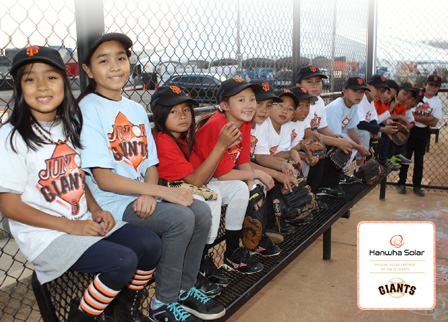 [SAN FRANCISCO, 30 September, 2014] Hanwha SolarOne, a top-10 global photovoltaic manufacturer of high-quality, cost-competitive solar modules and the official solar partner of The San Francisco Giants, awarded Hunter Pence as "Mr. Energy of the Year powered by Hanwha" before the start of a recent home game. Hanwha SolarOne celebrated the powerful season of Pence with a donation
to the Junior Giant Program.
Junior Giants, the flagship program of the non-profit Giants Community Fund, is a free, non-competitive and innovative baseball program that gives at-risk kids ages 5-18 an alternative to drugs, gangs and crime. Celebrating its 20th year, the Junior Giants program now reaches over 21,000 children
in 90 leagues across California and into Nevada and Oregon.
"Inspired by Mr. Energy of the Year Pence's impressive season, Hanwha SolarOne was motivated to give more Bay Area youngsters the chance to pursue sports as an outlet for achievement," said Steve Kang, president of Hanwha SolarOne USA. "This partnership also builds on Hanwha SolarOne's mission
to educate children about environmental responsibility."
Throughout the 2014 season, fans were invited to vote for the Mr. Energy of the Month. One voter was chosen each month to win a Grand Slam Prize Package, which included an autographed jersey and baseball, a solar cellphone charger and a $200 Visa gift card. After all the votes were tallied, Pence was named Mr. Energy of the Year in a home plate ceremony before the start of the game on September 25, 2014. Hanwha SolarOne subsequently donated one dollar for every vote cast in the Mr. Energy campaign to the Junior Giants Program. In addition to Hanwha SolarOne's contribution, OneRoof Energy joined the "Mr. Energy of the Year Powered by Hanwha" campaign, offering homeowners $250 cashback for converting to cleaner, more affordable solar energy. OneRoof Energy, a technology-rich solar finance provider, subsequently donated $250 to the Junior Giants for every new customer signed up as part
of the campaign.
"The Giants are proud of our partnership with Hanwha SolarOne and our shared commitment to serving and supporting Bay Area youth," said Jason Pearl, managing vice president of sponsorship
for The San Francisco Giants.
To energize and improve the lives of Giants fans and all Bay Area residents, Hanwha SolarOne has built on the Giants' legacy of environmental responsibility through a series of green initiative campaigns, including a solar photovoltaic installation at AT&T Park, a Hanwha-branded, sun-shaped LED sign above left field which displays how far a home run ball travels and sponsorship of the Giants' in-game recycling Green Team, which enters the stands of AT&T Park at the end of the seventh inning to collect recyclables and to remind fans to recycle at home.
For more information:
Jeffrey Juger, Hanwha SolarOne USA

Head of Marketing
Tel: +1 203 800 6000
Hanwha SolarOne
Hanwha SolarOne Co., Ltd. (NASDAQ: HSOL) is one of the top 10 photovoltaic module manufacturers in the world, providing cost-competitive, high quality PV modules. It is a flagship company of Hanwha Group, one of the largest business enterprises in South Korea. Hanwha SolarOne serves the utility, commercial, government and residential markets through a growing network of third-party distributors, OEM manufacturers and system integrators. The company maintains a strong presence worldwide, with a global business network spanning Europe, North America, Asia, South America, Africa and the Middle East. As a responsible company committed to sustainability, Hanwha SolarOne is an active member of the PV Cycle take-back and recycling program.

For more information, visit: investors.hanwha-solarone.com
Hanwha Group
Hanwha Group, founded in 1952, is one of the Top-Ten business enterprises in South Korea
and a "FORTUNE Global 500" company. Hanwha Group has 56 domestic affiliates and 226 global networks in three major sectors: manufacturing and construction, finance, and services and leisure.
With more than 60 years track record of industrial leadership, Hanwha's manufacturing and construction businesses encompass a broad range of fields from chemicals & materials, aerospace & mechatronics, total solar energy solutions, and global construction. The finance network, covering insurance, asset management and securities, is the second largest non-bank financial group in South Korea. The services and leisure sector offers premium lifestyle services with retail and resort businesses.

For more information, visit: www.hanwha.com
OneRoof Energy
OneRoof Energy Group, Inc. (ON.V), operating through its US subsidiary, OneRoof Energy, Inc., is a complete solar services provider offering homeowners everything from traditional and lease financing, PPAs, solar system design and installation project management to ongoing system monitoring and maintenance services. Utilizing its technology-rich, solar leasing fulfilment platform, OneRoof Energy is partnering with traditional energy retailers and home services companies of all sizes to offer residential customers affordable, renewable energy choices. With its unique end-to-end energy solution, the company has created multiple touch points to offer cost-saving energy products and services that create a seamless experience for the homeowner while fulfilling their unique energy needs. Currently, the company serves residential customers in five states including Arizona, California, Hawaii, Massachusetts and New York with plans for additional expansion.

For more information, visit: www.oneroofenergy.com

the San Francisco Giants
The San Francisco Giants of the National League is one of the oldest franchises in Major League Baseball. Boasting a 130-year history, the team moved to San Francisco from New York in 1958 playing a total of 42 years in Seals Stadium and Candlestick Park before moving to AT&T Park in 2000. The franchise was named 2010's Sports Organization of the Year by Street & Smith's Sports Business Journal Daily.

Since opening its gates, AT&T Park has become internationally-renowned as a premier venue in the world of both sports and entertainment. On the diamond, more than 37 million spectators have witnessed a number of magical moments and four playoff appearances, including in 2010 when the Giants became the World Series champions for the first time since moving West. In 2008, the Giants celebrated the team's 50th year in San Francisco and it was the center of the baseball universe when it hosted the 78th Major League Baseball All-Star Game on July 10, 2007. AT&T Park has also played host to some of music's biggest acts, including the Rolling Stones, Bruce Springsteen and the E-Street Band and Green Day.

Off the field, the Giants have one of the premier community outreach programs in professional sports, becoming the first team to implement a 100 percent participation program, involving every player, coach and uniformed staff member in at least one community project throughout the season. Through its community outreach programs, the Giants and the Giants Community Fund work with corporate and non-profit partners to raise awareness, educate and generate interest in a variety of issues important
to both their fans and community including education/literacy, violence prevention, health and youth recreation and fitness.

For more information, visit: www.giants.mlb.com