Intersolar Award 2017 Goes to Hanwha Q CELLS' Reinforced Steel Frame Module Innovation
- The Q.PEAK RSF L-G4.2 convinces Intersolar Award jury with reinforced steel-frame
concept and many additional innovations
- Reinforced steel frame design, decentralized junction box, easy mounting system
and Q.ANTUM technology combine numerous advantages for higher yields and
system performance as well as lower installation cost and lower LCOE
- Hanwha Q CELLS CTO Ph.D. Daniel JW Jeong said: "Our steel frame module has a
good chance of setting the next industry standard for utility scale solar modules."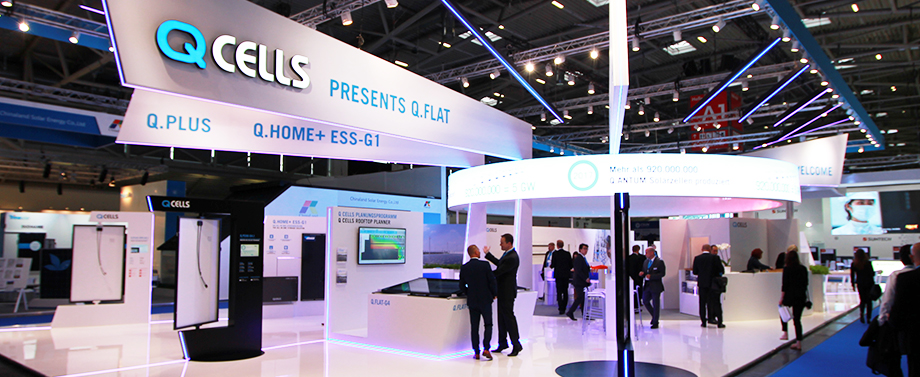 [May 31, 2017] Hanwha Q CELLS Co., Ltd. ("Hanwha Q CELLS" or the "Company") (Nasdaq: HQCL), has won the Intersolar Award 2017 in the category Photovoltaics. The jury judged Hanwha Q CELLS´ Q.PEAK RSF L-G4.2 solar module as the most innovative out of ten shortlisted entries and out of 51 applications in total. Receiving the award on behalf of Hanwha Q CELLS, the company´s Global CTO, Ph.D. Daniel JW Jeong, said: "We are very pleased about the judgement of the Intersolar Award Jury. Our new steel frame module combines a number of innovations on different levels with our high performance cell technology Q.ANTUM. The improvements in terms of performance, installation cost and LCOE are such that we believe this technology is likely to be setting the next industry standard regarding solar modules for utility scale applications."

Q.PEAK RSF L-G4.2: THE NEXT LEVEL OF UTILITY SCALE SOLAR MODULES
Q.PEAK RSF L - G4.1 is a monocrystalline 72-cell Q.ANTUM solar module ready for a maximum system voltage of 1.500 V and combining the following innovations to reach lowest LCOE:
· Q CELLS Reinforced Steel Frame technology
- Framing concept based on innovative steel coated with alloy of zinc-aluminium-magnesium
- 10 times better corrosion resistance compared to galvanised steel
- Self-repairing mechanism for cut edges
· Decentralized Q.BOX
- Decentralised junction box with pluggable MC4-connectors in upper corners of the module
- Cable length can be customized to fit perfectly to any installation
- Lower losses from electrical resistance due to optimised cable length
- Faster and safer installation
· Easy Mounting System
- Only small mounting key and self-tapping screw needed to fix modules on mounting structure
- Reduction of installation time on a standing mounting structure by over 60% compared to
standard systems with clamp mounting
- Modules can be mounted without any gap between modules, thus reducing installation size or
increasing total system power
- Safes a large amount of mounting materials
· Q CELLS proprietary Q.ANTUM cell technology
- Rear side passivated monocrystalline solar cells for power classes up to 375 Wp
- Strongest standard 72 cell module on the market
- High power density leads to low BoS costs
- Q CELLS Yield Security: Anti LeTID, Anti LID, Anti PID, Hot-Spot Protect, Tra.Q
Hanwha Q CELLS
Hanwha Q CELLS is a total solar power solution provider with the world's largest cell production capacity. Our business scope ranges from the midstream of ingots, to wafers, cells, and modules, to downstream solar solutions for residential, commercial buildings, and solar power plants. Our full spectrum of products creates synergy with Hanwha Chemical's polysilicon business. This completes the total vertical integration of Hanwha's solar businesses.

For more information, visit: www.hanwha-qcells.com
Hanwha Group
Hanwha Group, founded in 1952, is one of the Top-Ten business enterprises in South Korea
and a "FORTUNE Global 500" company. Hanwha Group has 56 domestic affiliates and 226 global networks in three major sectors: manufacturing and construction, finance, and services and leisure.
With more than 60 years track record of industrial leadership, Hanwha's manufacturing and construction businesses encompass a broad range of fields from chemicals & materials, aerospace & mechatronics, total solar energy solutions, and global construction. The finance network, covering insurance, asset management and securities, is the second largest non-bank financial group in South Korea. The services and leisure sector offers premium lifestyle services with retail and resort businesses.

For more information, visit: www.hanwha.com
Safe-Harbor Statement
This press release contains forward-looking statements. These statements constitute "forward-looking" statements within the meaning of Section 27A of the Securities Act of 1933, as amended, and Section 21E of the Securities Exchange Act of 1934, as amended, and as defined in the U.S. Private Securities Litigation Reform Act of 1995. These forward-looking statements can be identified by terminology such as "will," "expects," "anticipates," "future," "intends," "plans," "believes," "estimates" and similar statements. Among other things, the quotations from management in this press release and the Hanwha Q CELLS' operations and business outlook, contain forward-looking statements. Such statements involve certain risks and uncertainties that could cause actual results to differ materially from those expressed in or suggested by the forward-looking statements. Further information regarding these and other risks is included in Hanwha Q CELLS filings with the U.S. Securities and Exchange Commission, including its annual report on Form 20-F. Except as required by law, Hanwha Q CELLS does not undertake any obligation to update or revise any forward-looking statements, whether as a result of new information, future events or otherwise.