Hanwha Techwin was formed by strategic acquisition in 2015. Hanwha Group plans to
maximize the synergy between the company and other precision mechatronics and aerospace affiliates, helping us to create an industrial conglomerate with a diverse range of business lines that includes precision machinery, electronics parts assembling equipment, energy equipment, semiconductor parts, and self-propelled howitzers. We have already succeeded in broadening our portfolio to security, energy/industrial equipment and the aerospace industry, and also leveraged our technological edge
to enter the robot control market.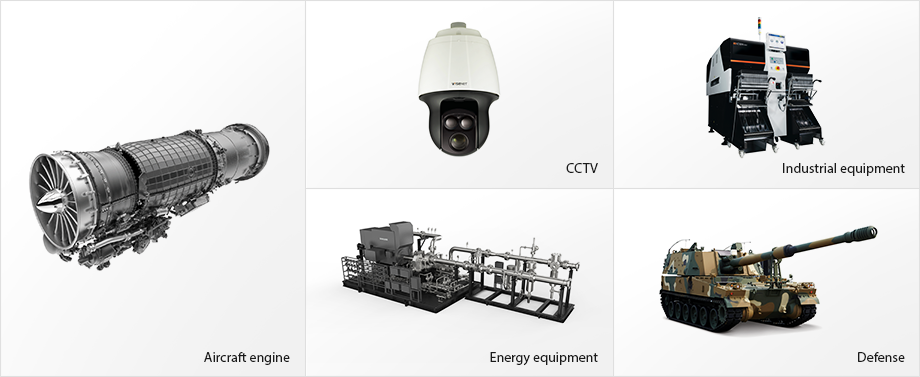 Additionally, we also provide network control systems for the security market, equipped with our world-class CCTVs and image storage devices, and our one-stop security solution. Our industrial equipment business delivers screen printers as chip mounters for electronics parts assembly. Total sales of our chip mounters worldwide have surpassed 10,000 units thanks to the world's fastest mounting speed, quality, and economic efficiency.
Hanwha Techwin also strives to develop technologies for next-generation intelligent robot solutions for industrial and security uses. We are the only company that produces engines for nextgeneration fighter jets and Korean utility helicopters, cementing our position as Korea's largest defense equipment manufacturer. We are also emerging as a total energy solution provider, delivering industrial compressors, large-scale air and gas compressors, and energy systems for LNG tankers and FPSO vessels.
For more information, please visit :
Our businesses now span the manufacturing, construction, finance, services and leisure industries.
Through the integration of our growing number of affiliate enterprises worldwide, we are harnessing the power of sustainable, quality growth to continually increase the value we bring to our customers.