Hanwha Advanced Materials
Hanwha Advanced Materials is a materials company with competitiveness in materials such as lightweight composite materials for automotive parts, electronics and solar materials.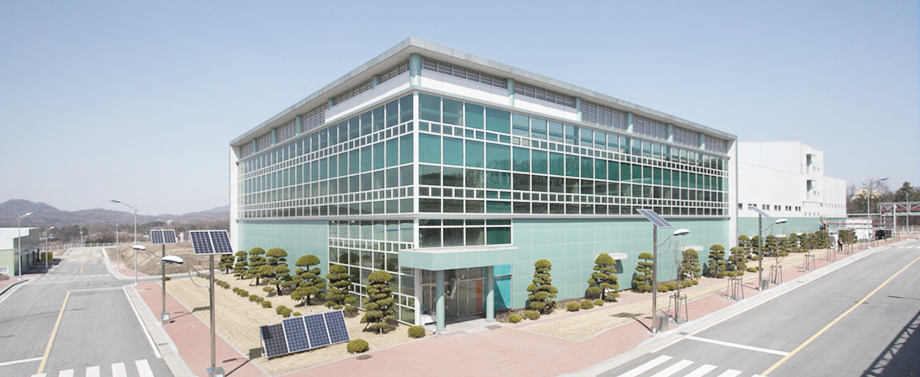 Since we entered the auto parts industry in 1986, we have been supplying global automakers with a variety of interior and exterior auto components, from lightweight materials such as StrongLite (glass fiber mat-reinforced thermoplastic, GMT), to Super-Lite (lightweight reinforced thermoplastic, LWRT), BuffLite (expandable polypropylene, EPP), SMC (sheet molding compounds) and LFT (long fiber reinforced thermoplastics). Currently, we have the largest market share in the global GMT market and we are working with automakers at the conceptual stages of new models to develop new lightweight materials and parts.
In May 2014, we developed a technology used for making hybrid-type front bumper beams for automobiles, and in September, we received the New Excellent Technology Certification (NET) for our new manufacturing technology that allows the combination of GMT with Aramid fibers. The NET certification is issued by the Korean Agency for Technology and Standards (KATS), which operates within the Ministry of Trade, Industry, and Energy Since the acquisition of US-based thermoplastic composite maker Azdel in 2007, we have strengthened our position as a global materials and components supplier. We are currently providing products to leading automakers by establishing manufacturing subsidiaries in Alabama and Virginia in the United States, Beijing and Shanghai in China, and in the Czech Republic.
In 2015, we acquired a German auto parts supplier called Heycoustics. Its major products include superior noise-absorbing wheel arch liners and aerodynamic underbody shields that improve fuel efficiency. This gives us a strong bridgehead for sales and distribution. We also opened a new operation in Mexico in 2015 and we are expanding production facilities.
Our electronic materials business has grown significantly within Hanwha Advanced Materials since 2003 when we successfully began the production of LinkTron (flexible copper clad laminate, FCCL),
an instrumental material for cell phones. Starting from 2012, we have been massproducing an independently developed core material called SenseTron (ITO film), marketing it to major touch screen panel module companies in Korea and China.
We also developed independent technologies in EVA sheets and Back sheets for photovoltaic modules. Our expertise is based on Hanwha Group's competencies in supplying EVA materials for solar batteries and its three decades worth of expertise manufacturing sheets.
For more information, please visit: