Hanwha Chemical was the first company in Korea to produce PVC, LDPE, linear low-density polyethylene, and chlor-alkali. Since our establishment in 1965, we have been manufacturing basic petrochemical products that have served as the foundation of different industries.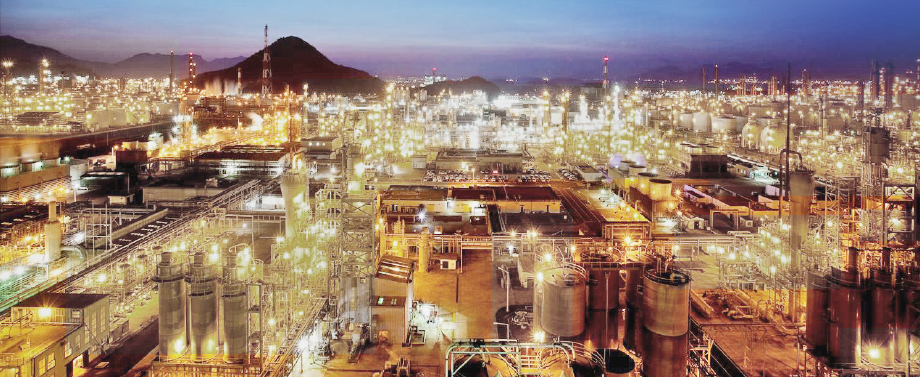 Hanwha Chemical has driven the growth of the Korean chemical industry, and our strategic investments to meet growing demand around the world have paid off. Our PVC plant in Ningbo, in China's Zhejiang province, is currently going through continuous production process improvement to increase annual production capacity by 120% and is expected to produce 360,000 tons of PVC annually in 2015. We are also promoting an alkali soluble resin plant in Bang Phli, Thailand with an annual capacity of 17,000 tons. It will be our key post to enter Southeast Asian markets.
In addition, Hanwha Chemical was the first Korean petrochemicals company to tap new business opportunities in the Middle East. We signed joint venture contracts with International Polymers Company (IPC), a private petrochemical company in Saudi Arabia, and Gulf Advanced Cable Insulation (GACI) in 2011. In 2015, we have achieved cost reduction and economies of scale as the joint venture with IPC began to manufacture ethylene vinyl acetate (EVA), and low-density polyethylene (LDPE). With GACI,
we are producing wire and cable compounds. We have subsequently jumped to second place in EVA production capacity, securing our global competitiveness.
Hanwha Chemical is also expanding its global business to cover emerging future industries such as photovoltaics and nanotechnology. As part of Hanwha Group's efforts to develop the photovoltaic business as a new future growth engine, we acquired global photovoltaic companies to enhance competitiveness. To enhance our upstream solar businesses, we built a polysilicon plant within the Yeosu National Industrial Complex with 10,000 tons of annual capacity and started production in early 2014.
We have been leveraging the advantages of our affiliated companies and making strategic investments to become a leading player in the global solar energy market. We will continue to invest in nanotechnology-based materials application technologies including carbon nanotubes and graphene.
For more information, please visit: