Hanwha Engineering & Construction
Capitalizing on extensive experience and technologies gained over the course of numerous construction projects, Hanwha E&C has been rapidly growing into a global player at an annual average growth rate of 20% since 2002. Our competitiveness is internationally recognized, ranking 72nd on the list of Global Contractors announced by the international construction magazine Engineering News Record (ENR) in 2014. Our goal is to become a world-renowned construction company by 2020 with our "Design
the World" vision.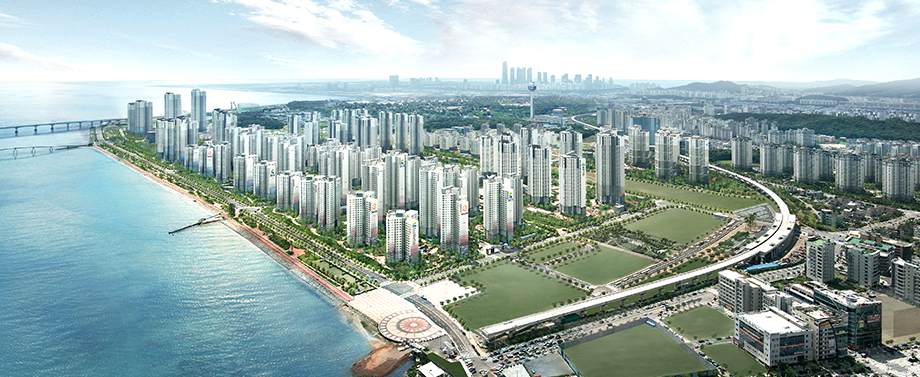 In 2012, we signed a contract for a USD 8 billion project to build a new city in Bismayah, Iraq, and in 2015, won a second infrastructure project there. This pushed the total value of contracts won in Iraq above USD 10 billion. In 2014, we demonstrated our technological prowess by building the world's largest domed arena in the Philippines. We have also signed contracts to build power and petrochemical plants in the Middle East and North Africa, and we are developing large-scale real estate projects in the Americas.
We are also partnering with other large corporations around the world. For example, Hanwha E&C worked on Saudi Aramco's USD 600 million maritime terminal construction project in 2012, and Saudi Ma'aden's USD 935 million chemical plant construction project in 2014.
In Korea, one of our major projects is Hanwha E&C's Dream & Green Incheon EcoMetro. This is the nation's largest urban development project to date and has elevated our status in the domestic housing construction market. We have also completed a number of other large-scale projects, including the third Gyeongin Freeway, the Pyeongtaek-Siheung Expressway, the privately operated Seoul Station and Cheongnyangni Station, the remodeling of the 63 Building and the Galleria Department Store's Luxury West Wing. We have built more than 45,000 Dream & Green apartments and officetels throughout Korea, and a series of Galleria Forêt luxury high-rise commercial and residential buildings in Seoul.
Hanwha E&C became Korea's first private water treatment contractor to be licensed to build private-sector water treatment plants, after developing the nation's first advanced membrane filtration water treatment technology. We are also developing building-integrated photovoltaic (BIPV) systems and zero-emission solar housing (ZESH) technology. With these efforts, we have become an eco-friendly construction leader.
For more information, please visit:
Our businesses now span the manufacturing, construction, finance, services and leisure industries.
Through the integration of our growing number of affiliate enterprises worldwide, we are harnessing the power of sustainable, quality growth to continually increase the value we bring to our customers.