With 50 years of technological know-how that drives Hanwha's cutting edge business development in the chemical industry, Hanwha is committed to a brighter future for all.
Chemical Products at a Glance
Through continuous research and insight, Hanwha has continued to strive for leadership
in the chemical industry by producing the best quality products.
Energy (Oil Refining)

Our LPG production begins with high-quality imports from the Middle East which are refined under strict quality management in our own production facility before being supplied to the market. Propane is sold as cooking fuel for homes and restaurants as well as for municipal gas, while butane is used for automobile fuel, outdoor gas stoves, cosmetic production, and propellant. Fuel oil uses condensate as raw material that is distilled through a crude fractionation unit (CFU) refinery using the latest technology to produce high-quality aviation fuel and kerosene, by-product fuel oils, and automobile diesel fuel. Hanwha has also supplied aviation fuel for aircraft jet turbine since 2010. The company has received the highest quality rating from BP, the world's largest aviation fuel trader, after undergoing a strict inspection process for supplied products. Hanwha plans to continue to produce and distribute products with the highest level of quality through a strict quality management and production process control.

Petrochemical Base Materials

With world-leading technology, Hanwha produces high-purity base chemicals and compounds. Ethylene and propylene are used as raw materials for synthetic resins, and benzene and SM are used as ingredients for ABS and PS. Hanwha's ethylene production capacity exceeds 2.9 million tons per year, ranking 9th in the world. Ethylene is a key raw material in the chemical industry, and Hanwha has achieved the economy of scale that enables the company to continuously enhance its price competitiveness.

Synthetic Resins and Materials

PVC (polyvinyl chloride) is one of the most common general purpose plastics used in a wide range of applications, from industrial manufacturing to the production of household items such as containers of all sizes and shapes, packaging film, toys and textiles. Hanwha's PVC production capacity in 2015 was 360,000 tons, a significant share of the global market made possible by the company's high quality level of price competitiveness. Hanwha also operates the world's second-largest production capacity in EVA, a polymer used in everything from agricultural film and footwear production to high-tech products such as IT protection film, giving the company world-class competitiveness in this important industry. Hanwha also maintains a PTA production capacity of over two million tons per year, leading the domestic and international PTA markets by maintaining the highest level of manufacturing competitiveness.

Chlorine, Caustic Soda

These materials are used in a variety of fields including paper manufacturing, textiles, detergents, electronics, and many more. With rising awareness of the importance of environmental protection, chlorine and caustic soda have found widespread use in waste water treatment and gas reduction as part of efforts to reduce water and air pollution. Hanwha continues to strive to secure a high level of competitiveness in order to establish a leading position in the global market.
With acute insight on industries and continuous R&D efforts, Hanwha has strengthened its leadership
in many areas which span from the petrochemical industry to new future-oriented businesses.
W&C Compound W&C Compound was selected as a World-class Product in 2004 by Korean government.
Hanwha Chemical developed it for the first time
in Korea in 1985 and started manufacturing it commercially.
Since then, the company was the third worldwide to successfully produce 345kV XLPE cables.

EVA for Thermal Laminating Film EVA for Thermal Laminating Film was selected as a World-class Product in 2009 by Korean government.
The high value product could have been produced by any number of companies that obtained the advanced technology and equipment that it required. Hanwha Chemical succeeded in developing and manufacturing it in Korea for the first time.

Solar Cell EVA Solar Cell EVA was selected as a World-class Product in 2011 by Korean government.
Solar Cell EVA is the main material of EVA Sheet which protects and connects the Class and the Back Sheet on the solar power module.
Hanwha Chemical's Solar Cell EVA is outstanding in terms of transparency, adhesiveness and processing technologies.
From refining to basic chemicals, synthetic fuel and advanced materials, Hanwha's diversified chemical portfolio continues to expand the horizons of industry, society, and our daily lives.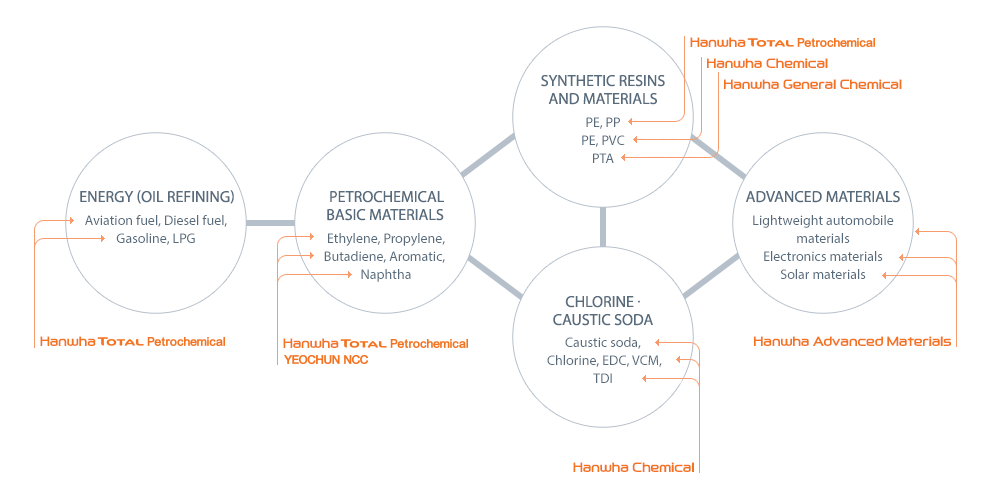 Reinforcing Our Leadership
Hanwha's chemical business will continue to work hard towards realizing its dream of becoming a global leader through technological development based on its drive to challenge ambitious goals.
Global
Network

Hanwha has 28 global networks in chemical business. The global networks served as a bridgehead for Hanwha's advancement into the global market. Hanwha will expand its global network to strengthen its influence on the global market.

R&D

Hanwha Chemical Business R&D Center has contributed to driving the company to become a future-oriented technology company, which can raise the value of human life, by strengthening the foundation of the company for sustainable growth through developing new future businesses, including echo-friendly energy and next generation advanced materials.

Dow Jones Sustainability Indexes (DJSI)

In 2013, Hanwha Chemical was included in the Asia-pacific and Korea sections of the Dow Jones Sustainability Indexes (DJSI).

100 Best Companies
to Work for For two consecutive years in 2012 and 2013, Hanwha Chemical was awarded the grand prize in the manufacturing selection of "100 Best Companies
to Work for".
Hanwha Advanced Materials adds value to chemicals with high-tech materials.
Hanwha's chemical business has obtained competitiveness in a variety of business areas that will foster growth through strategic M&A and the establishment of branches overseas.
R&D KOREA



manufacturing CHINA, KOREA



marketing & sales BRAZIL, CHINA, GERMANY,
HUNGARY, INDIA, JAPAN,
KOREA, MALAYSIA, POLAND,
SINGAPORE, TURKEY, AND USA