's Vision
Our vision is to touch the lives of every individual in every country in which we operate. We want to elevate the quality of life with our innovations and solutions. And to achieve our vision, we've set goals to help us lead in all markets our businesses compete in. Anticipating change, innovating, and investing in future technologies and infrastructure are at the forefront of our agenda for each of our businesses.
At the same time, we remain steadfast in our commitment to help our customers grow with us with
the products we build for them. After all, our commitment is to our customers, employees,
and to the world in which we live.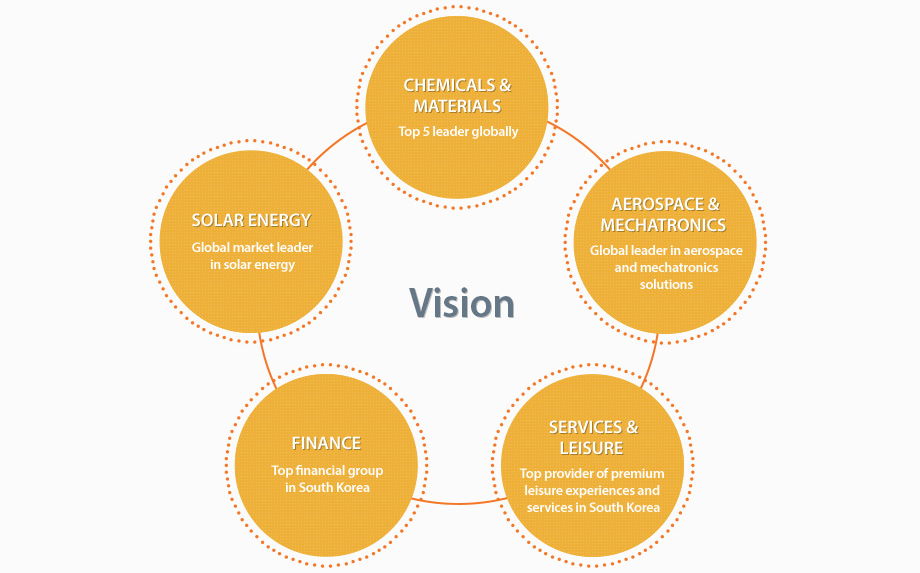 CHEMICALS & MATERIALS Top 5 leader globally AEROSPACE & MECHATRONICS Global leader in aerospace and mechatronics solutions SOLAR ENERGY Global market leader in solar energy FINANCE Top financial group in South Korea SERVICES & LEISURE Top provider of premium leisure experiences and services in South Korea
's Spirit & Core Values
At Hanwha, we operate with the spirit of trust and loyalty above all else.
They are reflected in our core values and serve to guide us in how we do business and why we innovate.

Challenge We believe in challenging the status quo in the pursuit of excellence through change and innovation. Dedication We are dedicated to our company, customers, and one another to achieve a greater goal. Integrity We believe in acting with integrity in everything we do, as individuals and employees.