Congratulations!

Core Values Ambassadors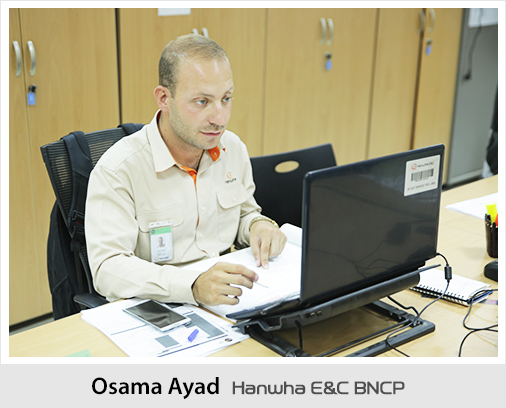 I started working at Hanwha E&C over two years ago. For me, joining Hanwha was the greatest opportunity of my life since Hanwha was controlling the largest international housing project in the whole middle east. I was very excited when I joined Hanwha as a site engineer in building construction team. My team was responsible for supervising the process of construction for multi-story residential buildings from the foundation to the last floor. At the initial work time, my team and I faced many difficulties because my team was consisted of engineers with different nationalities: Korean, Iraqi and Bangladeshi. We had to first find the common communication language which was English. This effectively improved language proficiency for every member in the team. The second difficulty was to understand and respect every nationality traditions, religions and principles. We overcame it in a record time by the help of Korean managers who supported us and taught us the principles of work. We got a huge amount of work related information that helped us improving our professional skills as well as improving the work quality in site.

We also managed to publish a handbook which was a result of our teamwork. That book contained our work procedure and quality control points, the most common problems in our work, and the best solutions for the most important work related the issues. Besides work, this project was a great opportunity for cultural exchange. We learned many things about Korean traditions, arts and allegory as we shared our traditions and history. Korean managers at Hanwha showed a great deal of respect for our religion and traditions in spite of all the differences. This increased our appreciation and respect for Korean people who are in a permanent try to grow and overcome all the challenges with patient and lot of hard work.

Hanwha managers taught us many lessons about passion and commitment. They sacrificed their freedom and spent a very long time away from their families. In our restricted project, they only thought and followed work in order to ensure that it is done at the highest level of perfection. And according to the schedule, Hanwha gave an example of commitment. They continued to work in Bismayah new city project even in the worst security condition days Iraq while all other companies managed to leave and shut down all their working sites.

Working with Hanwha was a real life changing opportunity for every one of us on both professional and personal level. In construction site, we learned how to be committed to the schedule and how to ensure that the work is done with best quality and at the specified time. We ran many successful inspections and got through many discussions with Iraqi resident engineers who was representatives of Iraqi government and responsible for the evaluation of our work quality. We managed to overcome thousands of problems that happened in working site by the help and guidance of our managers who were great teachers. Our team was more like a family; together we shared problems and discussed to find the best solutions to meet the schedule and provide the best quality.

Hanwha has really improved our life on a personal level. Now we follow an arranged life based on previous planning. We rarely keep our life for coincidences. We also learned time management skills which helped us to do a lot of things in a very limited time and achieve great accomplishments. Other lessons we learned from Hanwha were modesty and how to respect all people in spite of all the differences. We wear the same uniform as the highest manager in the company. It is a wonderful system that shows every employee is very appreciated and valuable for the company. We learned from Hanwha how to listen to other people opinions and points of view with a great deal of respect. And the most important lesson was that we can achieve anything we want by good planning, lot of hard working, patient and believing in our capabilities to overcome all the life obstacles and difficulties.

At last I want to say that I'm proud of belonging to PC Construction Team, HENC.