2016 New Year's Message from CEOs









Dear Hanwha Life Employees,
I would like to express my heartfelt appreciation for the passion and effort you have demonstrated this past year.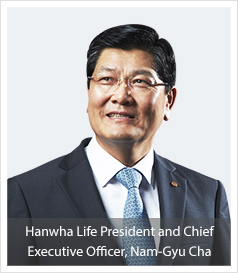 In 2016, Hanwha Life is set to achieve the historic milestone of 820 million USD (100 trillion KRW) in assets. In order to realize our vision of becoming a "World's Top Insurance Company," we plan to further expand our global operation through our subsidiaries in China, Vietnam, and Indonesia. I ask that our employees take the lead in this race towards fulfilling our vision.
Once again, I thank you all for your hard work and hope you will continue to do your best in your given roles in the New Year bearing pride as Hanwha members. I wish you and your family health and happiness.
Hanwha Life President and Chief Executive Officer
Nam-Gyu Cha
Dear Hanwha Techwin Employees,
The New Year has begun.
I hope that all of your wishes for the New Year come true and that 2016 will be a year of hope and growth for our Company as well.
Thanks to your continued efforts for the development of the Company this past year, we have been able to secure our footing for a new leap forward in the New Year.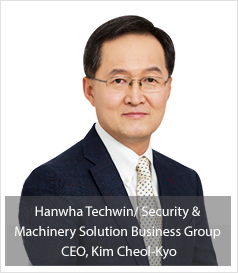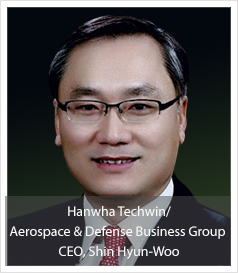 In particular, as we marked our new start as Hanwha Techwin last year, we have developed the new vision of becoming the "Global Military Aviation and Cutting-edge Technology Equipment Solution Leader" and have been striving to grow into a core affiliate of Hanwha Group's manufacturing arm.
To achieve this vision, your role of making inroads into global markets in different regions around the world is indispensable. As the spearhead of the Company's development, we hope that each of you works hard to fulfill your roles and responsibilities in your given position.
If we can continue to work together with a positive and hopeful mindset, our Company will grow as a substantive and trustworthy enterprise that does not yield to any hardship we may face going forward.
We wish you and your family health and happiness in the New Year.
Thank you.
Hanwha Techwin/ Security & Machinery Solution Business Group CEO, Kim Cheol-Kyo
Hanwha Techwin/Aerospace & Defense Business Group CEO, Shin Hyun-Woo
Dear Hanwha Chemical Employees,
A New Year of hope has dawned, giving us the opportunity to make a fresh, new start from the same starting line without being fettered to past results. Above all else, we have to step off on the right foot–a good start is critical in every matter.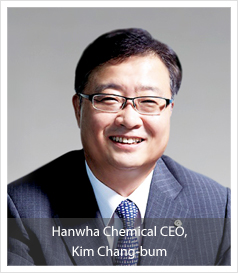 With any new start, there is always a sense of both eagerness and fear. However, if we reinforce our minds with a challenging spirit unintimidated by fear, there is nothing that we cannot achieve in this world. It is the beginning that is difficult: Reaching the finish line is not so hard once you have begun. Likewise, I am sure that many of the worries you may have had before being dispatched to overseas offices turned out to be unfounded fears, which you were able to overcome through your own efforts.
It is the very spirit of being willing to embrace challenge that is required as we move forward towards being a global leader. External factors like mere size do not make us the industry leader. A challenging spirit reinforced with creativity and competitiveness is necessary to seize leadership in the market before anyone else. Only when we set the industrial paradigm and fulfill our social responsibility can we become a true leader. Our ultimate aim should not be Korea's No. 1 but the unrivaled global leader.
For this reason, your efforts and initiative at overseas sites are invaluable. It also means that you are the spearhead leading Hanwha Group on its path towards emerging as a global leader.
I once again ask all of you to do your best in your roles and responsibilities. Let us make this year a success by realizing our dreams through the burning passion all of us carry in our hearts.
Hanwha Chemical CEO, Kim Chang-bum
Dear Hanwha Q CELLS Employees,
I would like to extend my deepest gratitude for the efforts and dedication you demonstrated in 2015. This past year marked the beginning of the merged company of Hanwha Q CELLS and Hanwha SolarOne. Through a successful integration, the company was able to strengthen its business competitiveness and achieve a turnaround.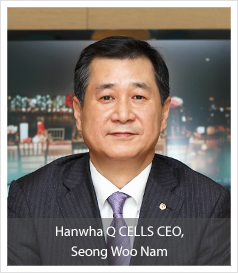 In April last year, Hanwha Q CELLS entered into the world's single largest PV module supply agreement with NextEra Energy Resources, a leading power company based in the US, amounting to 1.5 GW in volume and expanding its presence in the US market. The company also made inroads into India, Turkey, and other emerging markets, paving a new road in the solar market.
In the first quarter of this year, the company is going to secure a combined cell production capacity of 5.2 GW and further solidify its status as the world's No. 1 solar PV manufacturer.
As was revealed at the Paris Climate Change Accord, the
value of new and renewable energy is only going to continue to increase. Going forward, solar photovoltaic energy will be at the forefront of the development of human civilization. I ask you to take great pride in that all the work you do is making an important contribution to humanity.
While we laid the cornerstone for becoming the leader in the solar industry last year, this year, the company should make a leap to solidify its position as the industry's No. 1.
I wish you and your family happiness and peace in the New Year.
Hanwha Q CELLS CEO, Seong Woo Nam
Respected Members of the Hanwha Family around the globe,
As I deliver my New Year's greetings to you, my heart is filled with gratitude for your hard work and dedication in setting the stage for our company's new leap forward in 2016.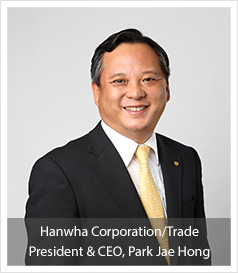 Thanks to you who were unafraid to take on new challenges and devoted to the development of Hanwha Group, even under difficult circumstances this past year, we have been able to prepare for a more promising future while strengthening the Group's substantive growth. However, the outlook is that this year will be even more challenging than the last.
The market is changing at an unprecedented rate, and uncertainties continue to mount year by year. Now is the time to pursue painstaking innovation and live up to the "Going Further Together" philosophy, pushing forward while caring for each other. We need to do away with our business-as-usual practices and routines. We must go beyond national boundaries and mutually communicate and move forward together.
While the outlook for the world economy is far from rosy, we should turn this time of crisis into an opportunity for strengthening innovation and internal growth. We must focus on securing the competitiveness of our core businesses to match that of the global leaders and strengthening Hanwha's global network to expand synergy among Group affiliates. To achieve our goal, I believe that every one of you embracing the New Year in different regions around the world will play an even more significant role as a member of Hanwha.
I wish you and your family happiness and well-being in the New Year.
Hanwha Corporation/Trade President & CEO, Park Jae Hong
Dear Hanwha Engineering & Construction Employees,
Happy New Year! As the CEO of Hanwha E&C, I would like to express my deepest gratitude to all of you who worked so hard on the front lines of our global business.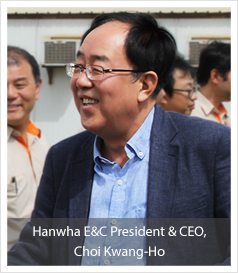 Our Company is active in every corner of the globe, including the world's single-largest urban construction project of Bismayah New City in Iraq as well as the power generation and chemical plant projects in the Middle East and North Africa, the Philippines, and Hawaii.
Your dedication and passion have made it possible for Hanwha E&C to overcome countless obstacles and achieve remarkable results in the global construction market. However, this leaves us no room for complacency–we need to arm ourselves yet again and remain devoted to the sustained growth of the Company.
2016 marks the Year of the Red Monkey, which symbolizes the energy of "challenge and innovation." Mustering such energy of the New Year, Hanwha E&C plans to strengthen its corporate growth internally, and fortify its foundation as a global construction company externally.
I look forward to each one of you playing an active role in our journey towards "Global Hanwha" and wish you and your family health and happiness in the New Year.
Hanwha E&C President & CEO, Choi Kwang-Ho
Dear Hanwha Total Petrochemical Employees,
Last year, Hanwha Group embraced Hanwha Total Petrochemical and three other companies in the chemical and defense sectors as new members of its family. These deals allowed the Group to emerge as Korea's No. 1 chemical and defense enterprise both in name and in deed.
The solar business, which is serving as the Group's new growth engine, is hitting its stride, bringing the Group a step closer to achieving its goal of becoming a "World-class Enterprise."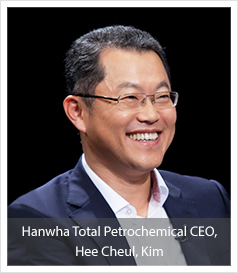 These results have been made possible through the dedication and efforts of all Hanwha employees doing their part in every corner of the globe even at this very moment.
However, as the saying "success is never final" tells us, "yesterday's success will not guarantee tomorrow's success," especially in today's ever-changing external environment.
While 2015 was the year of laying the groundwork for becoming "Global No. 1 Hanwha," 2016 should be "the year of bearing fruit" by actually realizing "Global No. 1 Hanwha." In this New Year, I will continue to support the endeavors of all Hanwha employees in embracing new challenges and achieving new successes.
Hanwha Total Petrochemical CEO, Hee Cheul Kim
Dear Hanwha Resorts Employees,
The New Year has dawned, bringing new hopes for all of us. This past year, each of you worked hard in your role to deliver the best results in the face of difficult economic conditions. In particular, 2015 marked the first year for Ocean Palace Golf Club's EBT to record a surplus.
You all served as the very momentum for both Hanwha Resorts and the wider Hanwha Group to strengthen their competitiveness as global enterprises. I would like to express my gratitude to all employees for doing their best to fulfill their duties.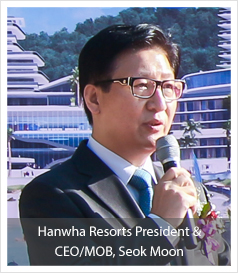 As the Chairman mentioned in his New Year's Address,
let us strive to do our part in bearing good tidings in 2016 that will give every member of Hanwha family strength and hope, especially through the fulfillment of the philosophy of "Going Further Together," just as trees grow together to make a forest. I am convinced that with your affection for and devotion to the Company, it will continue to grow into a sound and robust organization going forward. I wish you and your family health, prosperity, and well-being. Happy New Year!
Hanwha Resorts President & CEO/MOB
Seok Moon
Dear Hanwha Hotels & Resorts FC Division Employees,
The long-awaited New Year has finally dawned. First of all, I would like to commend all of you for your hard work, day and night, in your given roles, and I wish you good health and good fortune in the New Year.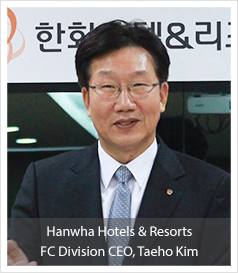 Last year marked the 6th anniversary of our Chinese business. Although we faced many difficulties, it was nevertheless significant in that we were able to secure our footing for a leap forward through the reorgani- zation of our base and the improvement in our operations.
In addition, through the local consignment of the Bismaya New City Project food service, we were able to establish a bridgehead for a larger presence in the Middle East & North America market. The business owes its success to the active endeavors you have made at the forefront of local markets.
Last year, the business environment in Korea was not favorable, as was true in other parts of the world. Against this backdrop, many employees have taken part in creating the mid-to long-term roadmap for the "Building a Better Company" project. Our shared vision of the "better company" we would like to build going forward is clear: a company that leads the industry both in terms of financial soundness and the services it offers and that is fueled by employees who take great pride in working for their organization.
This year marks the beginning of the "Building a Better Company" project. Let us consolidate our efforts to achieve our vision and create the best company possible.
Thank you.
Hanwha Hotels & Resorts FC Division CEO, Taeho Kim
레이어 닫기