Hanwha Philosophy & Core Values
Hanwha's remarkable story of growth was made possible by our strong corporate culture in which every member of the Hanwha shared and took part. The core of our culture has always been "trust and loyalty." These two words form the psychological pillars around which we always rallied to overcome any crisis and moments of difficulty during the past 60 years.
"Trust," in a word, is the "faith that is created when promises that need to be kept, are kept."
Trust is the essence of our belief that "any promise made with a customer is always kept, no matter
the circumstances." Trust is the most fundamental moral value of doing business and the most basic virtue for providing value to customers, representing the Hanwha Spirit that keeps our organization grounded on strong foundations.
"Loyalty" means "placing great value on every relationship and doing your part on your own initiative." The essence of loyalty is distilled into the phrase, "once a customer, always a customer."
Loyalty is self-motivated and contains a responsibility to care for the wellness of one another,
which is the basis of our belief that once a relationship is built with a customer, we must place the highest value on that relationship and treat the customer to be under our care forever. Carrying out one's responsibility as part of a relationship thus established is the best expression of loyalty.



Just like how your personal values affect your lives, corporate values affect the thoughts and behaviors
of the people working in a company. Core values lay at the heart of corporate culture.


Challenge
Pursue excellence through change and innovation by breaking away from complacency.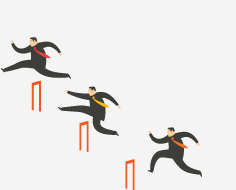 The goal of challenge is to become the best in the industry. Naturally, we focus on the importance of improving our capabilities and challenging ourselves professionally. Challenge must be based on change and innovation. Such innovation and change are initiated by people who continuously strive for self-development. Hanwha always welcomes and supports these efforts. Individuals must be open-minded, bring their skills together, and visualize how their skills can contribute to achieving our shared goals. Challenge must be undertaken by finding new ways of solving problems by looking at things from all angles. In addition, Challenge should be done actively. To passively follow and repeat the processes of the past and simply trying to avoid risks are actions that bring us further away from challenge.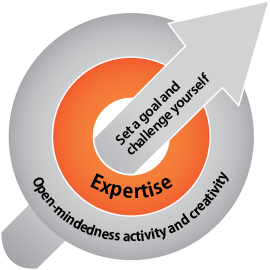 Action principles of Challenge
①

Engage in active self-development towards being the best in your field.

②

Find opportunities and new ways of doing things through open-mindedness and creativity.

③

Set challenging goals and work towards achieving them with a can-do spirit.
Dedication
Treasure the relationships with colleagues, the company, and customers and commit to achieving a greater goal.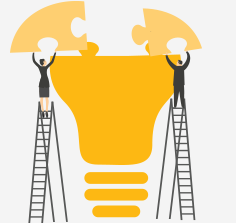 Hanwha's success and growth is the result of many people's dedication. The dedication of our predecessors is what led us through difficult times. Caring for co-workers enabled us to overcome difficulties. This power of dedication must continue. When we treat everyone with respect, growth and development will follow.
The heritage of dedication was what distinguished Hanwha from other companies in its history of development. Dedication starts from having respect for others and treasuring relationships, both in good times and bad times. It exists not only in personal relationships, but also at the team and company level. We must also be dedicated to our customers.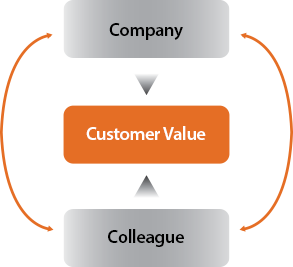 Action principles of Dedication
④

Put "us" before "me" and "our goal" before "my goal."

⑤

Treasure the promise with customers and continue to create customer value.

⑥

Trust in each other's abilities and collaborate based on a strong sense of unity.
Integrity
Adhere to principles, be impartial, and take pride in doing so.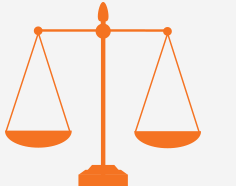 Sustainable growth is the ultimate goal of every company, including ours. However, we should not be obsessed with our growth targets and ignore transparency and impartiality in achieving them. Integrity has been important to Hanwha, even during periods of distress. It is our challenge to continue this excellent tradition.
Keeping promises, being responsible, and adhering to moral principles were the building blocks of Hanwha throughout its history of growth and development. Hanwha takes pride in the fact that we have held integrity as the most basic and fundamental value of all three.
Our emphasis on basic principles has long been our guideline and will continue to sustain our growth. our growth.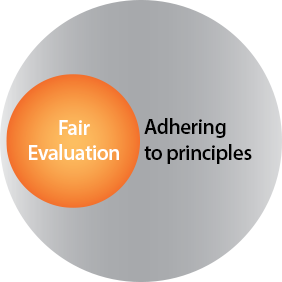 Action principles of Integrity
⑦

Do not be swayed by immediate gains. Be honest and stick to the principles.

⑧

Draw a line between business and personal matters. Be impartial and treat others based on their performance and achievements.

To sum up, each member of Hanwha is expected to make our core values a part of our everyday
life and help establish a solidary corporate culture. Our core values, founded upon trust and loyalty,
will bind us together and make us stronger; focusing our combined strength into a single,
shared direction.