Products & Services > Affiliates
Hanwha Defense Systems
Established in 1937, Hanwha Defense Systems is a comprehensive defense equipment provider. Our superior production capability and technology enable our company to deliver infantry fighting vehicles, air defense weapons, guided weapons, launching systems, high-precision navigation, and laser weapons. We became an affiliate of the Hanwha Group in 2016. We are accelerating towards our goal to become a global top-tier company in the industry.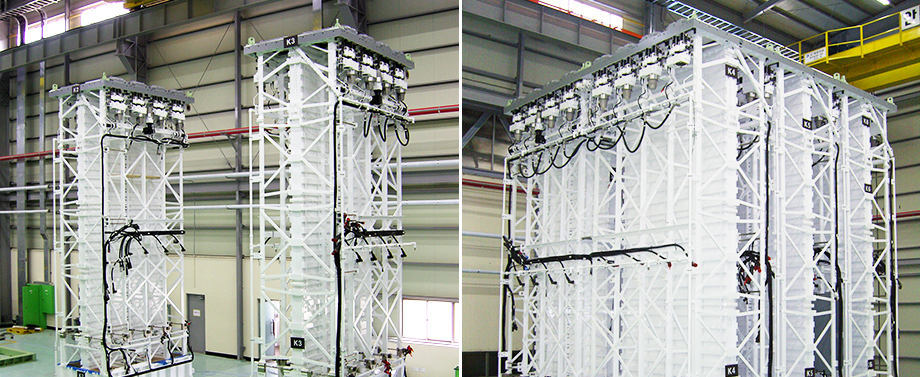 Over the years, our business has expanded to encompass air defense weapons, guided weapons, launching systems, and high-precision navigation from infantry-carrying armored vehicles. We provide high-quality weapons, comprehensive defense solutions and enhanced national defense and security.
With our in-house technology, we have developed and commercialized world-class defense equipment for warfare and warfare support, including the K21 Infantry Fighting Vehicles (IFC), BIHO (an air defense weapon), Hybrid BIHO (a guided air defense weapon), CHUNMA (our flagship guided surface-to-air system), CHUNMU (a multiple rocket launcher), and a chemical, biological, and radiological (CBR) patrol vehicle. For the army, the navy and the air force, we also provide 40 types of launcher systems and 30 types of high-precision navigation systems for weapons systems.
We produce seven specialized infantry fighting vehicle models using our K200 Armored Personnel Carrier (APC) and the world-class K21 IFC as the base. In air defense and guided weapons, we optimize solutions according to needs but may include the VULCAN (for armored vehicles, towing, and warship), the NOBONG (a warship gun), the BIHO, the CHUNMA, and the Hybrid BIHO. For high-precision navigation, we offer a range of guided weapons and state-of-the-art equipment including guided space vehicles, aircrafts, private-sector vehicles and vessels. Naroho, the Korea Space Launch Vehicle 1, carried one of our navigation systems into outer space.
Today, our outstanding technology and commercialization capabilities allow us to work in different markets around the globe. From 1993 to 1995, we exported our K200 APC to Southeast Asia—the first large-scale export of a South Korean defense product. Since then, we have sent other products to other locations around the world. Currently, we are in discussions to export to the Middle East and Asian markets. Each export represents a successful execution of a localization strategy to meet the needs of each country.
Hanwha Defense Systems is South Korea's leading defense company. Through hard work and strong investments in R&D, we've gained recognition in the global defense market; however, our greater satisfaction comes from our ability to contribute to our nation's defense. We've created synergy with our affiliates in other defense businesses, between Hanwha Corporation's Defense Division, Hanwha Techwin, and Hanwha Systems. Together, we will play a pivotal role in making Hanwha a top-tier defense company in the world with comprehensive defense systems that can protect an entire nation.
For more information, please visit:
Related Affiliates
Hanwha's businesses span chemicals & materials, aerospace & mechatronics, solar energy, finance,
leisure & lifestyle, and construction. Through the integration of our growing number of affiliate enterprises worldwide, we are harnessing the power of sustainable, quality growth to continually increase the value we bring to our customers.