Sports Sponsorship
Sports Powered by Hanwha
Hanwha is looking to sports to create the energy for tomorrow,
making the future more vibrant and sustainable for generations to come.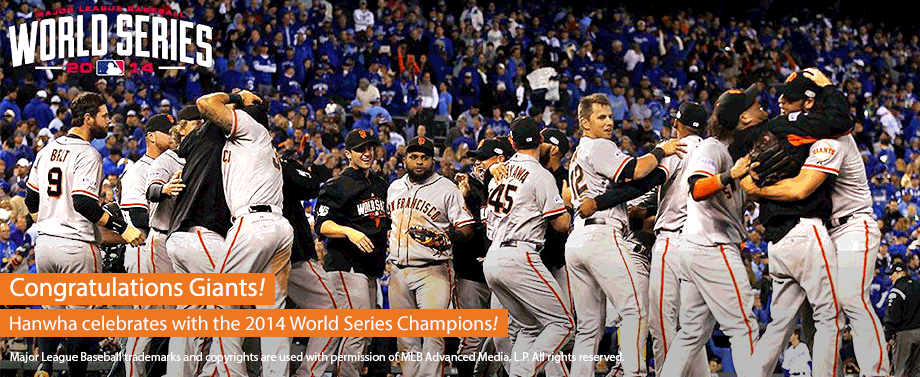 Hanwha is not new to the world of sports. Since 2011, Hanwha has offered sponsorships to three football clubs including the Juventus (Serie A), Hamburger SV (Bundesliga), and the Bolton Wanderers (Premiere League). Hanwha also established stadium advertisement contracts with three other football clubs: AS Roma (Serie A), the Everton FC (Premiere League), and FC Barcelona (Primera Liga).
In addition, Hanwha is the official solar partner of the 2012 MLB World Series Champions, the San Francisco Giants. Through this partnership, Hanwha has raised environmental awareness by installing solar PV panels throughout AT&T Park as well as through other in-stadium initiatives.
With four sports clubs of its own, Hanwha is making its mark in the world of sports with the Hanwha Eagles Baseball Club, Hanwha Women's Professional Golf Team, the Galleria Equestrian Team, as well as the Galleria Shooting Team. Hanwha sponsored sporting events as well, including the International Basketball Federation (FIBA) in 2011. It is through these efforts that Hanwha wishes to energize our lives, providing energy that improves the quality of life for communities around the world.
Sponsorship


San Francisco Giants(2012~2016)
Juventus(2011~2015)
Hamburger SV(2011~2013)
Bolton Wanderers(2011~2012)
Stadium Advertisement


FC Barcelona(2011~2012)
AS Roma(2011~2012)
Everton FC(2011~2012)
Sports Event


International Basketball Federation (FIBA)(2011)
Clubs


Hanwha Eagles
Baseball club(1985~Present)
Team Hanwha
Q CELLS(2011~Present)
Galleria
Equestrian Team(2006~Present)
Galleria
Shooting Team(2001~2017)