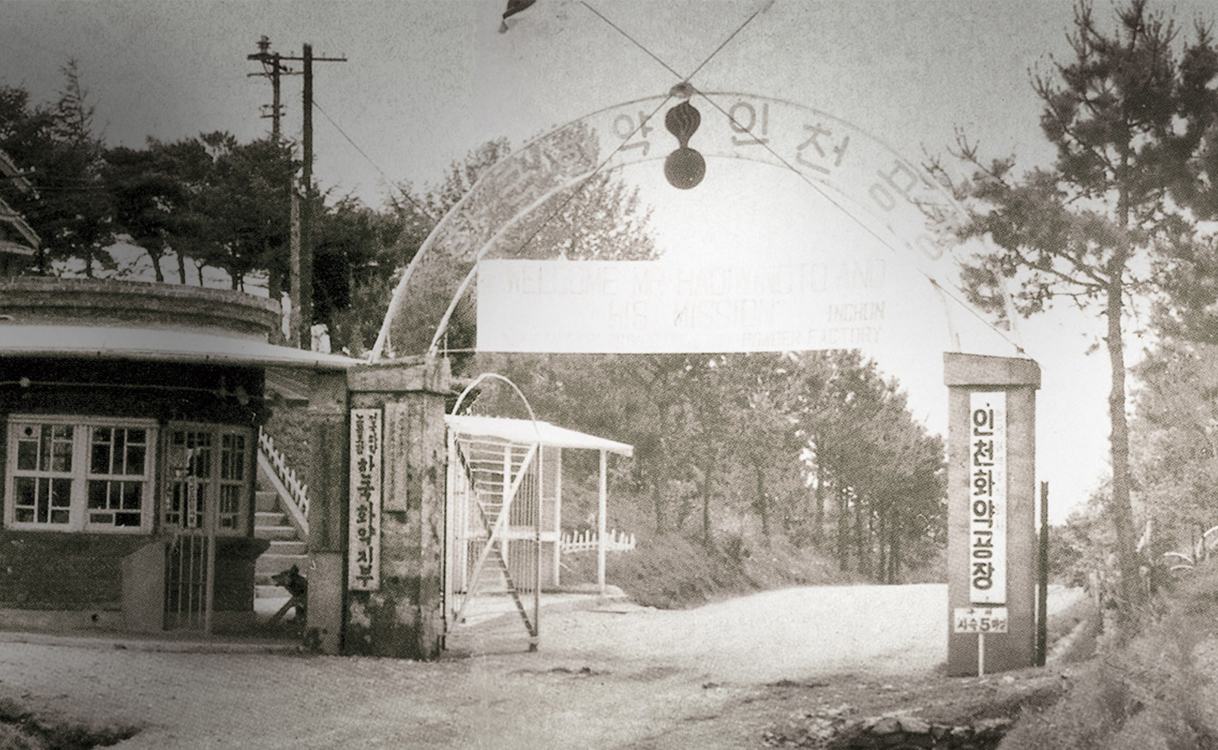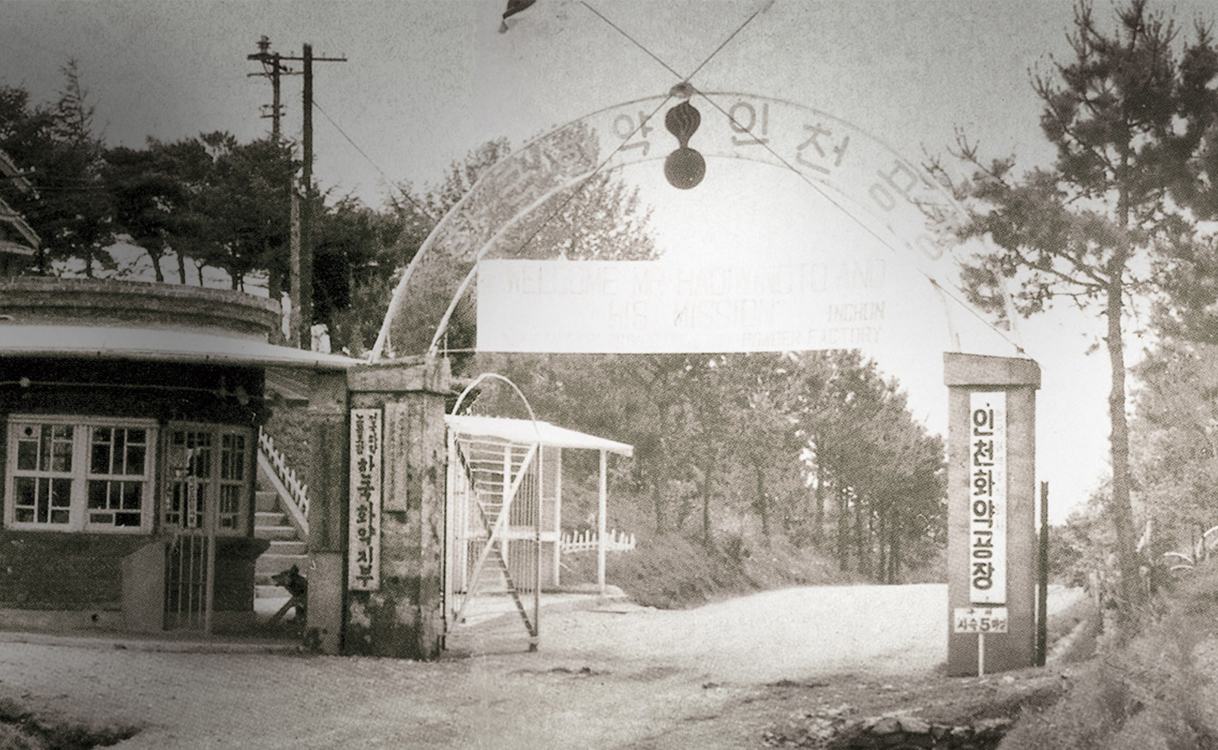 Chong-Hee Kim, Founder of Hanwha Group

Founded Korea Explosives (currently Hanwha Corporation), 1952

Factory of Korea Explosives (currently Hanwha Corporation) in Incheon, Korea

R&D laboratory of Korea Explosives (currently Hanwha Corporation) in Incheon, Korea
Hanwha established Korea Hwasung Industrial Co.,Ltd (currently Hanwha Chemical and Hanwha Advanced Materials), 1965

Hanwha established Kyungin Energy (currently Hanwha Energy), 1969

Kyungin Energy (currently Hanwha Energy)

Hanwha acquired Sungdo Securities (currently Hanwha Investment & Securities), 1976
Seung Youn Kim appointed as Chairman, 1981

Hanwha acquired Dow Chemical Korea (currently Hanwha Chemical), 1982

Hanwha acquired Hanyang Chemical (currently Hanwha Chemical), 1982

Hanwha acquired Junga Group (currently Hanwha Hotels & Resorts), 1982

Hanwha acquired Hanyang Stores (currently Hanwha Galleria), 1986

Headquarter office of Hanwha Group
Chairman Seung Youn Kim's belief during the crisis, "If you risk your life, you shall survice. If you try to save your life, you shall die."

Hanwha regarded as an exemplary model for successful restructuring

Press release from Sankei regarding restructuring Hanwha

Hanwha acquired Korea Life Insurance (currently Hanwha Life), 2002
Hanwha Advanced Materials acquired the US-based Azdel, 2007

Hanwha Advanced Materials acquired the German automotive component manufacturer, Heycoustics, 2015

GMT, LWRT of Hanwha Advanced Materials

Sino-Korea Life, a joint venture of Hanwha Life and Zhejiang International Business Group, began operations, 2012

Korea Life Insurance (currently Hanwha Life) began sales in Vietnam, 2009

Hanwha Engineering & Construction won contract for Bismayah New City Project (USD 8 Billion), 2012

Bismaya New City Project

Hanwha launched Hanwha Q CELLS by integrating Hanwha SolarOne and Hanwha Q CELLS, 2015

Hanwha Q CELLS - module production

Galleria Duty Free in Seoul

Hanwha 63 City, commonly known as the 63 Building, one of Seoul's best-known landmarks

Hanwha Techwin (formerly Samsung Techwin) was acquired, 2015

Hanwha Systems (formerly Samsung Thales) was acquired, 2015

Hanwha Total Petrochemical, Hanwha General Chemical (formerly Samsung Total Petrochemicals, Samsung General Petrochemicals) were acquired, 2015

Hanwha Defense System was launched by acquiring Doosan DST, 2016

On January 2020, Hanwha Chemical has merged with Hanwha Q CELLS and Hanwha Advanced Materials. The merged company has relaunched under the new name of Hanwha Solutions.
Over sixty years ago, the dream of Hanwha's founders began to unfold. With a vision for better values for future generations and a daring spirit undeterred by challenges and changes, Hanwha continues to move forward.
Foundation of Business (1952-1963)
Established to Restore Korea's Economy
The division of Korea following World War II and the devastating effects of the Korean War in the early 1950s left South Korea in economic ruin. Most of the country's infrastructure, including the majority of its power plants and other important installations, was left devastated, while many of its people were forced to live in poverty.
It was around this time that Chong-Hee Kim, a spirited young man and a chief manager at Joseon Gunpowder Joint Market, Inc., recognized that the gunpowder industry would be one of the driving forces behind Korea's future industrialization. He became completely devoted to contributing to the rebuilding of the nation and the cultivation of society through his work.
As the war ended in 1952, Kim acquired Joseon Gunpowder Joint Market, Inc. and established Korea Explosives Company (Hangook Whayak). As the reconstruction of the nation's infrastructure expanded, so did the need for explosives. Korea, however, did not possess the technology necessary to meet the growing demand and was forced to rely on foreign imports, particularly those from Japan. Due to this, supplies were limited and prices remained high.
Knowing that localizing the production of imported products was a matter of national interest, Kim and his colleagues at Korea Explosives dedicated their time and effort to research and development for three years, adding operations in Incheon and buying the power plant operated by Chosun Oil and Fat Company in 1955. During this time, Hanwha was successful in developing nitroglycerin, an ingredient used in the manufacturing of explosives. This development allowed Korea to become the second country in Asia to have the ability to domestically produce industrial explosives by 1958.
Chong-Hee Kim's belief that the explosives business would eventually help the economic growth of the nation turned out to be accurate, and it was his dedication to "事業報國 (pronunciation:sah-up-bo-gook)," which means "contributing to the nation and society through business" that came to be Hanwha's founding philosophy. The drive to contribute to society and to the development of the nation through its business remains at the core of Hanwha's vision.
Business Growth (1964-1980)
Key Contributor of Korea's Modernization
The rebuilding of Korea's economy, as well as its civil and industrial infrastructure, began in earnest in the 1960s. Korea's economic policy supported the expansion into key industries such as heavy machinery and petrochemical industries. As the Korean government accelerated its economic development plans, the Kyungbu Express Highway, which is the most important and heavily traveled roadway in South Korea, was constructed to connect Seoul to Daejeon and Busan. Hanwha played a vital role in the project, helping to quite literally pave the way to a new future.
During the mid-1960s, Hanwha started investing in purchasing other businesses in key industries. Business expansions that Hanwha undertook during this time were based on its philosophy that business should contribute to society and to the nation.
One of the company's first diversification moves came in 1965, when it established Korea Hwasung Industrial Co., Ltd. (presently Hanwha Chemical and Hanwha Advanced Materials) and entered into the petrochemical industry.
In 1969, the group joined in the creation of Kyungin Energy, later renamed Hanwha Energy, which built and operated South Korea's sole privately owned thermal power station, which soon developed into what the company described as its flagship business.
In the 1970s, Hanwha's range of business interests continued to expand as rapidly as the company itself. The company made its first venture into the financial sector with the acquisition of Sungdo Securities in 1976. That same year, Hanwha listed Korea Explosives on the Seoul Stock Exchange.
2nd Foundation (1981-1995)
Growing into Korea's Leading Company
Hanwha continued to focus on its strategic diversification, entering the finance, leisure, retail and service industries through strategic acquisitions, drastically expanding its business portfolio under the direction of the company's second chairman, Seung Youn Kim, after Chong-Hee Kim passed away in 1981. Building on an already strong foundation, he drove the business forward through the acquisition of Hanyang Chemical and Dow Chemical Korea in 1982.
Resorts development became one of the group's first growth targets, starting with the acquisition of the Junga Group (presently Hanwha Hotels & Resorts) in 1985. Hanwha Resorts began constructing a string of condominiums and resort complexes and soon grew to become Korea's leading leisure group.
In 1986, Hanwha entered the retail market, acquiring Hanyang Stores (presently Hanwha Galleria). Targeting the high-end retail segment, the enterprise expanded to five department stores throughout Korea and formed the foundation of the group's retail business.
Building Momentum (1996-2006)
Restructuring for the New Century
The 1997 Asian Financial Crisis, which commenced with the financial collapse of the Thai baht, hit Thailand and South Korea the hardest among all Asian countries. The IMF (International Monetary Fund) and the United States stepped in to stabilize the South Korean currency, thus avoiding sovereign default.
Companies were sold, people lost their jobs and the unemployment rate was at an all-time high. Hanwha overcame these obstacles through radical innovation and the restructuring of the company. Like many other enterprises, Hanwha had to sell off its most lucrative companies in order to secure cash. Even so, Hanwha prioritized the job security of its employees as a condition when selling the companies at a lower price. Hanwha's chairman, Seung Youn Kim, promised that if employees wanted to return to Hanwha, they would be able to do so.
The bold restructuring measure of Chairman Kim and his solidarity with all employees were demonstrated by his idea that "If you risk your life, you shall survive. If you try to save your life, you shall die." This belief led to the realignment of faith, trust and loyalty among the company's employees, as well as the Group's core values. Hanwha successfully overcame the financial crisis without a single labor dispute, and in doing so, found itself regarded as an exemplary model for the rest of Korea's corporations. As a result of its successful restructuring, Hanwha's process was highly praised by global media such as Sankei and Reuters.
This experience prompted Hanwha to take another big step: acquiring Korea Life Insurance in 2002. Korea Life Insurance was in bad shape in the late 1990s. Despite the government's efforts to bail the corporation out, its accumulated deficit was over 2.3 trillion KRW (2.3 billion USD). The life insurance industry was saturated and it was declining steadily. However, Hanwha successfully acquired Korea Life Insurance, the second largest life insurance company in Korea at the time, and within eight years, doubled its assets and increased its sales by 30 percent.
Accelerating Global Business (2007-Present)
Emerging as a Global Leader as a "Global FORTUNE 500" Company
Reborn as one of Korea's top financial services groups, boasting a diversified business foundation, Hanwha expanded its reach in the global market by establishing overseas branches, focusing on developing and manufacturing various car parts for major automobile manufacturers and producing cutting-edge industrial materials for solar energy and electronics.
In 2007, Hanwha L&C (presently Hanwha Advanced Materials) bought out shares of US-based thermoplastic composite maker Azdel to create foundations of a global network for supplying automotive components and materials to automakers around the world. It also established manufacturing subsidiaries in Alabama and Virginia in the United States, Beijing and Shanghai in China, and in the Czech Republic to build local production bases. In 2014, the Hanwha L&C materials unit changed its name to Hanwha Advanced Materials and has since been transforming itself into a global high-tech materials maker by concentrating its capacities on the material industry. Importantly, the company has expanded its core business areas into composite materials for lightweight cars, electronics and solar energy, where it is able to compete effectively. In 2015, Hanwha Advanced Materials acquired Heycoustics, a German auto parts supplier, to achieve a strong bridgehead for sales and distribution. Hanwha Advanced Materials now maintains the world's largest market share for StrongLite (GMT) and SuperLite (LWRT), which are key materials necessary for reducing the weight of automobiles.
In March 2010, Korea Life Insurance was listed on the stock market, marking a new beginning in Hanwha's financial sector. Hanwha built a network of its financial sector with insurance, securities and asset management companies and created synergy among them. Furthermore, Hanwha focused its resources on expanding its overseas sales network in countries such as Vietnam, China, and Indonesia, accelerating its global growth. In 2012, Korea Life Insurance was renamed Hanwha Life and launched the global operations of its joint venture with Sino-Korea Life Insurance.
That same year, Hanwha Engineering & Construction won a new city development project in Bismayah, Iraq, which was the largest overseas contract ever obtained by a Korean company. The Bismayah New City Project is a development project in which 100,000 residential units will be constructed by its completion in an area approximately 1,830 hectares in size, and is worth 8 billion USD. In 2015, Hanwha won an additional 2.12 billion USD in social infrastructure, bringing the total contract value to over 10 billion USD for the Bismayah New City project.
Solar energy was selected as Hanwha's new growth opportunity in 2010. That year, Hanwha Group took its first steps in the solar energy business by acquiring Hanwha SolarOne (formerly SolarFun Power Holdings) and the company was listed on the NASDAQ in 2011. The next year, Hanwha Group acquired Q CELLS, a German pioneer of state-of-the-art solar manufacturing technology. In 2015, Hanwha SolarOne and Hanwha Q CELLS merged to form the present day Hanwha Q CELLS.
Hanwha Q CELLS has emerged as the world's number one leader in annual solar cell production capacity. Hanwha Q CELLS plays a key role as the center of Hanwha Group's solar business, with a business scope ranging from the midstream of ingots to cells and modules to downstream solar solutions for residential, commercial buildings and solar power plants. Its full spectrum of products creates synergy with Hanwha Chemical's polysilicon business and Hanwha Q CELLS Korea's power plant business, creating a total vertical integration of Hanwha's solar businesses.
On the retail front, Hanwha Galleria successfully penetrated the duty free market by launching the Galleria Duty Free store at Korea's Jeju International Airport in 2014. By the end of 2015, Hanwha Galleria will open a new duty free shop at Hanwha 63 City, commonly known as the 63 Building, which is one of Seoul's most well-known landmarks.
The expansion of the company's financial business is currently being led by Hanwha Life. Hanwha Life is Korea's first, not to mention second-largest, non-banking, life insurance and comprehensive financial solutions provider. With total assets reaching 100 trillion KRW (82.2 billion USD) in 2015, the company has established a solid foundation in Korea's life insurance industry. Hanwha Life also sees impressive growth in Vietnam, where it launched operations in 2009, as well as in China and Indonesia, where new and sophisticated financial solutions are being provided to local customers.
In 2015, Hanwha Group acquired four affiliates of Samsung chemical and defense units. Hanwha Group re-launched them as Hanwha General Chemical, Hanwha Total Petrochemical, Hanwha Techwin and Hanwha Systems. Through this transaction, Hanwha Group leapt forward, positioning itself as South Korea's leader in the defense industry, as well as being among the world's top-tier petrochemical companies.

Hanwha Group launched Hanwha Defense Systems by acquiring Doosan DST in June 2016. The deal took Hanwha one more step beyond its leadership of the Korean defense industry, joining the ranks of global defense giants.
On January 2020, Hanwha Chemical has merged with Hanwha Q CELLS and Hanwha Advanced Materials. The merged company has relaunched under the new name of Hanwha Solutions.