Leadership
The world has already moved beyond the Fourth Industrial Revolution. It is now heading toward the next industrial revolution. So are we.

At Hanwha, we believe in building trust and expressing loyalty. Our customers trust us because we've earned it over time. In turn, we express our loyalty through contributions to society. Trust and loyalty are in the DNA of every employee, motivating us to build for the good of all, amid constant changes and despite them. As a company, our never-ending goal is to improve the lives of everyone we touch. We seek to raise the standards of living and improve the quality of life. We know this is easily said but difficult to attain. And yet, if we persevere, continue to innovate, and build for a better tomorrow, the future is ours to imagine.
Let us not forget how we've come so far because it is with this same determination, we must move forward. Despite the rising competition in the Fourth Industrial era, we must continue to innovate and maintain stable growth, just as we have in the past three years. We've surpassed the global economic growth rate by 20 percent by recording 4.4 percent CAGR in sales and 5.0 percent CAGR in total assets. We achieved our vision of Quality Growth 2020 ahead of expectations and have become one of the world's top-tier companies in key business sectors by expanding our portfolios of high-value-added products and by making substantial changes in management. We're achieving greater sustainable growth and strengthening our competitive advantages in our core businesses: chemical, aerospace, mechatronics, solar energy and financial services. We're making a difference.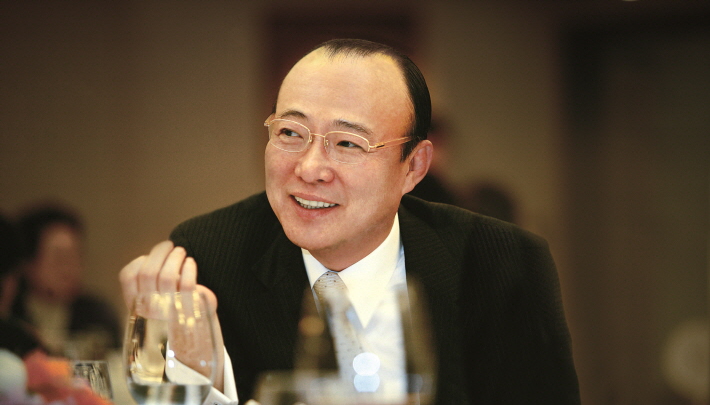 Embracing innovations and pursuing opportunities to build a better future
With our chemical business, we're leveraging our vertical integration. We're refining and transforming raw materials and basic chemicals into synthetic fuel and advanced materials. We're winning awards along the way but, more importantly, we're executing our strategy to use both upstream and downstream production processes to diversify our product portfolios with high-value-added products. We continue to expand production capacity with a stable financial structure. In 2020, we will complete our large-scale expansion project, valued at USD 1.3 billion, and expect to sharpen our competitive edge in producing high-value-added resin products while also increasing production capacity for ethylene, the petrochemical industry's base chemical.
In aerospace, we have proven our capabilities by securing large-scale supply contracts with advanced solutions that meet the needs of global customers. In 2019, we signed a supply agreement for USD 1.7 billion worth of aircraft engine parts with Pratt & Whitney, the global aircraft engine manufacturer. Mass production is set for 2022. As a trusted partner and with our world-class technology and quality recognized in the global aircraft industry, we are able to participate in the joint international development project for high-value-added aircraft engines. We are also upgrading our production technology and facilities, anticipating profitability in the long run. In December 2018, Hanwha Aerospace established a production base in Vietnam that will lead our global aircraft engine business with world-class competitiveness and production capacity.
In mechatronics, we're supporting manufacturing innovations in the Fourth Industrial era by developing logistics automation systems, collaborative robots, and Smart Factory solutions. In 2018, we entered the global market with contracts to supply collaborative robots to six European companies.
Our vertically integrated solar energy business leads the global market, bolstered by our cutting- edge technology and world-class production capacity. We've maintained the No. 1 market share in the new market for advanced renewable energy in Germany, the UK, South Korea, and Japan. We completed a 1.7GW capacity module plant in Georgia, USA. Commercial production in the US is only the beginning. Our intent is to build a worldwide production network that links South Korea, Malaysia, China, and the US to lead the eco-friendly energy market of the world.
In financial services, Hanwha continues to innovate and address the needs of customers, amidst challenges of an evolving market. We've achieved financial stability and strength by developing a customer-centric system and leveraging it to help our clients reach their financial goals. Using advanced digital technology, we expanded Fintech- and Insurtech-based business models and digital asset management services. We're investing in digital platforms to strengthen customer service and future financial services. By collaborating with Internet-only banks and Fintech startups, we will utilize AI, Big Data, and blockchain technologies to synergize financial businesses and advance the financial industry. We're doing a lot but more importantly, they're meaningful and all aligned to our global growth strategy.
Since entering the Vietnamese life insurance market in 2009, we've leveraged our nationwide sales network and have grown CAGR 58.7 percent in insurance premiums over the past ten years. We will continue to build on our solid reputation to execute our localization strategy and expand our market dominance in the rapidly growing Southeast Asia insurance market.
Our services & leisure affiliates provide differentiated services that cater to evolving leisure lifestyles and residential living. Opened in 2018, our premium marine resort offers visitors unique experiences with high-end activities like watersports and pampers them in an entire building dedicated to providing a VIP experience. We've created a new concept in residence services by offering hotel services and amenities for long term and permanent residencies. Our offerings are designed to address changing trends and the demand for hotel-like services and conveniences for extended stays. We plan to introduce Total Hospitality, a new urban complex service & leisure business model that meets the needs for senior living. Total Hospitality includes medical services online and offline, hotel-style conveniences, and financial planning and consulting.
And as a conscientious corporate citizen, Hanwha continues to meet our ethical, legal, and economical responsibilities in our business practices. We remain committed to our business philosophy that as a business we have a responsibility to do good. That's why we are increasing our social contributions and making efforts to resolve common issues in our society. For example, our reforestation programs have built entire forests in parts of China. We also sponsor social events and activities to promote culture, the arts, sports, and eco-friendly energy.
At Hanwha, we've remained steadfast to the UN's Sustainable Development Goals to work together with others to solve global environmental and social issues. Since 2013, we have supported the Towards a Greener Davos initiative by donating solar modules to the City of Davos at the World Economic Forum Congress Center. Our Happy Sunshine initiative has brightened lives across East Asia with solar panels and systems donations to 254 community development projects. And our Hanwha Solar Forest campaign continues to preserve the environment by planting thousands of trees. To date, we have planted 500,000 trees in seven locations across South Korea, Mongolia, and China.
But with all the ideas and opportunities, we need people to plan and execute initiatives. That's why we're hiring the best talent and fostering creativity. We're not only building partnerships with large companies but with small and medium-sized enterprises because we want to succeed and achieve, together. Our commitment to maintain strict compliance management and the highest standards are creating an ethical corporate culture on the inside and set an example in fair competition and transparency for others to follow on the outside.
We continue to face a world filled with uncertainty where advancements in digital technology are being accelerated by emerging technologies and changing infrastructure. Still, we will continue to rise to the challenges. Our response will be to innovate and do what others have not by taking the road less traveled, never losing sight of why or for whom it's all for our customers.
Chairman
Seung Youn Kim