Leadership
Embrace new challenges and
innovate to build a sustainable future.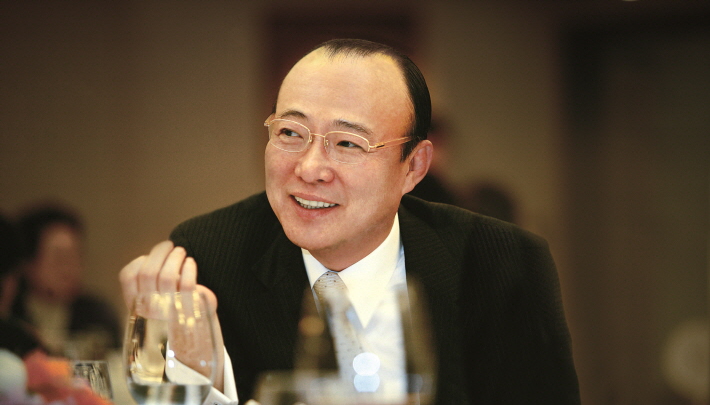 We are changing our business infrastructure to improve our business value chains and our ability to secure future growth engines. We are also strengthening our global competitiveness across our existing core businesses while increasing strategic focus on new ones, such as green hydrogen energy, aerospace, future mobility, and digital finance. The pace at which we're executing on our strategies is matched only by the passion that drives our innovations and efforts to convert promising opportunities
into next-generation realities.
Our chemical and energy businesses continue to profit from our deep expertise, bold investments, and R&D. We are diversifying our product portfolios with high-value-added and eco-friendly products to strengthen our foundation and grow even during market fluctuations. Our vertically integrated solar energy business leads the global market with our cutting-edge technology. Our technology is developed in-house, bolstered by continuous heavy investments in R&D and our pursuit of advanced renewable energy solutions. And as our hydrogen business evolves beyond the traditional singular industries, it will be part of our hydrogen economy ecosystem which will benefit from both collaboration and competition. We're investing USD 4.4 billion in related business sectors over the next five years and transforming ourselves into a global eco-friendly energy solutions provider. Our hydrogen business value chain will serve to be a powerful competitive advantage and with it,
we intend to achieve net zero emissions worldwide.
In aerospace and mechatronics, we're investing more than USD 400 million in R&D to continue advancing our technology. Our technology allows us to stay ahead of the curve and excel even in the rapidly changing market. We're a trusted partner renowned for our world-class technology and quality in the global aircraft industry. Our reputation has been a strategic factor, influencing and strengthening trust that has led to a joint international development project to build high-value-added aircraft engines. In addition, we're making greater investments to further innovate collaborative robots and Smart Factory solutions in the Fourth Industrial revolution. We are also addressing the anticipated needs of this new era by providing global video security solutions that combine
AI algorithms and advanced optical technologies.
By combining our deep expertise and experiences in defense, aerospace and mechatronics businesses, we're creating new business models. In 2021, we established Space Hub—a task force designed for research, development and investments across a wide spectrum of business areas to secure a leadership position in the space industry. One key initiative of Space Hub is the development of ultra-compact and lightweight satellites that will help us lead in the development of advanced technologies in the space industry. Also, as we continue to grow our future mobility business in the urban-air-mobility (UAM) market, we are anticipating measurable results that can reinforce our efforts
to develop an ecosystem within the industry.
In financial services, Hanwha is continuing its success amidst the challenges of an evolving market because we cater to the needs of customers and applying consumer insights to our innovations. We're leveraging AI, Big Data, and blockchain technologies to create synergy between financial businesses, as well as further develop Fintech opportunities. At the same time, we're investing in Insurtech-based business models and digital asset management services. Furthermore, earlier in 2021, our six financial divisions jointly announced their "coal-free commitment" to reduce their CO₂ footprint
while providing a better set of financial services.
At Hanwha, through our years of experience, expertise and brand values, we deliver differentiated experiences that cater to the evolving consumer lifestyle and residential living. Our multiplex development projects for mega-building complexes encompass residential, retail, office, commercial, and hotel spaces all in one place. Our measure of success isn't just to be known as a leader for well-designed cities but an organization that satisfies the needs of our customers and caters to their diverse lifestyles.
And as a conscientious corporate citizen, Hanwha continues to meet its ethical, legal, and economic responsibilities across all our business practices. We remain committed to our business philosophy that as a business we have a responsibility to do good.
Therefore, we are increasing our social contributions and making efforts to improve our society. We sponsor social events and community activities to promote talent development, culture, the arts, sports, donations, and volunteering. And we extend our philosophy of "Going Further Together" to our partner companies so that we can co-evolve through collaboration, sharing and creating resources.
Hanwha remains committed to the UN's Sustainable Development Goals in resolving global environmental issues. To combat climate change and air pollution, we're producing clean energy solutions that can sustain our planet. Internally at Hanwha, our Compliance Committee is also aggressively working to maintain strict compliance and achieve the highest standards. And by establishing an independent and professional Environmental, Social and Governance (ESG) committee for Hanwha companies, we're elevating our sustainability management system to a global level.
Our world will continue to change. Whether it's the global climate issues or the pandemic, such problems and uncertainties only accelerate change. And while we may not have any control over them, we can still lead and work together. We must prepare for transformation. This is more important than ever given the emerging technologies and ever-changing landscapes. For it is imperative we not only adapt but we must also excel. Through innovation and building practical solutions that inspire, we will pave a path over the road less traveled. And we will lead the way.
Chairman
Seung Youn Kim