Hanwha Advanced Materials' Hidden Gem Celebrates Diamond Anniversary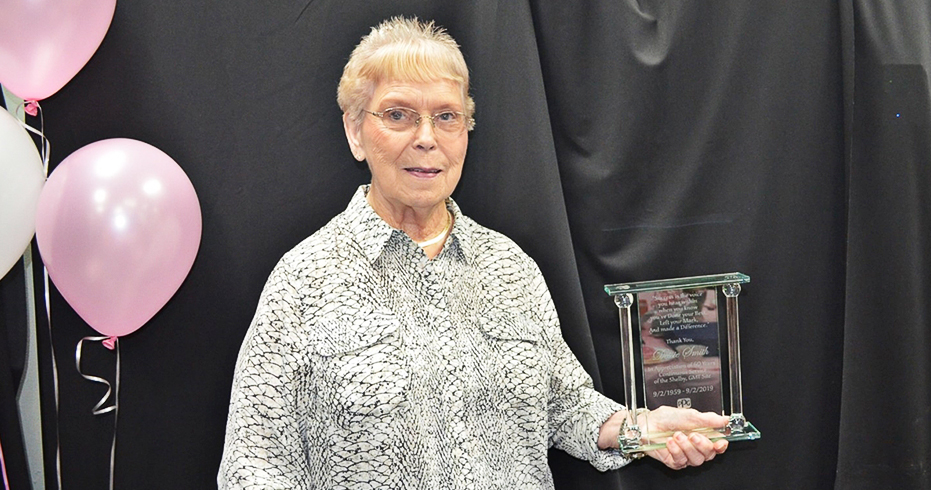 Dessie Smith displays the glass plaque she was presented with to mark her 60th anniversary working at Hanwha Advanced Materials' Shelby plant. In recognition of her
long tenure, the plaque features the logos of the three operators the plant has had in that time
There isn't much that causes work to halt at Hanwha Advanced Materials' plant in Shelby, North Carolina, USA. However, in October of 2019,
the plant marked an occasion so momentous that the entire production line was shut down so everyone could celebrate.
All staff gathered in the employee lunchroom, which was decked from floor to ceiling just for that day. Amidst the tablecloths, confetti, sumptuous barbecue, and an exquisite cupcake tower, employees old and new waited patiently to hug and thank the star of the hour: Dessie Smith.
"Miss Dessie," as she's known, was celebrating her 60th anniversary working at the plant, which produces glass mat thermoplastics. She began
working at the plant in 1959 at the age of 19, fresh out of high school. Smith saw many changes in her time, including several ownership changes
before the plant was acquired by Hanwha Advanced Materials in 2007.
As a trainer for the past 27 years, Smith is credited with helping many colleagues learn the ropes and starting them on their own journeys at the plant.
Now at 79 and planning to retire in 2020, Smith sat down to share her story with the Hanwha Newsroom.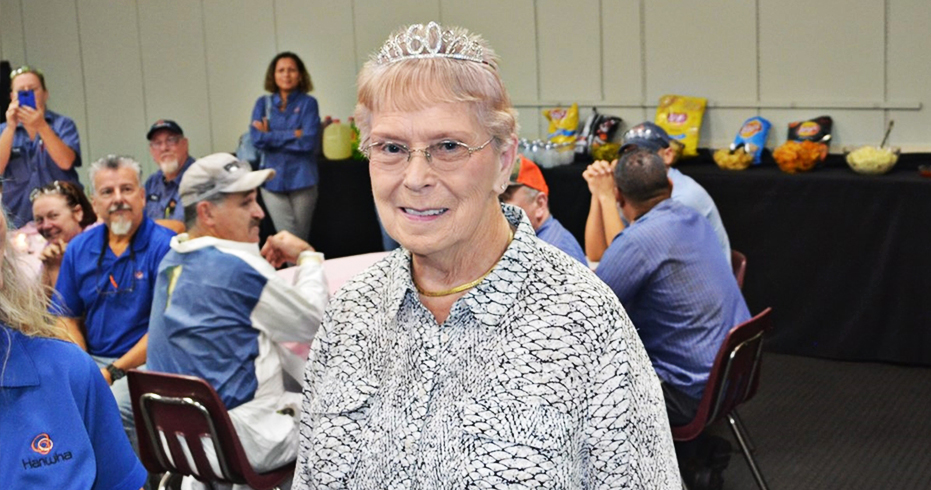 Smith's colleagues presented her with a tiara in celebration of her 60th work anniversary
People usually retire by the age of 60-65, or sometimes even earlier than that. What has kept you going and not retiring until now?
This job gives me something to do. Something that I can be proud of. It allows me to be a part of society and socially active.
What brought you to work here at the Shelby plant?
When I graduated high school, my parents wanted me to go to college, but I wanted to go and start earning money. I started out making
USD 1.05 per hour. I was taking home USD 65 per week.
What was your first job at the Shelby plant?
I began in the End-Finding Department. We picked the tubes of fiberglass off the conveyor as they came around. We had to find the ends and
put the tubes on a truck so they could be put in an oven to dry before being taken to the Twisting Department.
That sounds like very hard work.
My parents taught me to work on a farm–which is hard work–and to be efficient and productive. This was expected.

In this photo from a past employee newsletter, Smith drives an electric towmotor through the Shelby plant

What is your current role?

I am currently a trainer and have been for 27 years. I help new people operate the machinery safely. I also teach the entry level positions to know
the difference between quality material and nonconforming material.

An average day, for me, consists of working beside a new employee to make sure they know what they are doing.

The thing I like best about this job is meeting new people.

What major changes have you seen in all your time working at this plant?

Technology has really changed. Cell phones and the Internet are the most profound. Productivity has increased with the automated and
computerized systems. However, it's always nice to speak with a person.

Can you tell us what it was like when Hanwha Advanced Materials acquired the plant in 2007?

Before we were bought by Hanwha, the plant was only running three days a month. People were temporarily laid off between production runs.
Once we were bought, the plant started to operate on a normal schedule and sales increased.

If Hanwha had not bought us, our plant doors would have been closed.

Thank you, Hanwha!

Smith's 60th anniversary was such big news that it was covered in the local paper
You've seen the company in so many different stages. How do you see the company growing or changing in the years to come?
I believe that Hanwha will continue to grow and prosper.
What are your plans for your upcoming retirement?
I'm going to stay involved in church, spend time with friends and family, and go work on the farm where I was raised.
What will you miss the most about working here?
I will miss the people.
And everyone at Hanwha Advanced Materials' Shelby plant will miss you, Miss Dessie.
>> More stories on people at Hanwha