People at Hanwha

Christoph Lenz
Hanwha Q CELLS GmbHProcess Engineer
Good teamwork is the foundation for our
work and I am proud to have developed
strong ties with my colleagues
Christoph Lenz is a Process Engineer at Hanwha Q CELLS GmbH, one of the world's leading manufacturer of photovoltaic solar cells and modules.
Christoph's career at Hanwha Q CELLS in Germany is not unlike most of his peers in the industry. He joined the company as an apprentice back in 2007. He then worked his way up the ladder to become a Process Engineer today, responsible for the overall lamination process of the solar modules production at Hanwha Q CELLS GmbH. Christoph also supports the ramp-up of new production lines of other facilities in Korea, Malaysia, China and soon the United States.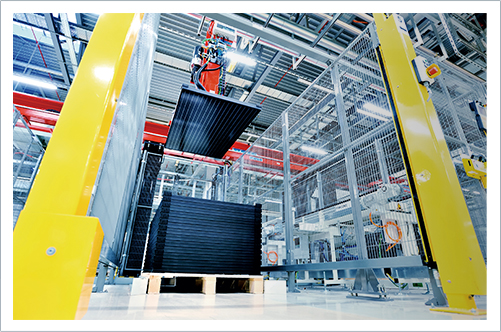 Throughout his 12 years at the company, Christopher is proud to have developed strong ties with his colleagues across the globe. The teamwork and spirit of togetherness is the recipe to success for the company, despite having to constantly juggle a demanding workload. The relatively high level of stress that the team faces melts way when everyone works well together, towards the same goal.
Christoph had the opportunity to experience the camaraderie between his team when his twin sons were born prematurely in 2015. During this difficult time for him and his family, his colleagues donated their leave days so that he could spend more time with his children until they were discharged from the hospital. The gesture really moved Christoph, and further strengthened the bond with his colleagues.

Looking back at his time working at the company, Christoph can't imagine having colleagues that could be any better than his current ones. He believes that because everyone at the company subscribes to Hanwha's core values of Challenge, Dedication and Integrity, the results are clearly reflected in the quality of their work. He hopes that the bond that he shares with his colleagues will continue to grow even stronger, because that's what drives them to do great things at the company.
More stories on people at

Hanwha