Powering Tomorrow Through Sustainability
Discover How Hoang Yen Vo Harnesses Innovative Digital Solutions to Enhance Lives
Spotlight on Hanwha Life Vietnam's

Hoang Yen Vo
Hanwha Life Vietnam
Product Development Executive

The Powering Tomorrow Through Sustainability series features interviews with the seven Hanwha employees selected as Gold Prize Winners in the company's recent internal campaign commemorating Hanwha's 70th anniversary. These employees strive to incorporate Hanwha's core brand values of sustainable and inclusive growth, technology and solution-driven innovation, and enhancing lives into their careers as they work to build a more sustainable future.

Hanwha sat down with Hoang Yen Vo from Hanwha Life Vietnam to hear more about the product development executive's mission to enhance the lives of Vietnamese consumers with products tailored to their unique needs.
"My favorite part of my job is that I am able to add value to people's lives
and provide them with protection through tough times."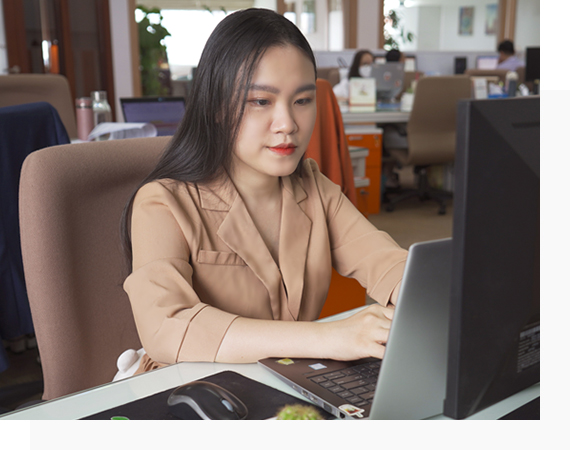 For Hoang Yen Vo, business is personal. As a passionate product development executive at Hanwha Life Vietnam, Hoang Yen is on a mission to connect customers with innovative insurance solutions that are a perfect fit for their unique lifestyles. From her very first day on the job, it is this mission that has driven Hoang Yen's focus on developing insurance products that enhance the lives of Vietnamese consumers.

Hanwha Life Vietnam is Hanwha Life Insurance's subsidiary in Vietnam and the company's first overseas business expansion. Its success, driven by an effective localization strategy, has positioned the company as a role model for other South Korean companies to follow. From its beginning, Hanwha Life Vietnam identified the specific needs of the Vietnamese market and focused on developing a locally tailored product portfolio. This strategy paid off, with approximately 1 million customers choosing Hanwha Life Vietnam's first insurance product in 2009. Now, Hanwha Life is working to pioneer a digital ecosystem in the Vietnamese market with innovative digital platforms. As a people-first brand, Hanwha Life Vietnam seeks to be more than a simple insurance company and establish itself as a symbolic entity that promotes Hanwha's values in the Vietnamese market.


Hanwha Life's success is thanks to the contributions of passionate experts at Hanwha Life Vietnam. What is it like for professionals like Hoang Yen to work at Hanwha? In her role, Hoang Yen and her team work tirelessly to deliver diversified insurance products that appeal to specific customer needs. "For this type of work, our team develops a library of deep insights based on the Vietnamese market, keeps up with technology trends, and maintains a broad business network with international insurance specialists," explained Hoang Yen. "This knowledge set is essential for cultivating new insurance products in this digital era." The employees' tireless efforts, based on a digital-first strategy, demonstrate Hanwha Life Vietnam's strong commitment to overcoming barriers and creating a new era of modern solutions within the insurance industry.

The insurance industry serves as a beacon of trust and stability in the financial world, guiding countless people toward a secure future, and at the center are the experts of Hanwha Life Vietnam, like Hoang Yen. However, is life insurance a good career path? For Hoang Yen, the answer is "yes." Working at Hanwha Life, one of Vietnam's most established life insurance companies, has not only provided Hoang Yen with the opportunity to grow in her professional career but also allowed her to perform meaningful work and contribute to building more prosperous communities.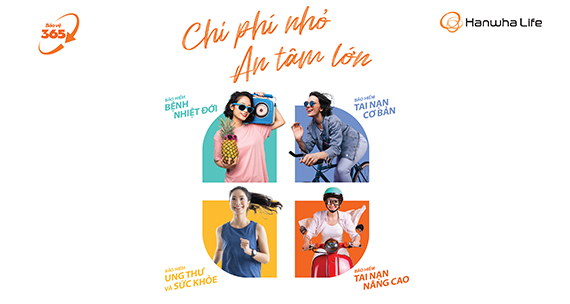 One of the most rewarding projects Hoang Yen has worked on at Hanwha Life Vietnam is Protection 365, a first-of-its-kind e-commerce product in which customers can select and combine individual insurance products to build a customized package with benefits suited to their needs. By moving away from the traditional concept of insurance products and reflecting the dynamic and evolving needs of today's society, this product provides customized coverage for the unique journeys of diverse customers.


Since it was the company's first online product launch, Hoang Yen and her team that managed the product's development also had to build a whole new online platform, which was a challenging undertaking. The project required developing an intuitive and simple online interface while solving the complex task of reflecting various requirements for consumer convenience in the service, including content layout and compatibility with a vast array of devices. In the end, the team's hard work was rewarded when Protection 365 went online, offering customers a more human-centric insurance experience that places their needs as the top priority. Through this project, Hoang Yen and her team were able to offer Vietnamese customers a new level of convenience and accessibility when it comes to purchasing insurance. It's projects like these that highlight the most fulfilling aspects of Hoang Yen's career. "My favorite part of my job is that I am able to add value to peoples' lives and provide them with protection through tough times."

When it comes to Hanwha's brand values, Hoang Yen is particularly drawn to the value of enhancing lives. "We don't just provide the customer with an insurance policy to suit their needs and protect them financially," she stated. "We provide them the financial freedom to enjoy life to the fullest."
"We provide them the financial freedom
to enjoy life to the fullest."
In the world of life insurance, trust is everything. That's why Hoang Yen is proud to be part of a company that prioritizes trust as a foundational aspect of its culture. Hanwha Life Vietnam strives to ensure trust takes root within its organizational culture, but the company does not stop there. Hoang Yen and her colleagues incorporate this value into the products and services they develop, making trust a truly shared value. By prioritizing trust, Hoang Yen and her colleagues can be confident that what they do impacts both customers and society in a positive way. "Step by step, we are working to build a better future, not only for our company but also for Vietnamese people," said Hoang Yen.

Hoang Yen Vo's passion for creating innovative insurance solutions that enhance the lives of Vietnamese people is truly inspiring. Her dedication to her work and the Hanwha brand values make her a valuable asset to the Hanwha Life Vietnam team. Through her work, Hoang Yen exemplifies what it means to live life as a Hanwha employee, working diligently to improve the lives of consumers and build a better future for all.