Powering Tomorrow Through Sustainability
Uncover How Hanwha Azdel's Mark O. Mason Uses Technology
and Solution-driven Innovation to Create Workplace Wins
Spotlight on Hanwha Azdel's

Mark O. Mason
Hanwha Azdel
Technology Director

The Powering Tomorrow Through Sustainability series features interviews with the seven Hanwha employees selected as Gold Prize Winners in the company's recent internal campaign commemorating Hanwha's 70th anniversary. These employees strive to incorporate Hanwha's core brand values of sustainable and inclusive growth, technology and solution-driven innovation, and enhancing lives into their careers as they work to build a more sustainable future.

Hanwha sat down with Mark O. Mason from Hanwha Azdel to hear more about how the technology director leverages creative product development efforts and teamwork to push technology and solution-driven innovation forward.
"My favorite part of my job is guiding our company's technical direction
to generate projects which deliver improved products to our customers
in a successful and timely manner."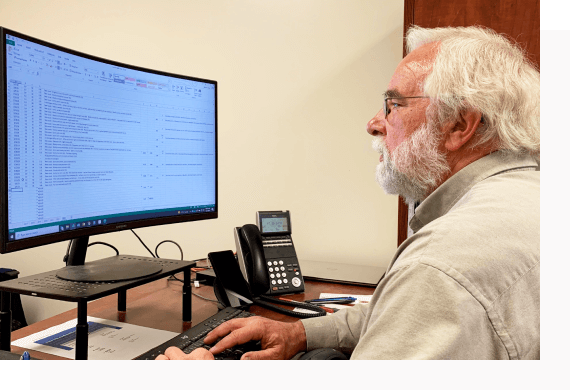 Mark O. Mason has worn many hats throughout his 16 years at Hanwha Azdel in Lynchburg, Virginia, U.S. During his tenure, he's served in several different roles including senior product and process developer, engineering manager, and product development and engineering manager, exemplifying just how many jobs are available in technology and engineering. Now, as technology director at Hanwha Azdel, Mark leverages the unique skills and know-how he's acquired over the years to intentionally foster a culture of excellence, innovation, and above all, teamwork.

Mark's career journey began in 1990 when he started working in the paper and specialty chemical industry after earning his Ph. D. in chemical engineering. "I worked for 17 years in research, engineering, and product development for pulp, paper, and activated carbon," he recalls. "In 2007, I switched jobs to Hanwha Azdel, where I fit in due to my experience on paper machines, which are very similar to the machines the company uses to make our product."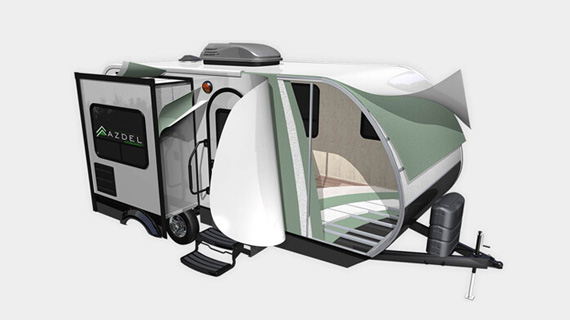 Hanwha Azdel, an affiliate of Hanwha Advanced Materials, specializes in the development and manufacturing of high-performance thermoplastic composite materials designed for interior and exterior applications. The company was acquired in 2007 to accelerate Hanwha's global expansion and increase its standing as an international automotive component maker. As time went on, the company began to further develop its product portfolio and diversify its product applications across different industries. With its robust catalog of materials, the company is now gaining a major presence in non-automotive spheres, especially the recreational vehicle (RV) market.

As Technology Director, Mark oversees several departments at Hanwha Azdel including Research, Product Development, Product Engineering, Application Development Engineering and the Technical Lab. He personally had a key role in developing the early version of Hanwha Azdel's RV product and its fourth generation lightweight automotive product. Mark states that it's projects like these that have made his career at Hanwha Azdel so fulfilling. "My favorite part of my job is guiding our company's technical direction to generate projects which deliver improved products to our customers in a timely manner," Mark said, adding, "Improving our technology and driving our innovative products are the cornerstones of my responsibility as Technology Director."
"Improving our technology and driving our
innovative products are the cornerstones of
my responsibility as Technology Director."
Mark and his team work hard to provide offerings that are better suited for the customer than traditional materials, exemplifying Hanwha's core brand value of technology and solution-driven innovation. He explains, "Our innovative approach in RV, for example, allows a significant weight savings over wood as well as a wall which is much more resistant to water damage, a major issue with wood-containing walls." This solution is at the forefront of major initiatives currently in development, including products for roofs, floors, and other RV components.

For Mark, innovation means challenging norms to create a top-notch product experience for customers and impact the world in a positive way. When asked how technology and solution-driven innovation relates to his work, he answered, "I am uniquely positioned to drive innovative solutions in our projects. For many years we have concentrated on producing ultra-lightweight products for automotives. Now, we are challenging ourselves to continue to do that, but also include recycled and/or bio-produced raw materials to make a more sustainable product for our customers."

The Earth-conscious initiatives don't stop there. Mark is always looking for opportunities to incorporate sustainability into his work. Recently, he has directed efforts to include sustainable materials in more of the company's product lines, heading up "a fairly broad effort" that will address how to reduce carbon footprint at Hanwha Azdel. He has also worked on a product for the RV market that uses a significant amount of reground scrap plastic in its composition, reducing the amount of waste that gets sent to landfills.

As a seasoned professional with decades of career experience under his belt, Mark knows the value of a strong team and speaks highly of Hanwha Azdel's company culture. "What I like about Hanwha Azdel's culture is the team feeling. The whole company takes that approach, but we strive very hard within Technology to foster a team spirit."

As such, Mark and his colleagues place an emphasis on building a positive and close-knit work environment that prioritizes mentorship and consistently showing up for one another. From pitching in to help fellow coworkers when urgent family issues arise to sharing meals together, the team is quick to do whatever it can to provide support.

According to Mark, this team-first approach has been a strong factor in successfully navigating the recent challenges in the global market. He praised Hanwha Azdel's response, commenting, "We have maintained a steady course moderating the ups and downs and forging ahead through material shortages and order swings. Our business management team here at Hanwha Azdel has done an excellent job of leading the way. But really, we have accomplished what we have done the same way we do everything – as a team."

Mark's strong and steady leadership in technology and solution-driven innovation has been a key element in driving forward-focused momentum at Hanwha Azdel. The time and effort he has dedicated to developing high-quality products and people is not only having a tremendous impact now, but will continue to forge a path of excellence for years to come.