Powering Tomorrow Through Sustainability
Discover How Hanwha Vision MEA's Sibtain Raza Solves
Customer Challenges With the Latest Innovative Technologies
Spotlight on Hanwha Vision MEA's

Sibtain Raza
Hanwha Vision MEA
Technical Manager

The Powering Tomorrow Through Sustainability series features interviews with the seven Hanwha employees selected as Gold Prize Winners in the company's recent internal campaign commemorating Hanwha's 70th anniversary. These employees strive to incorporate Hanwha's core brand values of sustainable and inclusive growth, technology and solution-driven innovation, and enhancing lives into their careers as they work to build a more sustainable future.

Hanwha sat down with Sibtain Raza from Hanwha Vision MEA to learn more about how he and his team are offering top security solutions using the latest technologies.
"As a member of the Hanwha Group, it is our mission to utilize
the newest scientific and technological advancements to create a world
that is highly sustainable and suitable for people to live in."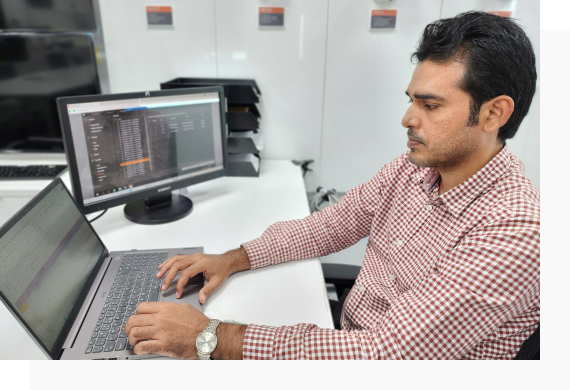 Sibtain Raza joined Hanwha Vision MEA equipped with an eagerness to learn and advance his professional skills. After gaining experience in the IT industry, Sibtain saw working at Hanwha Vision MEA as an opportunity to bring new innovation to the physical security industry, incorporating the latest optical and image-processing technologies into the company's products and services.

Hanwha Vision, formerly Hanwha Techwin, specializes in advanced video surveillance technology that is helping to make the world a safer place. From intelligent surveillance products to integrated management software, Hanwha Vision's robust portfolio of comprehensive security solutions has established the company as a leader in surveillance, providing its customers with efficient systems that promote peace of mind. As it pioneers new technological innovation within its security solutions, Hanwha Vision aims to become a global vision solutions provider — the inspiration behind the company's new name.

In line with this goal, Hanwha Vision, and more specifically, Hanwha Vision MEA, provides services that connect customers to the latest technological advancements, including products that incorporate AI and machine learning techniques into their systems.

"Hanwha Vision uses the most recent AI and machine learning techniques to produce insightful video analytics and create tools that our security personnel can use to conduct investigations as quickly and effectively as feasible," Sibtain said. He explained that these technologies help enhance operational efficiency among users, enabling them to work more effectively to achieve their goals no matter where they are located throughout the world.

When it comes to security, each situation and client requires a different approach and solution, which can make troubleshooting difficult. However, Sibtain finds this aspect of his role both interesting and enjoyable. As a Technical Solutions Engineer, Sibtain's work involves tailoring Hanwha Vision's advanced technological solutions to suit a customer's exact needs. "When you satisfy your client's requirements and configure the products in line with their preferences without sacrificing a product's performance, it is rewarding," he said.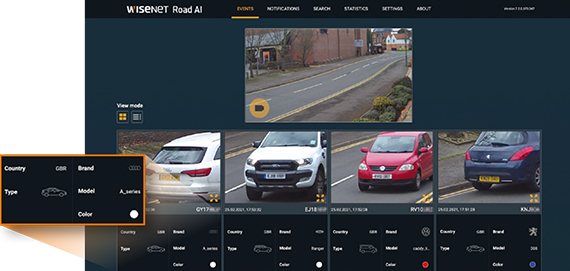 One example of this is a recent project with an Oman-based client, where Sibtain leveraged the company's technologies to meet a number of specific customer requirements. This client presented the team with a challenging scenario that involved monitoring traffic flow and vehicle access at a certain location, analyzing video data, and then integrating this data with an access control system. "The project's requirements were to record the license plates of both staff and guests and limit access to the gate barrier using the number plate data," he explained. This requires sophisticated video image processing that can digitize the number plate information and instantly compare it to the database of approved and restricted vehicles in real-time.

The team deployed Hanwha Vision's exceptionally powerful, AI-powered automatic number plate recognition (ANPR) camera technology, which can accurately convert clear images into machine-readable text and numbers using built-in Optical Character Recognition (OCR) processing technology.

Sibtain and his team were able to seamlessly integrate with other systems, including access control, to improve the stop-and-go monitoring, helping the client manage traffic more efficiently. With the combined efforts of Sibtain and his team as well as the technical precision of Hanwha Vision's products, the project was successfully completed.

Meeting everyday problems with smart innovations remains a guiding principle for Hanwha Vision, and its employees are committed to furthering new technologies that not only address immediate challenges but also pave the way for a safer and more advanced society. Sibtain and his team exemplify this commitment by consistently exploring next-generation solutions, ensuring they remain agile and responsive to the ever-changing needs of their customers.

"My profession involves ensuring the highest degree of safety and security in our society through the use of physical security devices," Sibtain says. He believes in the principle that "necessity is the mother of invention," emphasizing that "as the world changes and new challenges arise, there's an increasing need for innovative products. We pay attention to the issues and challenges that our society faces and use technology and solution-driven innovation to address those issues," he explained.
"My profession involves ensuring the highest degree
of safety and security in our society through the use of
physical security devices."
Through his work, Sibtain is able to engage with people of diverse backgrounds, which he says is the best part of working at Hanwha Vision. Meaningful interactions with his coworkers provide him with the opportunity to receive valuable feedback from varied perspectives on projects he and his team collaborate on, enabling them to deliver better security solutions to customers for the future. "The greatest strength of Hanwha Vision is its diverse staff and open policy," he said. "I'm enjoying engaging with folks from other cultures and have found them to be helpful and encouraging in every way."

While a rapidly evolving world can seem intimidating, Sibtain and his team at Hanwha Vision MEA are ensuring customers are protected while going about their daily lives. By building on its core solutions through ongoing innovation, Hanwha Vision aims to alleviate customer pain points and add new value through advanced solutions. Hanwha Vision's modern and leading security solutions will continue to anticipate these changes and rise to the challenge of creating a safer and more secure future for all.