Powering Tomorrow Through Sustainability
Here's How Q ENERGY Solutions' Yu Seok Choi Drives Sustainable and Inclusive Growth Through Finance
Spotlight on Q ENERGY Solutions'

Yu Seok Choi
Q ENERGY Solutions
Expert Investment & Finance

The Powering Tomorrow Through Sustainability series features interviews with the seven Hanwha employees selected as Gold Prize Winners in the company's recent internal campaign commemorating Hanwha's 70th anniversary. These employees strive to incorporate Hanwha's core brand values of sustainable and inclusive growth, technology and solution-driven innovation, and enhancing lives into their careers as they work to build a more sustainable future.

Hanwha sat down with Yu Seok Choi from Q ENERGY Solutions to learn more about how he utilizes his professional skills to make lasting, positive change throughout the world.
"I don't have to ask myself whether I am doing the right thing
when I'm working, and it helps me focus on doing my job."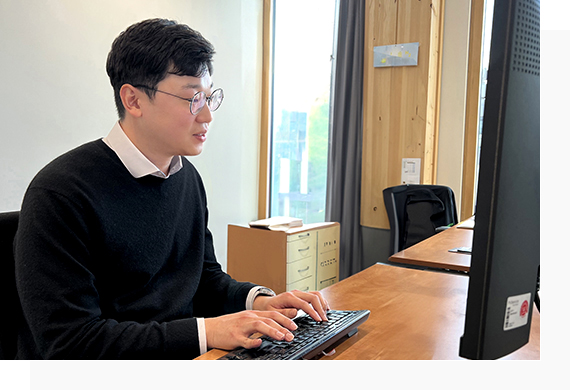 When most people hear the words "renewable energy," they often picture wind turbines and solar panels. However, there are countless hours of planning, analyzing, and optimizing that go into the successful realization of these renewable energy solutions. This critical area is where employees like Yu Seok Choi, Expert Investment & Finance at Q ENERGY Solutions (QES), thrive. In his role, Yu Seok works behind the scenes, wielding his financial savvy to bring large-scale renewable energy projects to life in various parts of the world. Now, in his fifth year with the company, Yu Seok is leaning into his overseas assignment to grow as a professional in his field while making a positive, sustainable impact through his work.

Q ENERGY, a division of Hanwha Solutions established in July 2022, is a leading green energy player in Europe that facilitates green energy projects from start to finish. Comprised of Q ENERGY Solutions SE (Q ENERGY Solutions), Q ENERGY Europe GmbH (Q ENERGY Europe) and Q ENERGY France SAS (Q ENERGY France), the company is a trusted partner of clients across the entire value chain of renewable energy downstream projects,
from solar photovoltaics (PV) and on- and off-shore wind projects, to storage solutions and hybrid power plants and even green hydrogen projects. With over 20 years of experience, QES is well established in Spain, Portugal, France, Germany, and is currently expanding its business into the Netherlands, the U.K., and Italy. Together with Hanwha Qcells, Q ENERGY leads Hanwha's renewable energy business activities across Europe.

As the green energy transition gains more ground, Q ENERGY is consistently pursuing new investment and collaboration opportunities with diverse stakeholders in the renewable energy realm. "Just like energy is a crucial element in various industries, Q ENERGY's initiative to provide clean energy can be at the starting point for any value chain Hanwha could create," said Yu Seok.

Doing so, however, requires keen financial analysis and forecasting skills as well as studying technology, government policies, and market trends in order to stay ahead in the ever-changing renewable energy field. Though challenging, his passion for personal and professional growth motivates Yu Seok to navigate these difficulties with excitement. In his own words, "Sometimes it is tough, but getting ahead, learning, and having that feeling of improvement are my favorite parts of the job."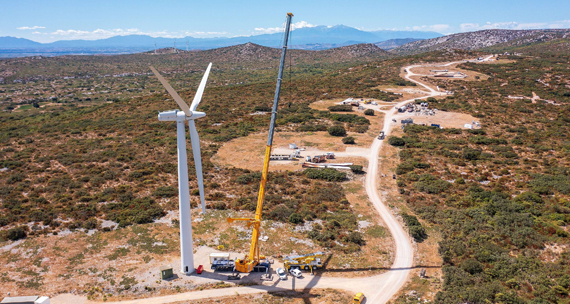 In his position, Yu Seok contributes to the success of the overall business by crunching numbers for QES's renewable projects, M&A opportunities, and corporate activities. This includes in-depth financial modeling that provides vital data for decision-making and quantitative support for securing the necessary resources needed for renewable projects. Yu Seok is proud to contribute his professional financial skills to this end, helping to guide Hanwha's next step as the company expands its ecosystem of global clean energy offerings. "Along with our focus on the renewable energy business itself, we are continuously seeking opportunities for innovation," he explained. "I believe this could not only embed sustainability into Hanwha's products and services, but also generate new, innovative business opportunities when combined with existing business."


However, it is the company's shared values that act as a guiding light, steering both Yu Seok's contributions and Hanwha's journey towards expanding its global impact with clean energy offerings — especially during times of great need. In 2020, Hurricane Iota wreaked havoc in the Caribbean, causing extreme flooding and widespread destruction in Colombia. The Colombian Embassy reached out to Hanwha Qcells to request a donation of solar photovoltaic (PV) modules to the affected areas to help begin the restoration process. Reconstructing traditional infrastructure takes a significant amount of time, and having solar panels would help the communities get back on their feet and start to rebuild more rapidly following the devastating event.

When the request came, Yu Seok had recently joined a new team in the Hanwha Qcells Seoul office and was navigating the challenges of this transition period. When he shared the letter from the embassy with his team to see if the company could provide support, he was impressed by how quickly they leaped into action, rallying employees from every corner to successfully complete the project. "My former team leader asked the manufacturing division about inventory panels and helped get approval from the CEO, and my new team leader helped me submit a request to the manufacturing division headquarters," Yu Seok recollected. "Factories around the world steadily gave their support in a truly kind manner." He was also touched by the participation of his colleagues in Malaysia and China, who all set aside time to make this project a success. For Yu Seok, the impact of this event went beyond delivering solar panels. It was an embodiment of global cooperation for a shared cause. Reflecting upon the experience, Yu Seok said, "It gave me my first valuable experience of globally cooperating under a shared value."

From the time he first joined Hanwha Qcells as a new employee to his present role at QES, it is projects like these, where he can see his job connected to a greater purpose, that inspire Yu Seok at work each day. As a company in the energy business, Q ENERGY strives to constantly innovate and pursue technological advancements to strengthen its renewable energy reach. This dedication has also created a positive outcome for local economies, creating jobs and contributing to inclusive growth, especially in the rural areas where many of the company's projects are located. At its heart, QES remains unwaveringly committed to people, improving communities, and enhancing lives.

This ethos is a driving force behind Yu Seok's passion for his work as well as his resonance with Hanwha's brand value of "sustainable and inclusive growth." He noted, "I don't have to ask myself whether I am doing the right thing when I'm working, and it helps me focus on doing my job," adding, "The fact that my company creates these values makes me proud to answer when someone asks me what I do."


"The fact that my company creates
these values makes me proud to answer
when someone asks me what I do."
Another aspect of working at QES that Yu Seok values is the company's inclusivity. "Despite our cultural differences, we are still working as one team," he said. This welcoming atmosphere, combined with a mosaic of cultures, skills, strengths, and perspectives, only enhances the quality of work at QES. "I think the reason is that every member knows their job, performs it very professionally, and respects each other, not to mention having open minds and language skills," he shared.

As we push forward with the energy transition, companies like Hanwha's Q ENERGY that are dedicated to green energy solutions will become increasingly important. Guided by a commitment to sustainable and inclusive growth, Hanwha is proud to be a place where passionate individuals like Yu Seok are encouraged to contribute to creating a brighter, more sustainable future for all.