1366 Technologies and Hanwha Q CELLS Form Strategic Partnership to Develop and Commercialize Direct Wafer Technology™
Partnership reflects joint mission to meet global demand for high-performance,
low-cost photovoltaics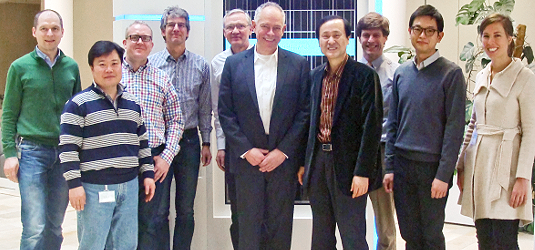 1366 Technologies and Hanwha Q CELLS (NASDAQ:HQCL) today announced that they have entered into a long-term strategic partnership to jointly advance the efficiency and quality of solar cells while dramatically reducing their costs. The two companies will collaborate on the development of 1366's proprietary Direct Wafer™ Technology with the intent to commercialize and use Direct Wafers™ in Hanwha Q CELLS' world-renowned solar cells.
Upon successful commercialization of the Direct Wafer™ technology, the companies expect to expand the partnership. Among others, the potential options include the supply of Direct Wafers™ from 1366's manufacturing facilities to Hanwha Q CELLS.
"Our mission at Hanwha Q CELLS is to be at the forefront of photovoltaic technology and to rapidly translate innovation into mass production," said Seong Woo Nam, CEO, Hanwha Q CELLS. "1366's Direct Wafer™ technology is innovation at its best. We strongly believe in its potential to be commercialized in order to deliver significant cost reductions and quality improvements at the same time."
"It is a powerful endorsement of our technology that Hanwha Q CELLS has recognized the high potential of our technology to advance cell performance and drive down the cost of photovoltaics," said Frank van Mierlo, CEO, 1366 Technologies. "Hanwha Q CELLS is recognized globally for its commitment to innovation and quality, setting many technical standards for the industry. We couldn't be more proud to combine our resources with a company that's long stood at the center of the global solar revolution. It's an ideal fit."
1366 Technologies' Direct Wafer™ forms multi-crystalline wafers directly from molten silicon instead of today's multi-step, energy- and capital-intensive process. The result is a uniformly better wafer, created at one-half the cost. The technology also has the enormous benefit of being a "drop-in" replacement for 60 percent of the photovoltaics market, making it seamless for cell and panel manufacturers to readily adopt the technology without adding a single new piece of equipment. 1366 Technologies remains on track to build a 250 MW commercial facility in the United States. Construction is scheduled to begin in Q3 of 2015. To date, the Company has raised more than $64 million from private investors including The Hanwha Group, which participated in the Company's Series B round in 2010.
For more information:
Corporate Communications

Jochen Endle, Robert Reinsch
Tel: +49 (0)3494 6699 10121
Email: presse@q-cells.com
1366 Technologies

Laureen Sanderson
for 1366 Technologies
Tel: (617) 694-7336
Email: lsanderson@tieronepr.com
Hanwha Qcells
Hanwha Qcells (Hanwha Solutions Qcells division) is one of the world's leading clean energy companies, recognized for its established reputation as a manufacturer of high-performance, high-quality solar cells, and modules, a portfolio of intelligent storage systems, and a growing international pipeline of large-scale renewable energy projects. Hanwha Qcells also provides renewable electricity retail services and packages to end customers the world over. The company is headquartered in Seoul, South Korea (Global Executive HQ) and Thalheim, Germany (Technology & Innovation HQ) with its diverse international manufacturing facilities in the U.S., Malaysia, China, and South Korea. Hanwha Qcells strives to offer Completely Clean Energy through the full spectrum of photovoltaic products, storage solutions, renewable electricity contracting, and large-scale solar power plants. Through its growing global business network spanning Europe, North America, Asia, South America, Africa, and the Middle East, Hanwha Qcells provides excellent services and long-term partnerships to its customers in the utility, commercial, governmental, and residential markets.

For more information, visit: www.qcells.com/us/
Hanwha Group
Founded in 1952, Hanwha has grown quickly by anticipating and responding to changing business environments with a balanced business portfolio that includes energy & materials, aerospace, finance and retail & services. Our expertise and synergy in key areas have catapulted us into the seventh-largest business in South Korea and a Fortune Global 500 company. Hanwha continues to grow rapidly as we strive to pursue global leadership in all of our businesses. We are building a robust foundation for sustainable development and a brighter future for everyone.

For more information, visit: www.hanwha.com
1366 Technologies
1366 Technologies aims to deliver solar at the cost of coal. The company combines breakthrough technology innovations with lean manufacturing processes to make a new class of silicon wafers, the building blocks of solar cells, at a fraction of today's cost. Developed by a veteran team of scientists, engineers and entrepreneurs, the company's novel approach breaks the historic efficiency and cost tradeoffs of photovoltaics. 1366 Technologies is headquartered in Bedford, MA.

For more information, visit: www.1366tech.com

Safe-Harbor Statement
This press release contains forward-looking statements. These statements constitute "forward-looking" statements within the meaning of Section 27A of the Securities Act of 1933, as amended, and Section 21E of the Securities Exchange Act of 1934, as amended, and as defined in the U.S. Private Securities Litigation Reform Act of 1995.These forward-looking statements can be identified by terminology such as "will," "expects," "anticipates," "future," "intends," "plans," "believes," "estimates" and similar statements. Among other things, the quotations from management in this press release and the Company's operations and business outlook, contain forward-looking statements. Such statements involve certain risks and uncertainties that could cause actual results to differ materially from those in the forward-looking statements. Further information regarding these and other risks is included in Hanwha Q CELLS filings with the U.S. Securities and Exchange Commission, including its annual report on Form 20-F. Except as required by law, the Company does not undertake any obligation to update any forward-looking statements, whether as a result of new information, future events or otherwise.

Contact Us
Thank you for your interest in Hanwha.
Please contact us for your inquiries.
Email Us
Information Message
Please enter your email address.
Information Message
Please enter a correct email address.
Success
Keep an eye on your inbox for the latest stories from Hanwha.
Information Message
Your subscription request has already been processed. Thank you.