Hanwha Q CELLS Japan Co., Ltd. Introduced Q.PEAK DUO and Q.HOME Solar Energy Solutions at PV EXPO 2018
Q.PEAK DUO solar modules and Q.HOME solar systems provide sustainable energy solutions to Japanese homes
Hanwha Q CELLS Japan Co., Ltd.'s proprietary technology provides higher energy output while lowering both installation costs and levelized cost of electricity

Hanwha Q CELLS Japan Co., Ltd. participated in the PV EXPO 2018 in Tokyo from February 28 to March 2. During the event, Hanwha Q CELLS Japan Co., Ltd. introduced its Q.PEAK DUO solar module and a hybrid energy storage system to the Japanese market.
PV EXPO is Japan's largest trade show for photovoltaic products and is one of the world's most influential solar energy exhibitions. This year's event featured around 1,600 exhibitors and more than 70 thousand visitors are estimated to have attended. Hanwha Q CELLS Japan Co., Ltd. had one of the biggest booths at the event and launched a variety of solar energy products intended for residential use.
Promoting a New Sustainable Lifestyle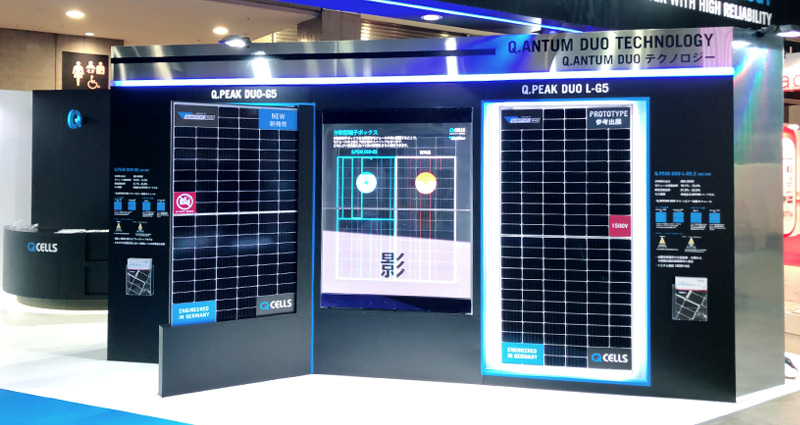 The Q.PEAK DUO is Hanwha Q CELLS' newest flagship solar module and features half-cell technology, six busbars, and Q.ANTUM DUO technology. Hanwha Q CELLS' proprietary Q.ANTUM DUO technology allows for the Q.PEAK DUO to have higher system performance while also lowering the levelized cost of electricity (LCOE), thus providing an efficient and economical choice for Japanese consumers looking to adopt solar power for their homes.
Hanwha Q CELLS Japan Co., Ltd. also introduced the new HQJB-A series of hybrid energy storage systems. Intended for residential markets, the HQJB-A series enables customers to monitor and adjust their energy usage based on their individual needs. Hanwha Q CELLS Japan Co., Ltd. expects that this degree of control will entice Japanese consumers to create a new sustainable energy lifestyle.
The Q.HOME series of solar systems for residential use were on display at PV EXPO 2018. Comprising of a solar module, an inverter, and a battery, the Q.HOME solar system is an ideal product to meet Japan's steadily rising demand for residential solar energy solutions. As part of this demand, the Japanese government is planning to launch a project in 2020 to build zero energy homes that produce as much energy as they consume.
In addition to these residential products, Hanwha Q CELLS Japan Co., Ltd. presented a variety of commercial solar energy products and large-scale power generation solutions. As part of its promotion campaign during PV EXPO 2018, Hanwha Q CELLS Japan Co., Ltd. launched a television commercial message (TVCM) featuring Reina Triendl, its brand ambassador, on February 28. Ms. Triendl also hosted a product-related talk show, as she did in 2017, in order to raise brand awareness for the company's products. In addition, Hanwha Q CELLS Japan Co., Ltd. conducted presentations to introduce and explain its new products and technologies during the trade show.
Providing the Better Choice
Hanwha Q CELLS Japan Co., Ltd. ranked second in the Japanese solar market in 2016. In January, Hanwha Q CELLS' Q.PEAK-G4.1 solar modules received the Smart HIT Grand Prize 2017 from SmartHouse, a Japanese monthly trade publication. The modules were nominated for the award by major Japanese solar product distributors. In explaining its decision, SmartHouse said that Q.PEAK-G4.1 solar modules won as they were the most popular residential solar modules in Japan and provided an ideal balance between quality and cost.
"The Q.PEAK DUO module series fulfills the needs of the high-power module market", said Seong Woo Nam, Chairman and CEO of Hanwha Q CELLS. "We will do our best to continue developing breakthrough solutions to fulfill a full portfolio from residential to utility markets as a leading solar energy company."

Hanwha Qcells
Hanwha Qcells (Hanwha Solutions Qcells division) is one of the world's leading clean energy companies, recognized for its established reputation as a manufacturer of high-performance, high-quality solar cells, and modules, a portfolio of intelligent storage systems, and a growing international pipeline of large-scale renewable energy projects. Hanwha Qcells also provides renewable electricity retail services and packages to end customers the world over. The company is headquartered in Seoul, South Korea (Global Executive HQ) and Thalheim, Germany (Technology & Innovation HQ) with its diverse international manufacturing facilities in the U.S., Malaysia, China, and South Korea. Hanwha Qcells strives to offer Completely Clean Energy through the full spectrum of photovoltaic products, storage solutions, renewable electricity contracting, and large-scale solar power plants. Through its growing global business network spanning Europe, North America, Asia, South America, Africa, and the Middle East, Hanwha Qcells provides excellent services and long-term partnerships to its customers in the utility, commercial, governmental, and residential markets.

For more information, visit: www.qcells.com/us/
Safe-Harbor Statement
This press release contains forward-looking statements. These statements constitute "forward-looking" statements within the meaning of Section 27A of the Securities Act of 1933, as amended, and Section 21E of the Securities Exchange Act of 1934, as amended, and as defined in the U.S. Private Securities Litigation Reform Act of 1995. These forward-looking statements can be identified by terminology such as "will," "expects," "anticipates," "future," "intends," "plans," "believes," "estimates" and similar statements. Among other things, the quotations from management in this press release and the Hanwha Q CELLS' operations and business outlook, contain forward-looking statements. Such statements involve certain risks and uncertainties that could cause actual results to differ materially from those expressed in or suggested by the forward-looking statements. Further information regarding these and other risks is included in Hanwha Q CELLS filings with the U.S. Securities and Exchange Commission, including its annual report on Form 20-F. Except as required by law, Hanwha Q CELLS does not undertake any obligation to update or revise any forward-looking statements, whether as a result of new information, future events or otherwise.

Contact Us
Thank you for your interest in Hanwha.
Please contact us for your inquiries.
Email Us
Information Message
Please enter your email address.
Information Message
Please enter a correct email address.
Success
Keep an eye on your inbox for the latest stories from Hanwha.
Information Message
Your subscription request has already been processed. Thank you.