GGGI Energy Forum 2017 Organized
by GGGI and Hanwha Q CELLS Held in Seoul
to Promote Accelerated Green Energy Adoption Globally
GGGI serves as a platform for energy experts, politicians and companies
for global energy transition discussions
100% renewable electricity supply is not only viable but makes more
economic sense than the current energy model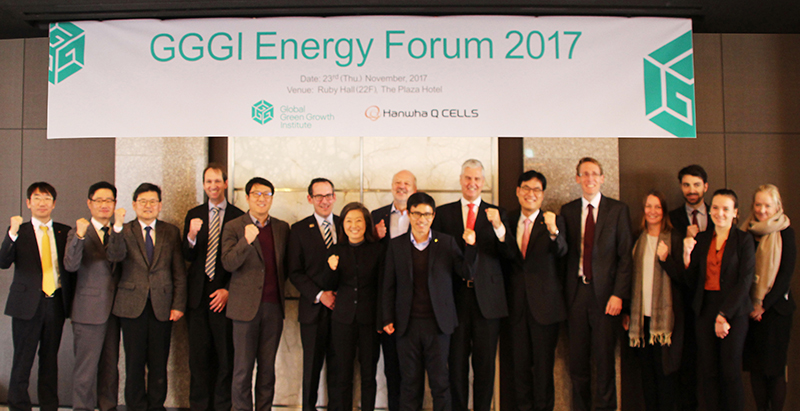 On November 24, 2017, the Global Green Growth Institute (GGGI) and Hanwha Q CELLS held the GGGI Energy Forum 2017 in Seoul. With the theme "Green Energy – Energizing a Sustainable World," the GGGI Energy Forum serves as a platform for energy experts, politicians and companies from various nations to discuss the global transition to 100% renewable energy. The aim is to share knowledge, expertise and experiences in green energy, renewables, and finance.
With renewable prices continuing to fall, the global energy transition is progressing at a faster rate than previously expected. Wind and solar are already the cheapest sources of electricity, with storage technology soon to follow. Disruptive technology improvements in the renewable energy sector and the search for practical solutions to climate change, air pollution, poverty, and the refugee crises are further accelerating the transition.
The GGGI Energy Forum started with keynote speeches, followed by an interactive discussion among the participants who shared how their countries are making the transition to low-carbon and renewable economies.
One highlight was a presentation by the South Korean government on the policy shift towards alternative sources of energy. Currently, renewable energy – such as solar and wind power – accounts for just two percent of South Korea's electricity production. Conversely, coal-fired power plants and nuclear reactors generate about 40 and 30 percent respectively. The administration of current President Moon Jae-in is making a strong push to significantly increase the share of renewable energy.
Hans-Josef Fell, President of the Energy Watch Group and member of the German Parliament from 1998 to 2013, gave an inspiring speech covering his work on the Renewable Energy Sources Act or Erneuerbare-Energien-Gesetz (EEG). Fell also shared his views on how South Korea can phase out nuclear energy and make the transition to renewables. He commented that "Effective climate protection needs a global transition to a zero-emission economy in just a few decades. A global transition to 100% renewable electricity is feasible at every hour throughout the year and is also more cost effective than the existing fossil and nuclear system. This is the result of a study by Energy Watch Group that what was presented recently at COP-23 in Bonn, Germany."
Global Green Growth Institute (GGGI)
The Global Green Growth Institute (GGGI) is a treaty-based international organization headquartered in Seoul, Republic of Korea. The organization aims to promote green growth, a growth paradigm characterized by a balance of economic growth and environmental sustainability. GGGI provides research and stakeholder engagement for green growth plans, especially in developing countries, aiming to replace the more typical paradigm based on industrial development. Founded to support green economic growth that simultaneously addresses poverty reduction, job creation, social inclusion, and environmental sustainability. GGGI supports stakeholders through the delivery of comprehensive products and services designed to assist in developing, financing, and mainstreaming green growth to support the implementation of national economic development priorities and international commitments.

Hanwha Qcells
Hanwha Qcells (Hanwha Solutions Qcells division) is one of the world's leading clean energy companies, recognized for its established reputation as a manufacturer of high-performance, high-quality solar cells, and modules, a portfolio of intelligent storage systems, and a growing international pipeline of large-scale renewable energy projects. Hanwha Qcells also provides renewable electricity retail services and packages to end customers the world over. The company is headquartered in Seoul, South Korea (Global Executive HQ) and Thalheim, Germany (Technology & Innovation HQ) with its diverse international manufacturing facilities in the U.S., Malaysia, China, and South Korea. Hanwha Qcells strives to offer Completely Clean Energy through the full spectrum of photovoltaic products, storage solutions, renewable electricity contracting, and large-scale solar power plants. Through its growing global business network spanning Europe, North America, Asia, South America, Africa, and the Middle East, Hanwha Qcells provides excellent services and long-term partnerships to its customers in the utility, commercial, governmental, and residential markets.

For more information, visit: www.qcells.com/us/
Safe-Harbor Statement
This press release contains forward-looking statements. These statements constitute "forward-looking" statements within the meaning of Section 27A of the Securities Act of 1933, as amended, and Section 21E of the Securities Exchange Act of 1934, as amended, and as defined in the U.S. Private Securities Litigation Reform Act of 1995. These forward-looking statements can be identified by terminology such as "will," "expects," "anticipates," "future," "intends," "plans," "believes," "estimates" and similar statements. Among other things, the quotations from management in this press release and the Hanwha Q CELLS' operations and business outlook, contain forward-looking statements. Such statements involve certain risks and uncertainties that could cause actual results to differ materially from those expressed in or suggested by the forward-looking statements. Further information regarding these and other risks is included in Hanwha Q CELLS filings with the U.S. Securities and Exchange Commission, including its annual report on Form 20-F. Except as required by law, Hanwha Q CELLS does not undertake any obligation to update or revise any forward-looking statements, whether as a result of new information, future events or otherwise.

Contact Us
Thank you for your interest in Hanwha.
Please contact us for your inquiries.
Email Us
Information Message
Please enter your email address.
Information Message
Please enter a correct email address.
Success
Keep an eye on your inbox for the latest stories from Hanwha.
Information Message
Your subscription request has already been processed. Thank you.