Hanwha Aerospace and Hanwha Ocean Collaboration Secures Eco-Friendly ESS Technology for Large Vessels
Hanwha Aerospace and Hanwha Ocean completed joint R&D to secure MWh-class ESS technology for large LNG carriers.
The companies will leverage Hanwha's energy expertise to create synergy in the eco-friendly shipbuilding industry in response to growing demand.
Hanwha Aerospace will also expand its ESS technology to UAM in a bid to solidify its lead in future mobility technology.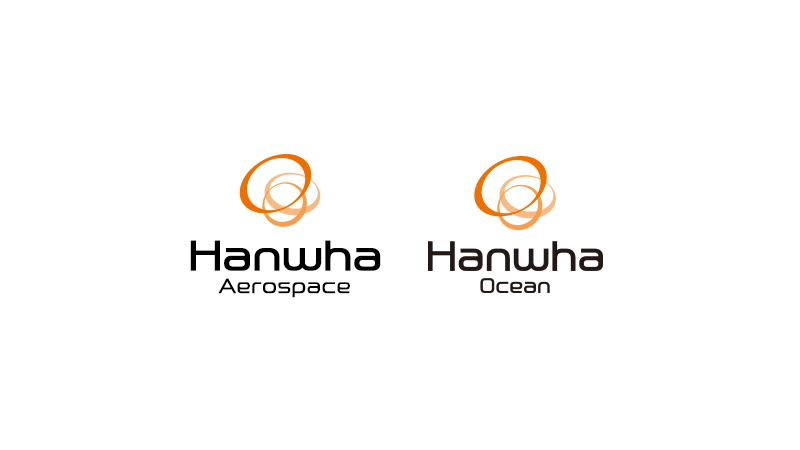 Hanwha Aerospace and its subsidiary Hanwha Ocean have secured Megawatt-hour (MWh) class energy storage system (ESS) technology for large vessels including Liquid Natural Gas Carriers (LNGC) and container ships. The collaboration represents a step forward in emission-reduction technology for the rapidly growing eco-friendly vessel market.
When applied to vessels, ESS can form a hybrid system that optimizes the ship's energy load and levels peak energy use. This combination offers significant improvements in fuel efficiency while reducing emissions. Hanwha Aerospace has expanded its ESS technology for small-to-medium-sized vessels to develop similar technology for large vessels. With Hanwha's Ocean's experience in shipbuilding and eco-friendly ship technology, these joint company efforts are accelerating the development of an eco-friendly vessel value chain.
"The successful completion of this project is the result of synergy resulting from the industry-leading expertise and experience of both companies," said Head of Hanwha Ocean R&D Institute Joong Kyoo Kang. "With this success, we will continue to deliver advanced eco-friendly and digital solutions to ship owners with our cutting-edge technologies."
Hanwha Aerospace's advanced ESS technology, which uses lithium-ion batteries, features a container-type packaging design that consolidates the control system, maximizing space utilization to effectively reduce the size of the ESS. To enhance safety, the system is outfitted with an automatic fire extinguishing function for swift detection and fire suppression.
"The packaging and safety technology of ESS, which is essential for global decarbonization, is critical not only in the defense sector but also in the aviation and maritime industries," said Seung Hak Moon, Head of E-Propulsion Business Group at Hanwha Aerospace. "We're taking a holistic approach to maximize synergy through collaboration among affiliates, consistently placing the environment at the focus of all our activities."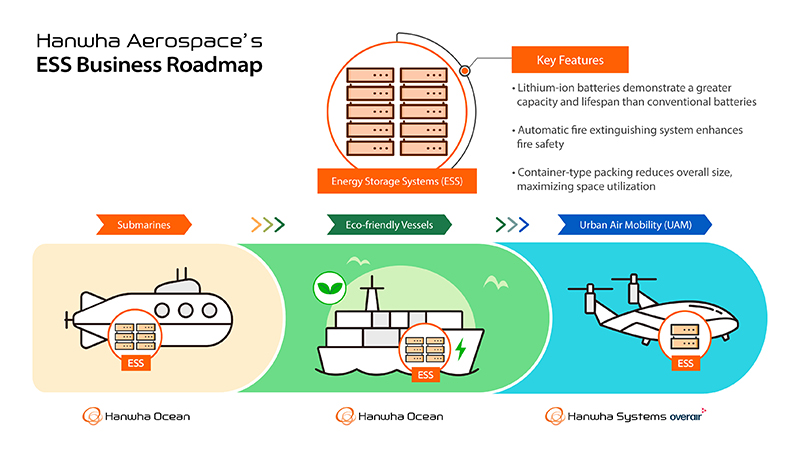 There has been a surge in demand for ships that can meet eco-friendly standards in response to the International Maritime Organization (IMO)'s Greenhouse Gas Strategy, and Hanwha Aerospace is poised to venture into this market. The global market for ship ESS is projected to grow annually by 15.5%, from approximately $2.1 billion in 2021 to around $7.6 billion by 2030.*
Along with its progress in the eco-friendly ship industry, Hanwha is expanding its future mobility value chain. This includes securing differentiated ESS core technologies for use in Urban Air Mobility (UAM) solutions led by Hanwha Systems, a subsidiary of Hanwha Aerospace, and continuing to pursue collaborations with Hanwha affiliates.

*Data from MarketsandMarkets Research
Hanwha Aerospace
Founded in 1977, Hanwha Aerospace has become a leading company in the aerospace industry in South Korea. Today, Hanwha Aerospace's products serve not only aerospace but also the defense and marine sectors. With an unwavering focus on customer-centric quality management, technological innovation, and product competitiveness reinforced by advanced technologies, Hanwha Aerospace is surging forward as a global leader in the burgeoning space and aerospace business as well as in the land, sea, and air defense industries.

For more information, visit: www.hanwhaaerospace.co.kr/eng/
Hanwha Ocean
Hanwha Ocean is a leading global company with extensive expertise and experience in the shipbuilding and offshore industry. Boasting the world's most competitive LNG carriers built with eco-friendly and highly efficient technology, the company has continuously pioneered new businesses since 1973, producing a vast range of vessels, including commercial ships, drillships, and specialty ships. Hanwha Ocean will be at the forefront of pioneering advanced marine solutions for decarbonization and further expand Hanwha's green energy ecosystem to create positive, sustainable change throughout the world.

For more information, visit: www.hanwhaocean.com
Hanwha Systems
As a global total solutions company, Hanwha Systems provides differentiated smart technologies by leveraging synergies with advanced defense electronics and future–ready ICT technologies. In addition to our world–class expertise in defense electronics, we also provide state–of–the–art IT services, such as AI, big data, blockchain, cloud services and more, to lead digital innovation across a range of industries.

For more information, visit: www.hanwhasystems.com/en/index.do
Contact Us
Thank you for your interest in Hanwha.
Please contact us for your inquiries.
Email Us
Information Message
Please enter your email address.
Information Message
Please enter a correct email address.
Success
Keep an eye on your inbox for the latest stories from Hanwha.
Information Message
Your subscription request has already been processed. Thank you.