Hanwha Aerospace Partners with Vertical Aerospace to Develop Electromechanical Actuators (EMAs)
Hanwha Aerospace and Vertical Aerospace signed a letter of intent for partnership on July 20 at Farnborough Airshow in the United Kingdom.
The partnership aims to apply electromechanical actuators (EMAs) to the VX4, an electric vertical take-off and landing (eVTOL) aircraft.
The two companies envision pioneering urban air mobility (UAM) and other future mobility technologies based on joint technological expertise in the aerospace industry.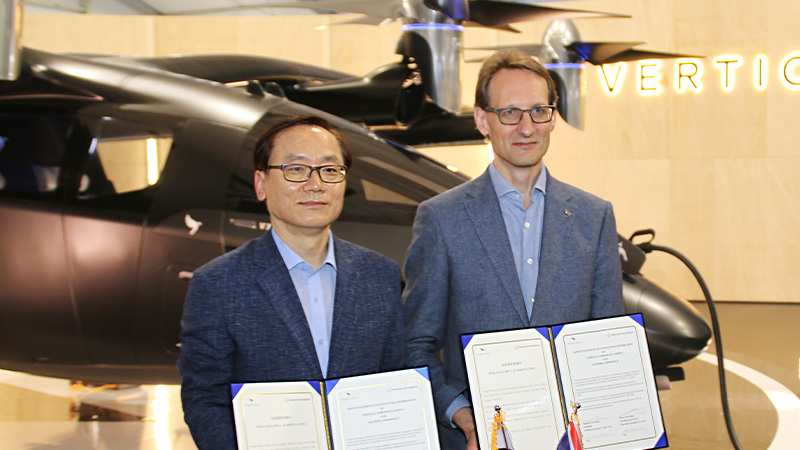 On July 21, Hanwha Aerospace announced the signing of a letter of intent for partnership with Vertical Aerospace, U.K.-headquartered urban air mobility (UAM) pioneering zero-emissions aviation, to jointly develop electromechanical actuators (EMAs)¹ for electric vertical take-off and landing (eVTOL) aircraft.

¹ An EMA is an actuator, or driving device, that controls numerous mechanical operations of a UAM machine by converting electrical energy into mechanical energy through the motor's rotational motion. It is mainly applied to flight control devices that control the direction and altitude of the aircraft.
Hanwha Aerospace held a signing ceremony on July 20 at the Farnborough Airshow in the United Kingdom. Hyun-woo Shin, President of Hanwha Aerospace, Michael Cervenka, President of Vertical Aerospace and other various stakeholders participated in the ceremony.
Hanwha Aerospace's long-established aerospace technology and flight-critical actuator systems expertise along with Vertical Aerospace's zero-emissions aviation technology will further strengthen the companies' strategic partnerships in future UAM business. Through this partnership, Hanwha Aerospace intends to build a joint development program to design, produce, test, and supply EMAs for Vertical Aerospace's four-passenger eVTOL aircraft, the VX4. Vertical Aerospace aims to commercialize the VX4 by 2025 and has already secured more than 1,400 pre-orders from global aviation companies.
EMAs manufactured using Hanwha's reliable and lightweight state-of-the-art electric actuator solutions will manage the tilt and pitch control for the four forward propellers, as well as aerodynamic control surface actuation on the wing and V-tail. The EMAs will also play a vital role for Vertical Aerospace in meeting the stringent airworthiness certification standards required for eVTOL aircraft.
"Hanwha Aerospace has been recognized as a strategic partner in the global UAM market, a field that demands the highest level of technological expertise and reliability," said President Hyun-woo Shin. "This proves the competitiveness of Hanwha Aerospace, which has supplied actuators for a wide range of fighter jets and civil aircraft."
"Vertical is pleased to partner with Hanwha Aerospace," stated Vertical Aerospace President Michael Cervenka. He emphasized, "We are impressed by the technological expertise and manufacturing capabilities that Hanwha has demonstrated in the global aerospace market."
The Korean Ministry of Land, Infrastructure and Transport (MOLIT) has estimated that the global air mobility market will reach approximately $557 billion (KRW 730 trillion) by 2040 based on the Korean Urban Air Traffic (K-UAM) Roadmap. U.S. investment bank Morgan Stanley predicted the growth potential of the market to be higher, forecasting the value of the global UAM market at $1.5 trillion by 2040.
Based on technological expertise accumulated in the aerospace industry, Hanwha Aerospace plans to become a pioneer in future mobility technologies, including UAMs.
Hanwha Aerospace
Hanwha Aerospace began operations in 1977, producing aircraft engines and film cameras. Since then, it has aggressively invested in R&D to grow into a major presence within the aircraft/gas turbine engine industry. Hanwha Aerospace's dramatic evolution was made possible by the successful development of industry leading and proprietary technologies that give it the competitive edge needed to succeed around the world. In addition to technological advancement, Hanwha Aerospace also focuses on developing industry expertise and the ability to comprehensively address changing market demands as well as the ability to anticipate future market shifts.

For more information, visit: www.hanwhaaerospace.com
Contact Us
Thank you for your interest in Hanwha.
Please contact us for your inquiries.
Email Us
Information Message
Please enter your email address.
Information Message
Please enter a correct email address.
Success
Keep an eye on your inbox for the latest stories from Hanwha.
Information Message
Your subscription request has already been processed. Thank you.