Hanwha Becomes World's First to Successfully Demonstrate a 59.5% Hydrogen Co-firing Rate in 80-megawatt-class Gas Turbines
Hanwha successfully conducted the world's highest hydrogen co-firing rate test on medium- to large-sized (80 megawatt) gas turbines while significantly reducing carbon dioxide (CO2) and nitrogen oxide (NOx) emissions.
By retrofitting stranded LNG-fired power generation facilities to run on a mixture of hydrogen fuel and LNG, the company's hydrogen co-firing technology can mitigate the risk of gas turbines becoming stranded assets.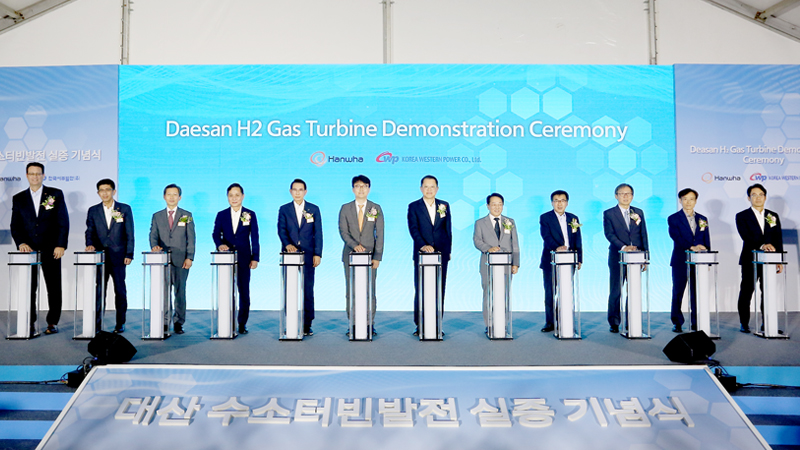 Hanwha has become the world's first to successfully demonstrate hydrogen co-firing of up to 59.5% in an 80-megawatt-class gas turbine, with significantly reduced carbon dioxide (CO2) and nitrogen oxide (NOx) emissions. This is the highest recorded co-firing rate on a medium- to large-sized gas turbine capable of commercial operation, and is expected to accelerate the commercialization of hydrogen co-fired eco-friendly power generation.
For the co-firing test, Hanwha worked with Korea Western Power – a subsidiary of the country's state-run power supplier KEPCO – on research and development of retrofitting the 80 MW gas turbine. The technology was able to reduce CO2 emissions by 22% compared to LNG-fired power generation, and limited NOx emissions to 6 parts per million (ppm) – just 30% of the 20 ppm deemed acceptable by European standards – without an additional reduction device.
"Co-firing power generation is an intermediate step towards carbon-free power generation," said Hanwha Impact CEO Hee-chul Kim. "This method will serve as a key stepping stone to carbon neutrality." Also attending the ceremony, which took place at the Hanwha Impact Daesan plant, were the CEOs of Hanwha Power Systems, Hanwha Corp. E&C, and Hanwha TotalEnergies Petrochemical, alongside members of government and academia.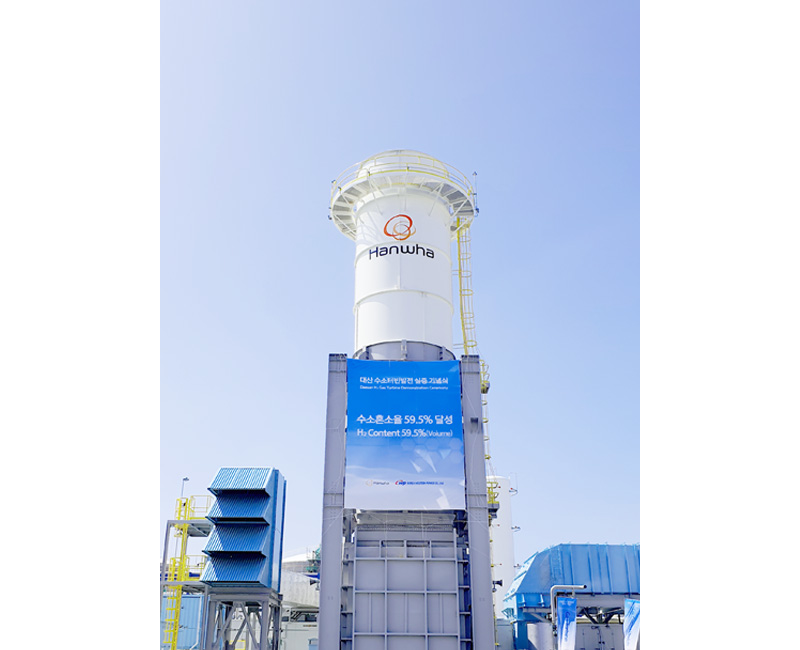 Hanwha's hydrogen to gas turbine technology (H2GT) contributes to environmental sustainability while also creating economic value. When applied to existing LNG-fired gas turbines, this technology can mitigate the risk of gas turbines becoming stranded assets by retrofitting the plants to utilize a mixture of hydrogen and gas. The hybrid solution is also estimated to extend the lifespan of aging LNG-fired gas turbine parts by more than 20 years. Hanwha will continue to develop its hydrogen co-firing technology with the goal of attaining 100% hydrogen power generation in gas-fired turbines.
Key to the success of the latest co-firing test was Hanwha's world-class hydrogen combustor and flame control technologies. Emissions control is more challenging when burning hydrogen as its flame temperature is significantly higher than LNG, and this in turn drives up NOx emissions. Using its combustor technology, Hanwha was able to control combustion conditions without an additional reduction device to significantly reduce harmful emissions. In addition, its flashback control technology ensured stable power generation with an increased hydrogen co-firing rate by reducing what is known as combustion flashback – a condition that sends the flame back up against the burn tube, causing damage to stable output.
Hanwha Impact
Hanwha Impact is leading the charge for a net-zero future with low carbon, sustainable energy and innovative future-ready projects. A subsidiary of Hanwha Solutions, the company secures revolutionary technologies through a range of business development and open innovation via active mergers, acquisitions and strategic investments aimed at creating a positive impact on people and the planet. Hanwha Impact seeks to lead next-generation sustainable advancements through forward-thinking innovations in various fields, including eco-friendly energy, biotechnology, and digital and data technology.

For more information, visit: www.hanwhaimpact.com
Contact Us
Thank you for your interest in Hanwha.
Please contact us for your inquiries.
Email Us
Information Message
Please enter your email address.
Information Message
Please enter a correct email address.
Success
Keep an eye on your inbox for the latest stories from Hanwha.
Information Message
Your subscription request has already been processed. Thank you.