Hanwha Chemical and KAIST Partner to Develop Future Chemical Technologies
"KAIST-Hanwha Chemical Future Technology Research Center" founded, first in Korean petrochemical industry
Joint development of innovative chemicals and processes; 50:50 patent ownership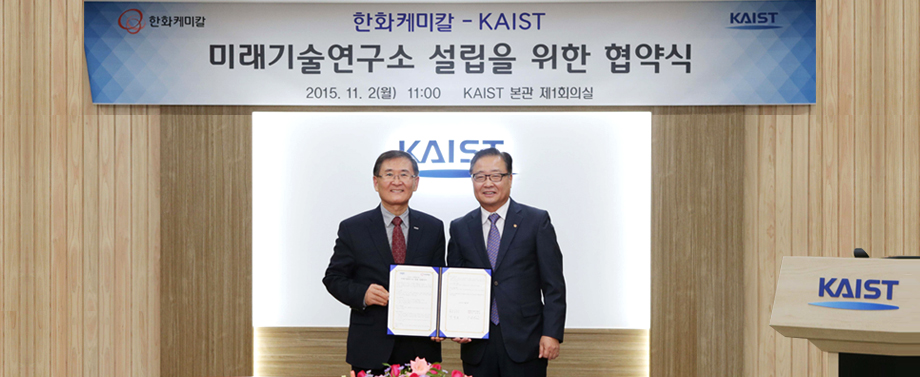 [November 02, 2015] Hanwha Chemical (CEO Kim Chang-bum) has partnered with the KAIST (Korea Advanced Institute of Science and Technology) to develop innovative fundamental chemical technologies for the future.
KAIST is a reputable research-oriented science and technology institution in Korea. It ranked 43rd globally and 3rd in Asia in the 2015-2016 QS (Quacquarelli Symonds) World University Rankings.
Hanwha Chemical signed the agreement for the establishment of the new "KAIST-Hanwha Chemical Future Technology Research Center" during a ceremony attended by CEO Kim, President Kang Sung-mo of KAIST and other representatives from both parties on November 2 at KAIST. This is the first time a Korean petrochemical company has founded a research center jointly with KAIST.
Hanwha Chemical plans to operate the research center for five years, from January 2016 to 2020. Major research tasks will include the development of next-generation petrochemical materials as well as fundamental and manufacturing technologies, high-purity processing methods that can enable innovative energy saving, and other key technologies with high business potential that can secure competitive advantages for Hanwha Chemical in the global market.
The research staff will include Distinguished Professor Lee Sang Yup, who was selected as one of the world's top 20 applied biological scientists by the international academic journal Nature Biotechnology in 2014, Professor Hyunjoo Lee, who received the "Distinguished Women in Chemistry" award at the 2015 World Chemistry Congress, and other top experts and professors in biochemical engineering.
Patents for new technologies developed by the research center will be shared 50:50 between Hanwha Chemical and KAIST. If a technology developed by the center transitions into actual commercial production, Hanwha Chemical will share a part of the profits with KAIST. In addition, fifteen KAIST Ph.D. candidates who take part in research projects during the five-year span will receive scholarships as industry-academia partnership scholars.
Hanwha Chemical expects the research center to create an opportunity for enhancing the global competitive capabilities of the Korean petrochemical industry. The acquisition of future fundamental technologies is vital for overcoming the wide range of external risk factors, such as low oil prices, the development of shale gas and the global economic downturn, that Korea's petrochemical industry with its heavy reliance on general products faces today.
CEO Kim of Hanwha Chemicals stated that "the new initiative is significant for going beyond the traditional industry-academia partnership method to jointly operate a research institute, and will create new guidelines and milestones for industry-academia cooperation by achieving innovative results."
Professor Lee of KAIST, who will head the research, said that "building on the partnership with Hanwha Chemical, KAIST will focus its excellent R&D capabilities on developing new and innovative technologies with global competitiveness."
Established in 1979, the Hanwha Chemical R&D Center has been driving the development of new products and technologies as the key provider of the Hanwha Group's engines for growth in petrochemicals as well as solar power, carbon nanotechnology and other cutting-edge fields.
Hanwha Chemical
Established in 1965, Hanwha Chemical is a total solutions chemical company with streamlined production systems for polyethylene (PE), polyvinyl chloride (PVC), and chlor-alkali (CA). As South Korea's leading petrochemical company, we dominate the nation's chemical industry with high-quality PVC, CA, and linear low-density polyethylene (LLDPE) that we offer at competitive prices.

For more information, visit: hcc.hanwha.co.kr/en
Hanwha Group
Founded in 1952, Hanwha has grown quickly by anticipating and responding to changing business environments with a balanced business portfolio that includes energy & materials, aerospace, finance and retail & services. Our expertise and synergy in key areas have catapulted us into the seventh-largest business in South Korea and a Fortune Global 500 company. Hanwha continues to grow rapidly as we strive to pursue global leadership in all of our businesses. We are building a robust foundation for sustainable development and a brighter future for everyone.

For more information, visit: www.hanwha.com
Contact Us
Thank you for your interest in Hanwha.
Please contact us for your inquiries.
Email Us
Information Message
Please enter your email address.
Information Message
Please enter a correct email address.
Success
Keep an eye on your inbox for the latest stories from Hanwha.
Information Message
Your subscription request has already been processed. Thank you.