Hanwha Energy and Total SE Join Hands to Expand in the U.S. Renewable Energy Market
Joint venture combines Hanwha Energy's renewable energy business capabilities with the vast resources of a global oil supermajor and lay the foundation for future collaborations
The two companies will develop 1.6GW of solar-power projects in six U.S. states, enough to power 300,000 homes annually
The CEO In-Sub Jung, "The joint venture between the two companies lay the foundation for stable expansion into the renewable energy business in the US."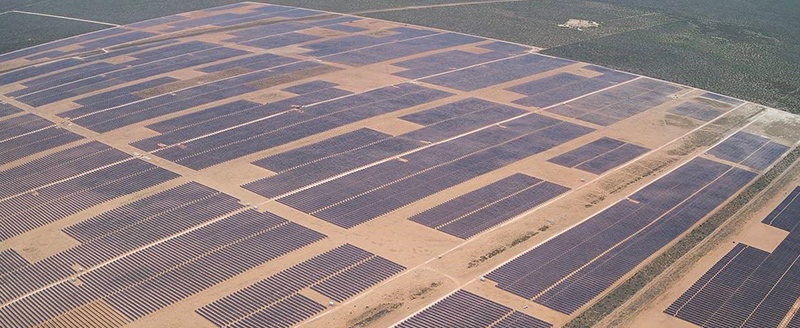 Hanwha Energy is now the first Korean company to join forces with one of the world's biggest oil supermajors to quickly expand into the U.S. renewable energy market. Hanwha Energy is combining its business capabilities with Total SE's extensive resources to proactively establish its presence in the U.S.
Hanwha Energy earlier announced on January 14, 2021 that it had entered a joint venture with France's Total SE to build and operate solar power plants across the U.S.
The joint venture, proposed by Total SE - which in 2019 achieved $176.2 billion in sales – aims to secure 35GW of renewable energy production capacity by 2025. The agreement serves as an opportunity for Total SE to grow its business beyond oil-and-gas, by tapping into the renewable energy sector such as solar power. This is strategic move is in line with the global response towards climate change, and to transition toward a carbon-neutral future.
Total SE's recognition of the capabilities and performance of Hanwha Energy's U.S.-based subsidiary 174 Power Global, led to the formation of the joint venture, allowing the industry giant to invest in 174 Power Global's business pipeline.
Under the joint venture, Hanwha Energy and Total SE will each invest 50 percent into a portion of 174 Power Global's photovoltaic ventures, towards 1.6GW in solar energy production and 720MWh in energy storage systems out of a total of 10GW and 10GWh respectively. 174 Power Global is currently constructing 12 large-scale solar power plants in six U.S. states, which, combined, can generate enough electricity to power more than 300,000 homes annually.
In addition to 174 Power Global, Hanwha Energy is also affiliated with Chariot Energy, which runs power retail businesses in Texas, and 174 Power Global Northeast, which operates commercial and industrial solar power projects in New York. Through these affiliate entities, Hanwha Energy's engineering capabilities and large-scale business endeavors have established a long track record in the development, construction and operation of solar power plants in the U.S.
Total SE occupies a unique position in the global energy market's overall value chain. This joint venture is expected to serve as a stable foothold from which it can expand into the sustainable energy industry and the American renewable energy market.
Hanwha and Total SE have previously worked together through Hanwha Total Petrochemical, a petrochemical company operated by the two organizations. This has allowed Hanwha and Total SE to establish a partnership based on mutual trust, collaborative business decisions, and shared investment strategies.
Going forward, Hanwha Energy plans to deepen its collaboration with Total SE across all of its U.S. based solar energy ventures to maximize the synergy between the two companies.
"Although market uncertainty is higher than ever due to COVID-19, we expect that our renewable-energy business in the U.S. is both sustainable and able to support steady expansion," says In-Sub Jung, CEO of Hanwha Energy. "Starting with this joint venture, we will expand our strategic collaboration in the American renewable-energy industry as we move forward."
"This transaction is a first significant step for Total SE in the US utility scale solar market, in line with our 2025 ambition to achieve 35 GW of renewables production capacity worldwide. I am confident that this will pave the way to more opportunities in the US renewables and storage market," says Julien Pouget, Director Renewables at Total SE. "I am very pleased to extend our long-standing cooperation with the Hanwha Group into renewable energies and successfully contribute to the development of solar power generation in the U.S."
Hanwha Energy
Hanwha Energy is a comprehensive energy solutions provider that operates power plants in Korea and around the world with a focus on sustainability. Its diverse portfolio includes cogeneration plants, solar power plants, as well as the world's largest hydrogen fuel cell power plant, located in Korea's Daesan Industrial Complex. Hanwha Energy also acts as an independent power producer, offers operation and maintenance services, and is developing new energy storage systems and smart energy management solutions.

For more information, visit: hec.hanwha.co.kr/eng/enMain.do
Contact Us
Thank you for your interest in Hanwha.
Please contact us for your inquiries.
Email Us
Information Message
Please enter your email address.
Information Message
Please enter a correct email address.
Success
Keep an eye on your inbox for the latest stories from Hanwha.
Information Message
Your subscription request has already been processed. Thank you.