Hanwha Energy Secures Position
as Power-Supply-Solutions Provider with Successful Bids for Energy-Storage Systems
Hanwha Energy signs contracts to build a 400-MWh ESS in New York and 240-MWh ESS in Nevada
Hanwha Energy secures its position in the growing renewable energy market by providing cutting-edge power-grid-stabilization solutions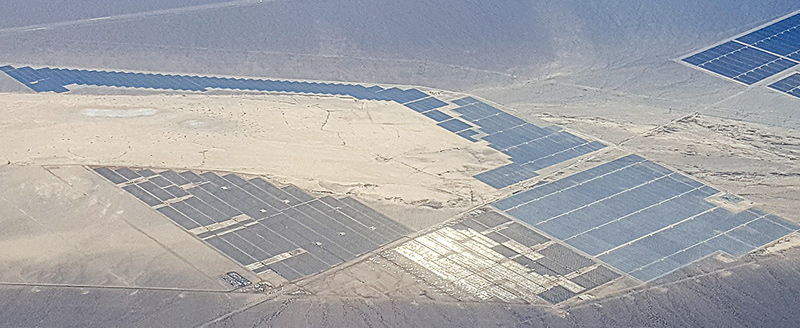 With the growing popularity and demand for renewable-electricity, Hanwha Energy has been seeing global success with its power-grid-stabilization solutions that use energy-storage systems (ESS).
Contracts signed for U.S. ESS deliveries, including 400-MWh order in New York State
In December of 2020, Hanwha Energy announced its successful bid for the Astoria Project in the state of New York. Under the terms of the contract with Con Edison, one of America's largest energy companies, Hanwha Energy will design and construct a 400-MWh ESS and operate it for seven years.
A month earlier, in November of 2020, Hanwha Energy won the bid to deliver a 240-MWh ESS for the Silver Pick Project in Nevada.
In the U.S., Hanwha Energy has signed several new contracts for large-scale ESS deliveries. These new contracts are notable as they are just for ESS to stabilize existing power grids. Previously, Hanwha Energy delivered ESS in conjunction with solar-power plants to help stabilize the plants' output.
Hanwha Energy's core services to provide solar-power-plant and power-system-frequency regulators attract ESS customers
Prior to winning bids for ESS-only projects, Hanwha Energy had already established itself as an ESS solutions provider that helps stabilize power grids through projects that involved the construction of both solar-power plants and ESS.
In October of 2020, Hanwha Energy was selected to deliver a 79-MW solar-power plant and 240-MWh ESS for the Kupehau Solar Project managed by Hawaiian Electric Company (HECO) in Hawaii. The Kupehau Solar Project builds on the success of another HECO project that Hanwha won the bidding for back in 2018: the Ho'ohana Solar Project, an 83-MW solar-power plant with a 208-MWh ESS.
In July of 2020, in a joint bid with Korea Midland Power, Hanhwa Energy won the contract to build a 164-MW solar-power plant and a 230-MWh ESS for the Boulder Solar Project, managed by NV Energy in Nevada.
In Ireland, after Hanwha Energy won the bid in mid-2019, a 120-MWh ESS project is now under construction and operations are expected to begin in the 2nd quarter of 2021. The ESS will serve as a frequency regulator to ensure that connected power plants supply consistent flows of electricity to the grid. The success of this project is another demonstration of Hanwha Energy's market-leading technology and is attracting new customers worldwide. And with the increasing popularity and effectiveness of its frequency regulator, Hanwha Energy's future is looking brighter than ever while its position in the power-grid-stabilization industry is further secured.
ESS is becoming increasingly important to the stabilization and regulation of power supplies, as grids around the world displace conventional power plants and become more reliant on renewable-energy sources. To meet this growing demand, Hanwha Energy has expanded its product catalog to include solar-power-plant construction and operations, as well as ESS for power stabilization.
Solar-Power Plant and ESS Projects Signed by Hanwha Energy
A Table of Hanwha Energy's Active Solar-Power Plant and ESS Projects
Region
Project Name
Offtaker
Contract Date
PV
(MW)
ESS
(MWh)
New York
Astoria
NY ConEdison
Dec'20
-
400
Nevada
Silver Peak
Southern California Edison
Nov'20
-
240
Hawaii
Kupehau
Hawaiian Electric Company
Oct'20
79
240
Nevada
Boulder Solar
NV Energy
Jul'20
164
230
Ireland
Lumcloon/Shannonbridge FR*
EirGrid
Apr'19
-
120
Hawaii
Ho'oahana
Hawaiian Electric Company
Dec'18
83
208
Guam
Guam Phase 2
Guam Power Authority
Jul'17
90
95
* FR: Frequency Regulation. ESS stabilizes power systems by adjusting the frequency of electric output.
Hanwha Energy
Hanwha Energy is a comprehensive energy solutions provider that operates power plants in Korea and around the world with a focus on sustainability. Its diverse portfolio includes cogeneration plants, solar power plants, as well as the world's largest hydrogen fuel cell power plant, located in Korea's Daesan Industrial Complex. Hanwha Energy also acts as an independent power producer, offers operation and maintenance services, and is developing new energy storage systems and smart energy management solutions.

For more information, visit: hec.hanwha.co.kr/eng/enMain.do
Contact Us
Thank you for your interest in Hanwha.
Please contact us for your inquiries.
Email Us
Information Message
Please enter your email address.
Information Message
Please enter a correct email address.
Success
Keep an eye on your inbox for the latest stories from Hanwha.
Information Message
Your subscription request has already been processed. Thank you.