Hanwha Galleria "Lights It Up Blue" in Honor of World Autism Awareness Day
Hanwha Galleria participated in the Light It Up Blue campaign in honor of World Autism Awareness Day on April 2, marking its sixth consecutive year of participation since 2017.
Hanwha Galleria's participation in Light It Up Blue is part of its larger Right! Galleria campaign, which is aimed at upholding values that contribute to a better, more sustainable life.
The company has utilized its media facades to express solidarity for several recent events, including Earth Hour and the Turkey-Syria earthquake.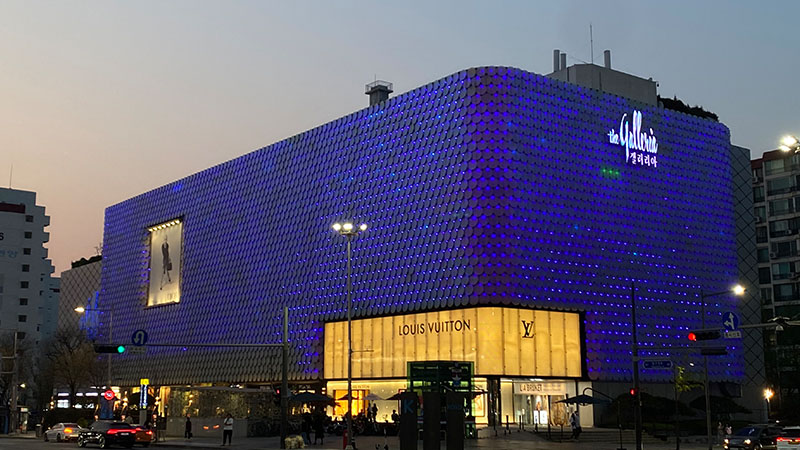 Hanwha Galleria recently participated in the Light it Up Blue campaign to commemorate World Autism Awareness Day (WAAD) on April 2 by illuminating its Galleria Luxury Hall and Galleria Timeworld locations in blue. South Korea's premium department store chain has taken part in this campaign annually since 2017 to help increase awareness among customers and employees as well as show support for those affected by autism spectrum disorder (ASD).
In 2007, the United Nations General Assembly designated April 2 as World Autism Awareness Day to foster global support and increase social understanding surrounding those with autism. Light It Up Blue, launched in 2010 by the world's leading autism science and advocacy organization Autism Speaks, is a global campaign that seeks to raise ASD awareness on this day. Instead of featuring their standard lighting displays, participants are invited to use blue lights to "shine a light" on World Autism Awareness Day in their local communities. The annual occurrence draws participation from more than 170 countries, including South Korea, and features global landmarks such as the Eiffel Tower in France, Times Square in the U.S., and the Leaning Tower of Pisa in Italy.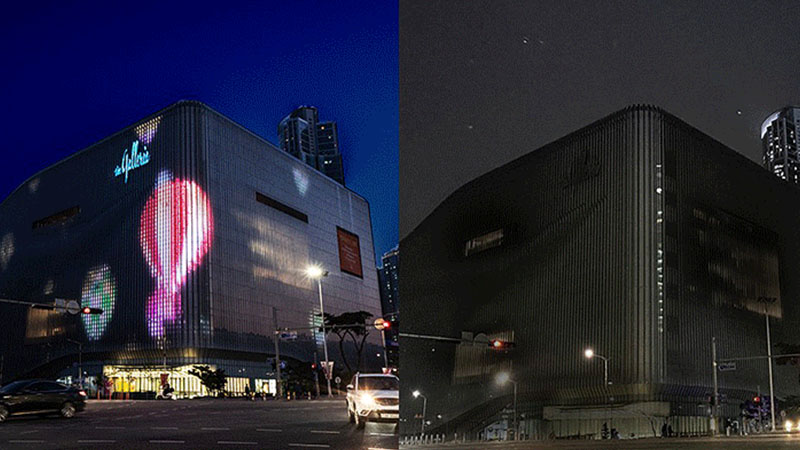 Hanwha Galleria has used the media displays installed on its building facades to send messages raising awareness and encouraging action for various causes. On March 25, Hanwha Galleria participated in Earth Hour 2023 presented by the World Wildlife Fund (WWF), encouraging individuals, communities and businesses to engage in action to address the severity of climate change. More than 18,000 landmarks worldwide participated by turning off the lights for one hour, including multiple Galleria Department Store branches, which turned off up to 90% of the stores' external landscaping lights. In addition, Hanwha Galleria recently sent out the message, "Pray for Türkiye, Syria," to offer condolences to those affected by the earthquake.
These specialized lighting events are made possible through a media facade comprising LED lights which transforms the department store's outer wall into one large display showing off colors, images and animations. The outer wall of Galleria Luxury Hall, South Korea's first premium department store, is considered one of the country's most well-known media facades.
Hanwha Galleria's participation in Light It Up Blue and other such campaigns underlines initiatives set in motion by the company's Right! Galleria campaign introduced in 2019. Striving for a better future, Galleria is dedicated to promoting sustainable consumption culture and fostering values that drive positive change. Hinging on the core pillars of environmental protection, respect for life and a culture of safety, the campaign promotes activities that address various causes including improving child welfare, promoting animal well-being and expanding Earth-friendly initiatives.
Hanwha Galleria will continue its participation in campaigns such as Light It Up Blue to raise awareness, generate interest and provide support and hope within the community.
*Hanwha Galleria, previously Hanwha Solutions Galleria division, recently became a separate entity from Hanwha Solutions after a spin-off completed on March 1, 2023. The company was relisted on the stock market on March 31, 2023.
Hanwha Galleria
Founded in 1976, Hanwha Galleria specializes in retail services with a strong focus on department stores. Along with Galleria Luxury Hall, South Korea's first and premier department store, Hanwha Galleria provides differentiated customer experiences via a network of department stores in local communities. The company also operates various retail businesses, including global brand direct sourcing, retail sales of exclusive brands and food and beverage operations. Hanwha Galleria, previously Hanwha Solutions Galleria division, became a separate entity from Hanwha Solutions in 2023.

For more information, please visit: https://www.hanwhagalleria.co.kr/en/index.html

Contact Us
Thank you for your interest in Hanwha.
Please contact us for your inquiries.
Email Us
Information Message
Please enter your email address.
Information Message
Please enter a correct email address.
Success
Keep an eye on your inbox for the latest stories from Hanwha.
Information Message
Your subscription request has already been processed. Thank you.