Hanwha Hotels & Resorts Advances into China
with Its Aquarium Business
Commences commissioned operation of 'Wanda Nanchang Aquarium'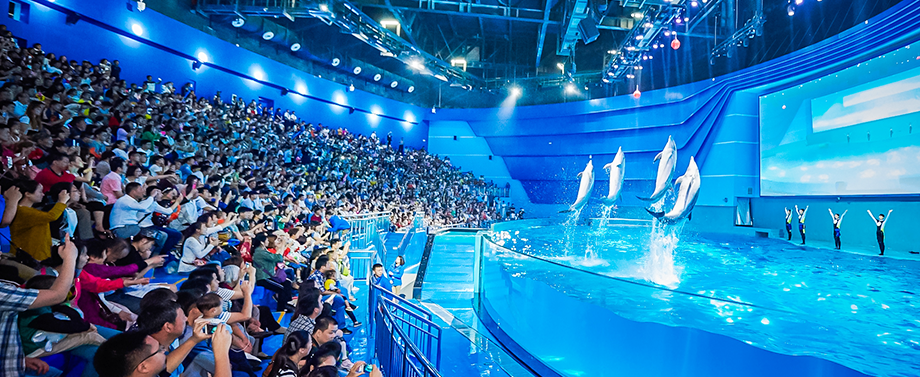 Hanwha Hotels & Resorts (Hanwha Resorts President & CEO/Member of Board Seok Moon) takes its aquarium business to China. Having signed a business partnership MOU in 2013 with 'Wanda Group,' China's largest commercial property company, Hanwha Hotels & Resorts has consulted on the construction and design of the world-class 'Wanda Nanchang Aquarium', which celebrated its grand opening on May 28th. Hanwha Hotels & Resorts is tasked with the overall operation of 'Wanda Nanchang Aquarium' for the next ten years until 2026, covering the management of the facilities, performances and supplying the marine life as well as marketing.
'Wanda Nanchang Aquarium,' located in Nanchang, Xiangsi Province, China, is a key facility in Wanda City, a 3.4 mil.m² theme park that expects to welcome 520,000 visitors this year alone. With a size of 36,000m², equal to five 7,200m² international standard football fields combined, the aquarium has an exterior inspired by the celadon of Jingdezhen and exhibits over 28,000 marine lives of 300 distinct species, including whale sharks and dolphins, with a total water tank capacity of 17,800 tons. In addition, the aquarium holds many superlative titles, ranging from the world's deepest 12m sea plant water tank and 8.5m main tank to the world's largest 400m² touch pool and China's first story-telling performance.
Starting with 'Wanda Nanchang Aquarium,' Hanwha Hotels & Resorts is actively seeking new business opportunities, leveraging its accumulated operational knowhow and professional skills. It can provide one-stop services that cover the entire development cycle of planning to design, construction, supplying marine life, and opening preparation as well as commissioned operation, based on its operational knowhow and expertise gleaned from opening and operating many world-class aquariums of various sizes and in various locations.
Hanwha Hotels & Resorts has established the largest aquarium belt in Korea, Aqua Planet, with 22,000 tons of water tank capacity in Jeju, Yeosu, Ilsan and the 63 Building in Seoul combined. Among them, Aqua Planet/Jeju boasts Korea's largest water tank capacity of 10,800 tons and Ocean Arena (performance theater). Aqua Planet/Ilsan is a convergence aquarium combined with an indoor zoo, providing opportunities for wild encounters with both land and sea animals. Aqua Planet 63, the very first aquarium business in Korea, will celebrate its renewal opening in July 2016, offering entirely new experiences combining IT technologies such as holograms and projection mapping with new exhibition techniques such as behavioral enrichment and the maximization of the animals' sense of place in the aquarium.
Hanwha Hotels & Resorts, a total aquarium service provider capable of planning/design, construction, operation and supplying marine life, will further enhance its global business based on the company's expert technologies, resources and solid networks it has built over the past 31 years.
Hanwha Hotels & Resorts
Hanwha Hotels & Resorts began operations in 1979 as the developer of South Korea's first resort condominium project. It joined Hanwha in 1986. With resort, hotel, and food service businesses, we are rapidly becoming South Korea's premier leisure and food service provider.

For more information, please visit: www.hanwharesort.co.kr/en

Hanwha Group
Founded in 1952, Hanwha has grown quickly by anticipating and responding to changing business environments with a balanced business portfolio that includes energy & materials, aerospace, finance and retail & services. Our expertise and synergy in key areas have catapulted us into the seventh-largest business in South Korea and a Fortune Global 500 company. Hanwha continues to grow rapidly as we strive to pursue global leadership in all of our businesses. We are building a robust foundation for sustainable development and a brighter future for everyone.

For more information, visit: www.hanwha.com
Contact Us
Thank you for your interest in Hanwha.
Please contact us for your inquiries.
Email Us
Information Message
Please enter your email address.
Information Message
Please enter a correct email address.
Success
Keep an eye on your inbox for the latest stories from Hanwha.
Information Message
Your subscription request has already been processed. Thank you.