Hanwha Hotels & Resorts' THE PLAZA Signs Strategic Partnership with Marriott International, Autograph Collection
Partnership will introduce Marriott International's luxury lifestyle brand Autograph Collection in Korea for the first time ever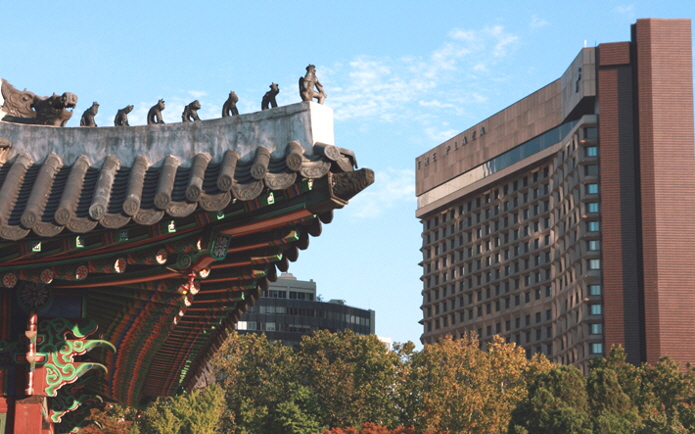 THE PLAZA, Korea's award-winning luxury boutique hotel, will join Autograph Collection, Marriott International's exclusive portfolio of hotels recognized for celebrating bold individuality. The contract signing ceremony took place today and the strategic alliance will become effective in early 2016.
By joining Autograph Collection Hotels, THE PLAZA will have an opportunity to leverage the company's recognized global sales and marketing channels, award winning Marriott Rewards customer loyalty program, and its management and franchise expertise. With over 50 million members worldwide, every guest can sign up for the customer loyalty program free of charge and accumulate points whenever they choose to stay at a Marriott International hotel. Points can be redeemed for over 250 exclusive benefits, including stays at over 4,000 Marriott International hotels operated as 19 brands in 80 countries around the world, airline mileage, Hertz car rental service in the United States, cruises, and more.
"We are delighted that the partnership will bring together Autograph Collection and Marriott International's strength in global marketing and sales with THE PLAZA's local brand and heritage," said Shim Kyung-Seob, CEO of Hanwha Hotels & Resorts. "This is an important milestone as the hotel celebrates its 40th anniversary next year."
THE PLAZA is located in the center of Korea's historical district, nearby sites including Deoksugung Palace, Gyeongbokgung Palace and Sungnyemun Gate. Seoul's 600-year history and rich culture is an essential part of THE PLAZA'S guest experience and design aesthetic. The hotel is located across from City Hall and Seoul Plaza and is close to important financial institutions and corporations.
"Autograph Collection is a one-of-a-kind ensemble of independent hotels that we are fast expanding in Asia," commented Craig Smith, President and Managing Director, Marriott International, Asia-Pacific. "THE PLAZA, with its rich heritage and special location as well as its quality service, will enable travelers to experience the charm of the city in style, truly fitting the brand promise of the Autograph Collection."
THE PLAZA has appointed Italian architect and designer Guido Ciompi in its 2010 renovation project to re-create the décor and furniture of the 410 rooms, which come in a variety of designs and color schemes. All guestrooms feature eco-friendly design materials, free wired and wireless internet access and a smart touchpad to control room temperature, lighting and other amenities in the rooms, adding convenience to guests.
THE PLAZA, which has hosted the G20 Seoul summit and Nuclear Security Summit in the past, is a symbol of history and grandeur with nine banquet halls that can accommodate up to 600 guests. The Grand Ballroom, steeped in rich design, has a capacity of 450 and is ideal for large-scale events and weddings. Located on the hotel's top floor, the Xystum House offers panoramic views of Seoul through its full-length windows and can be customized for a variety of private events.
To highlight the culinary expertise for which Autograph Collection has become known, restaurants and bars at THE PLAZA have appointed a team of regional chefs and taken inspiration from a wide array of international restaurants. Hotel restaurants include TAOYUEN, a Chinese restaurant featuring modern Shanghai-style cooking; MURASAKI, a Japanese restaurant that combines modern techniques with simple and casual Neoclassic Kaiseki; and TUSCANY, an Italian restaurant helmed by Michelin-star head chef Maurizio Ceccato.

Together THE PLAZA and Autograph Collection Hotels are passionate about providing luxury service and amenities, refined design and an unforgettable guest experiences that is Exactly Like Nothing Else.
THE PLAZA
THE PLAZA is a luxury boutique hotel located opposite Seoul's symbolic City Hall. For 40 years, it has been an ideal place to stay in the city for businessmen and tourists. It has 410 rooms, 6 restaurants and bars, 9 banquet halls, plus a fitness center and spa. THE PLAZA has undergone a full-scale renovation, the first out of all five-star hotels in Korea. It presents a sensual design of "Stay in Style" brand identity and operates a concierge team to service all room, banquet and restaurant guests. THE PLAZA also provides an automatic room management system for an upgraded luxury boutique style.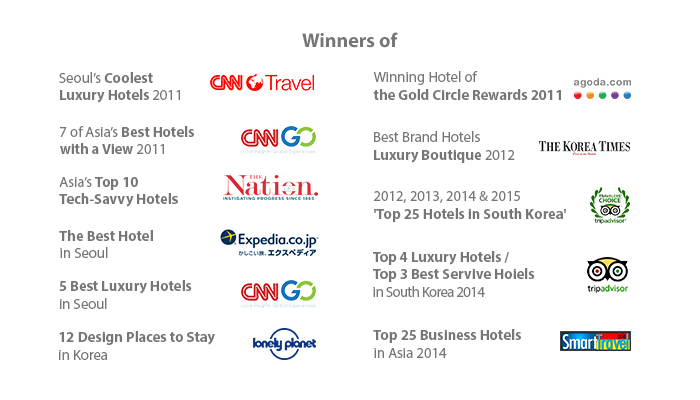 For more information, visit: www.hoteltheplaza.com/en/

Hanwha Group
Founded in 1952, Hanwha has grown quickly by anticipating and responding to changing business environments with a balanced business portfolio that includes energy & materials, aerospace, finance and retail & services. Our expertise and synergy in key areas have catapulted us into the seventh-largest business in South Korea and a Fortune Global 500 company. Hanwha continues to grow rapidly as we strive to pursue global leadership in all of our businesses. We are building a robust foundation for sustainable development and a brighter future for everyone.

For more information, visit: www.hanwha.com
Autograph Collection Hotels
Autograph Collection Hotels celebrates a collection of independent leaders in film, art, design and literature by curating one-of-a-kind travel experiences at 91 luxury lifestyle hotels found in the world's most desirable destinations. Exactly like nothing else, each hotel has been hand selected for its distinction as an iconic landmark, for its remarkable design or for its best-in-class resort amenities.

For more information, visit: www.autographhotels.com

Marriott International, Inc
Marriott International, Inc. (NASDAQ: MAR) is a global leading lodging company based in Bethesda, Maryland, USA, with more than 4,300 properties in 81 countries and territories. Marriott International reported revenues of nearly $14 billion in fiscal year 2014. The company operates and franchises hotels and licenses vacation ownership resorts under 19 brands.

For more information, visit: www.marriott.com

Contact Us
Thank you for your interest in Hanwha.
Please contact us for your inquiries.
Email Us
Information Message
Please enter your email address.
Information Message
Please enter a correct email address.
Success
Keep an eye on your inbox for the latest stories from Hanwha.
Information Message
Your subscription request has already been processed. Thank you.